Editor's note: This report was initially released to the author's subscribers on 4/25/14. All references to specific dates should be read accordingly.
For months we've warned that the general stock market is at lofty levels. Many of last year's growth winners have already given back the gains they made last year. This is a clear warning sign indicating that the subsurface deterioration is in full effect. Eventually this weakness will work itself into the indexes in a serious way. Another concern has been the recent weakness in financial stocks. Many large financial institutions have begun breaking down, hitting one year lows. In an environment where the stock market is hitting all-time highs, it is disturbing to see so much deterioration underneath the indexes.
This chart, courtesy of Bloomberg, measures margin debt going back 50 years. Margin debt has reached an all time high, and eventually the money borrowed will need to be paid back. Excessive borrowing against stocks has created an extremely high risk environment.
click charts to enlarge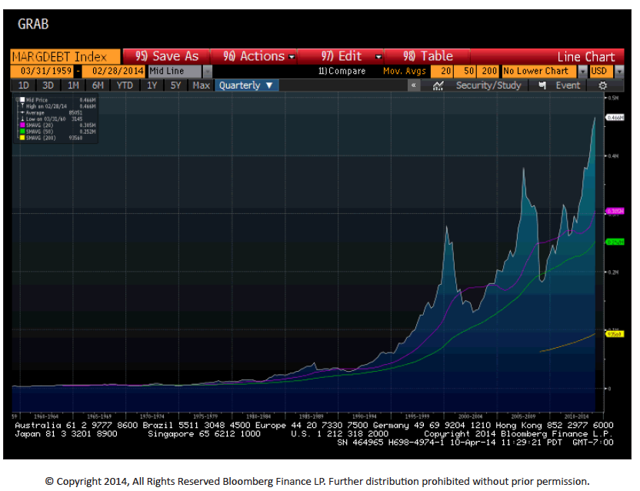 This chart illustrates the surge in trading in over the counter stocks, more commonly known as penny stocks. This group represents the smallest companies and is one of the most speculative areas of the market. Such heavy volume in penny stock trading is a concern because it indicates that investors are becoming far too aggressive.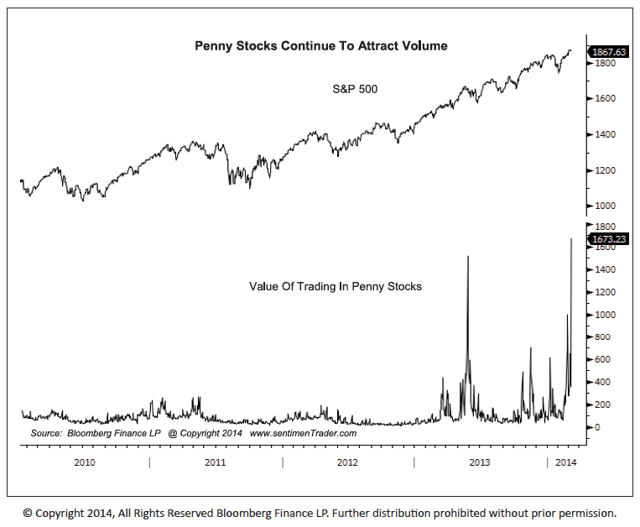 These two charts refute the generally held concept that there is a plethora of money sitting on the sidelines waiting to be invested. The red line on the first chart (The NDR Total Market Value vs Money Market Fund Assets/NDR Total Market Value) is currently lower than it was in 2007. This means that relative to the value of the equity market, there is less cash being squirreled away in money market funds than there was coming into the crash of 2008. The second chart shows a continual decline in the amount of cash being stored in money market funds. This cash is instead being invested in the stock market. People are taking on a lot of risk. Additionally, there is very little additional cash available to propel the market further.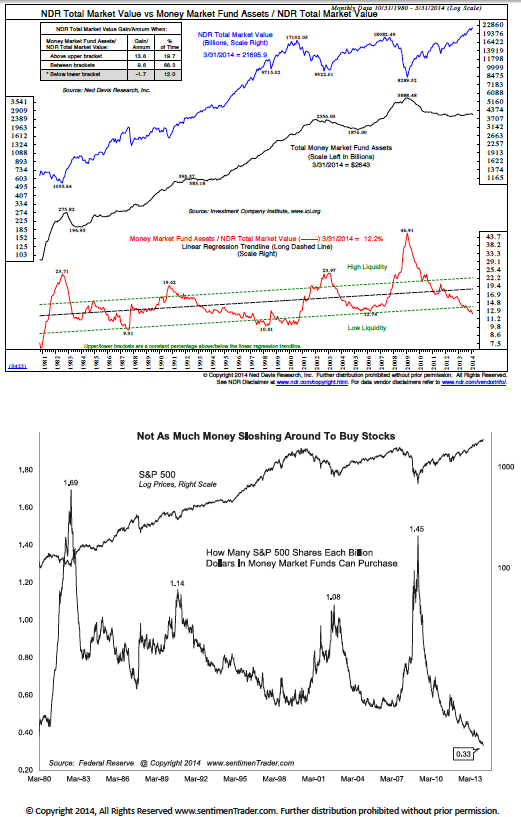 Households are the largest holder of stocks. Currently 41.4% of total household assets are invested in stocks. Such a high percentage is alarmingly overweight and is comparable to 2007 levels.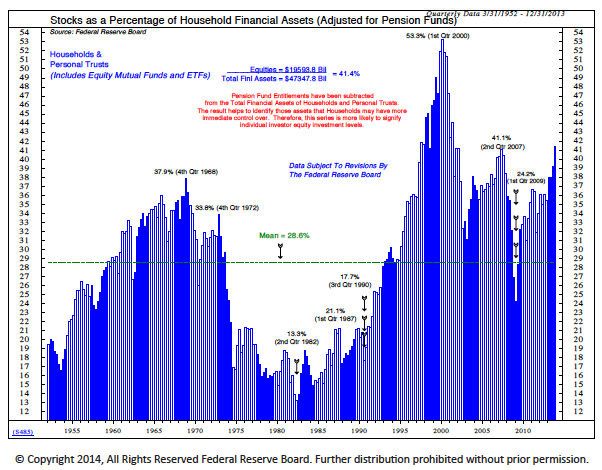 Money-losing companies that are unable to prove their business models have dominated the IPO market. The trend is continuing, as evidenced by the current reading of 83%. This approaches the all-time record of 84%, which was reached in mid-March 2000.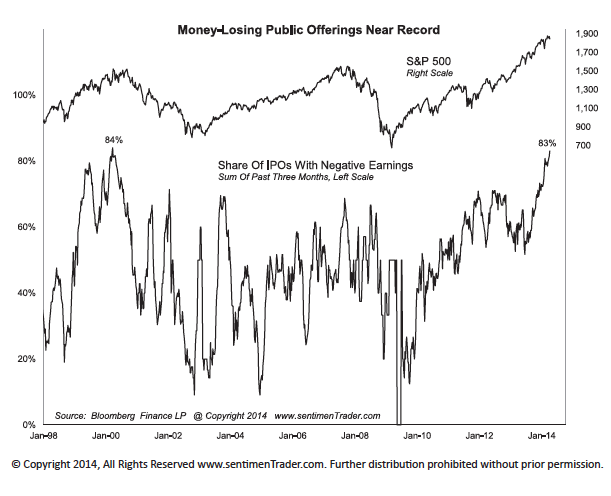 The NAAIM sentiment gauge is currently at 75, remaining in optimistic territory. However it should be noted that sentiment has contracted a bit. While this cannot yet be considered a positive, we will continue to monitor sentiment during corrective periods.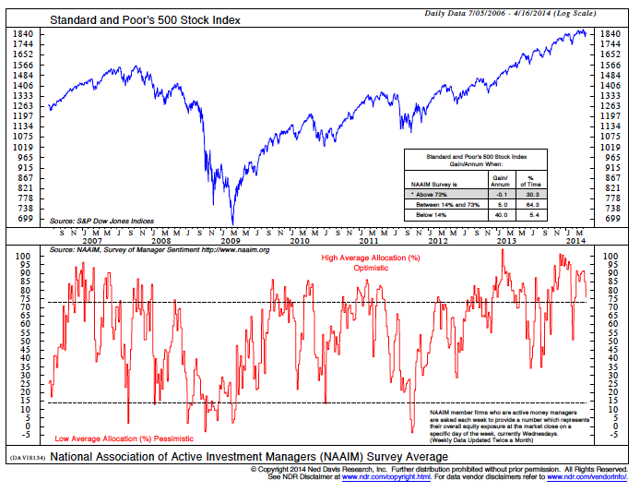 Copper is hitting a series of lower highs while the S&P is hitting a series of higher highs. The weakness in Dr. Copper is a symptom of an underlying weak economy, which is very negative for stocks.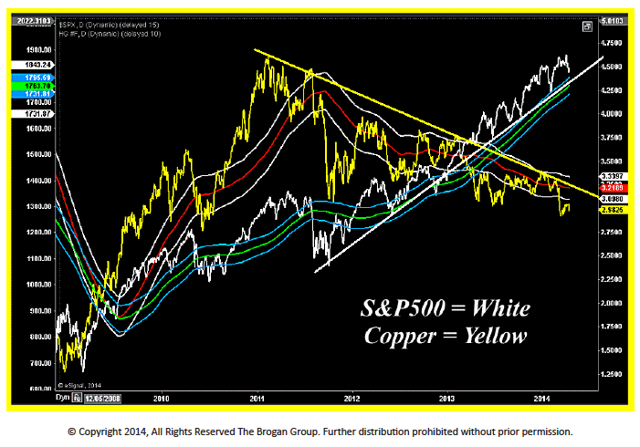 Ned Dewey, founder of the Foundation for the Study of Cycles, published one of the earliest studies of the "Skyscraper Curse". Dewey highlighted the fact that major skyscrapers appear at the top of building booms, with construction costs then being paid off during times of recession and bearish stock markets.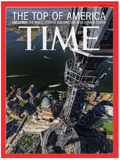 Two of the four tallest buildings in the world were recently completed within three months of each other, five years into a bull market in stocks. The March 17 TIME magazine cover showed a picture of One World Trade Center accompanied by the caption "THE TOP OF AMERICA." Furthermore the May 2014 issue of VANITY FAIR magazine includes an article titled "Too Rich. Too Thin. Too Tall." Four new NYC buildings are currently being constructed; all will be competing for the honor of being the tallest building in the world. This is certainly ominous when analyzed using Dewey's "Skyscraper Curse" theory.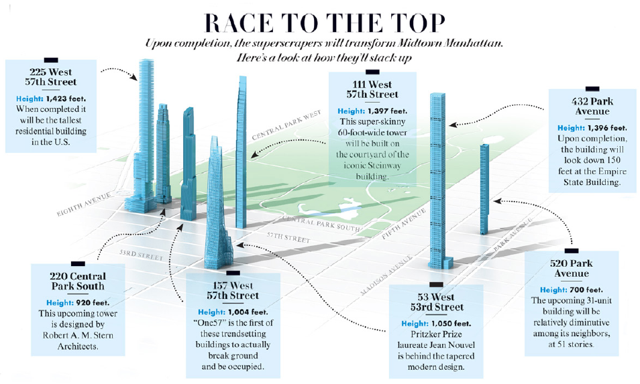 This 40-year chart, created by Norman Fosback and provided by NDR, is a tool that has been highlighted in past newsletters. The indicator averages the bottom 25 lowest priced stocks and creates an average for them. The current reading of 18.33 is the second highest on record, outdone only by 2000 levels. This suggests that stock prices are extremely overbought.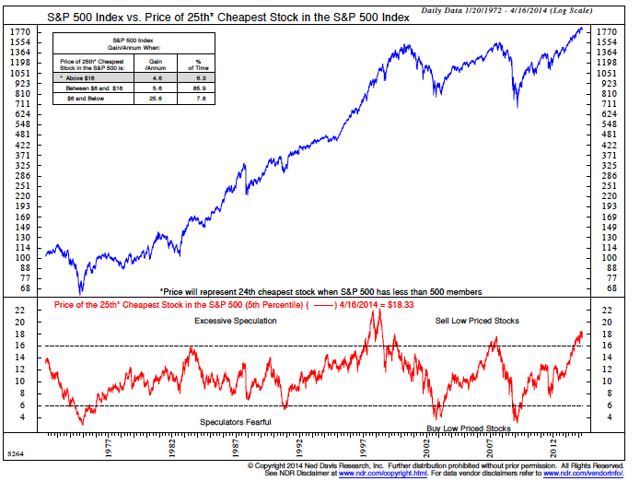 This final chart illustrates the ratio of junk bonds divided by Baa bonds. The ratio recently hit an alltime low, which indicates that investors are failing to differentiate between higher and lower quality issues. This spread suggests that there is tremendous complacency in the marketplace.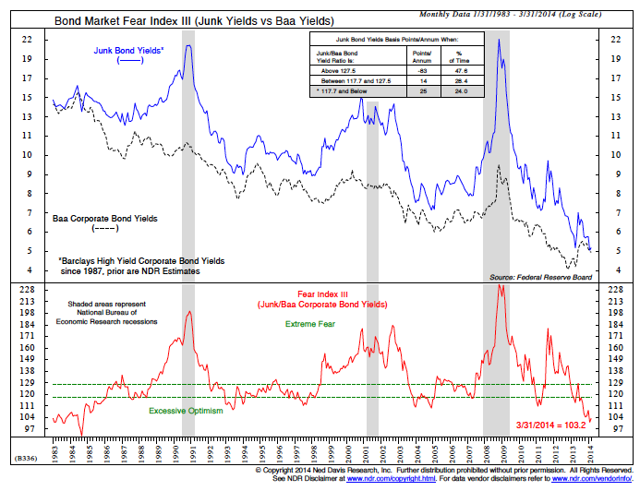 Conclusion
Insider selling remains excessively high, and the high-flying stocks of last fall are beginning to buckle. We view this as a precursor to further damage in the equity markets. While the indexes have not yet shown a substantial decline, many cracks are beginning to appear, suggesting that a larger correction is on its way. We maintain our 32.5% short position.
Disclaimer
Lamensdorf Market Timing Report is a publication intended to give analytical research to the investment community. Lamensdorf Market Timing Report is not rendering investment advice based on investment portfolios and is not registered as an investment advisor in any jurisdiction. Information included in this report is derived from many sources believed to be reliable but no representation is made that it is accurate or complete, or that errors, if discovered, will be corrected. The authors of this report have not audited the financial statements of the companies discussed and do not represent that they are serving as independent public accountants with respect to them. They have not audited the statements and therefore do not express an opinion on them. The authors have also not conducted a thorough review of the financial statements as defined by standards established by the AICPA.
This report is not intended, and shall not constitute, and nothing herein should be construed as, an offer to sell or a solicitation of an offer to buy any securities referred to in this report, or a "buy" or "sell" recommendation. Rather, this research is intended to identify issues portfolio managers should be aware of for them to assess their own opinion of positive or negative potential.
Disclosure: None