As the saying goes, the stock market likes to climb a wall of worry. And what a wall we've got these days, right? There is Russia, the mo-mo meltdown, China's sagging growth rate, the potential for inflation, the aging bull market, the technical divergences, the economic soft patch, the Presidential cycle, the "Sell in May" rule, and the Fed's plans to eventually pull the punch bowl from the economic and stock market party.
So, how have stocks reacted to this litany of worries, concerns and fears? The Dow Jones Industrial Average (DIA), the Dow Jones Transportation Average (IYT) and the S&P 500 (SPY) all finished Monday at fresh all-time highs, of course.
S&P 500 Weekly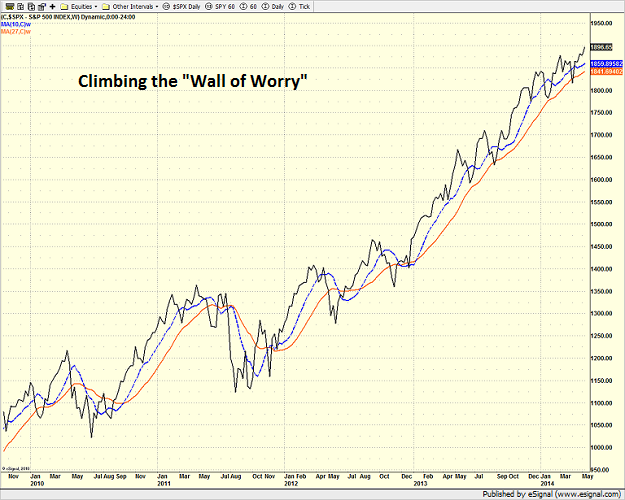 Frustrating the Masses
Not only does the market like to climb a wall of worry, it also has an annoying tendency to frustrate the masses at every opportunity. And according to the plethora of experts gracing the airways and stock market blogs everywhere, the stock market is "supposed" to be going to heck in a hand basket right about now. As such, there are probably an awful lot of frustrated bears.
Perhaps even more frustrating to those seeing the stock market's glass as at least half-empty is the fact that some of the bear arguments actually have some merit. This bull market IS getting old. There ARE a number of technical divergences and warning signs right now. China IS slowing down. And the economic outlook isn't exactly rosy.
But many investors fail to understand the fact that worries alone don't cause bull markets to die. No, it usually takes some sort of catalyst or trigger to get a feeding frenzy to the downside started. And try as they might, the bears simply haven't been able to find that raison d'être for their cause.
It Just Keeps Going and Going and...
It is also important to note that bull markets tend to go farther and last longer than logic would seem to dictate. Remember, money makes the world go 'round. And when times are good in the market, the public tends to jump onboard and continue to allocate more and more of their 401K plan contributions to stocks each month. So as long as there is money pouring into equity funds, then those fund managers will continue to spend it on stocks.
And then there is the fact that investors are very good at "fighting the last war." It is safe to say that just about everybody in the game is now ready for the next brutal bear market. "We won't get fooled again!" is the battle cry. And this is why there are so many so-called experts out their looking for the next bubble and the next crisis that will undoubtedly shake the market to its core.
Everybody's Looking For the Same Thing
The problem is that over the last 35 years, there have been exactly two devastating bear markets. First there was the Tech Bubble Bear of 2000. And then there was the Credit Crisis of 2008. That's it.
The point is that really big, really bad bear markets just don't happen very often. Yet, everybody under the sun is busy waiting for the next bear to commence. But the bottom line is that those big, bad bears just don't show up when everyone is looking for them.
Where We Are Now?
So, where does this leave us? For starters, there is a very good chance that a secular bull market began on March 9, 2009. And given that secular bulls tend to last 10 or 15 years (the last one began in 1982 and ended in 2000), all those bears looking to capitalize on the next big market calamity may be disappointed for some time yet.
This is not to say however, that the market won't experience a cyclical or "mini" bear at some point. Such declines tend to occur with some regularity and generally produce declines in the -10 to -15 percent range. And based on some of the action taking place in the market, we could very easily see one of these "mini" bears begin in the not too distant future.
So, tomorrow, we will look at the evidence that would support a "baby bear" sometime this year.
Turning to This Morning...
With Russia not immediately responding to the weekend secession vote by regions in Ukraine, it appears that traders have shifted their focus to the data. Today, we will get retail sales numbers here in the U.S. Traders will be looking to see if the report supports the thesis that the polar vortex-induced soft patch in economy has ended. Asian markets were mostly higher overnight while European bourses are fractionally so. U.S. futures are pointing slightly higher in the early going.
Pre-Game Indicators
Here are the Pre-Market indicators we review each morning before the opening bell...
Major Foreign Markets:
- Japan: +1.95%
- Hong Kong: +0.41%
- Shanghai: -0.09%
- London: +0.09%
- Germany: +0.59%
- France: +0.16%
- Italy: -0.67%
- Spain: +0.02%
Crude Oil Futures: +$0.57 to $101.16
Gold: -$5.10 at $1290.70
Dollar: lower against the yen, higher vs. euro and pound
10-Year Bond Yield: Currently trading at 2.657%
Stock Futures Ahead of Open in U.S. (relative to fair value):
- S&P 500: +4.05
- Dow Jones Industrial Average: +42
- NASDAQ Composite: +9.42
Thought For The Day... "Climb the mountain so you can see the world, not so the world can see you."
Positions in stocks mentioned: none