Yesterday, Goldman Sachs upgraded M&T Bank (NYSE:MTB) to a Buy from Neutral, and as a result, we were prompted to review this stock for relative valuation. Our conclusion shows that not only is MBT not value-driven right now, but the stock has also tested longer-term resistance.
First, the EPS trends since 2009 have been excellent, but the stock price has increased proportionally too, so valuations have not improved. This suggests that Goldman Sachs anticipates continued EPS increases, but the EPS trend line for MTB suggests that EPS may have hit a ceiling near $2.5.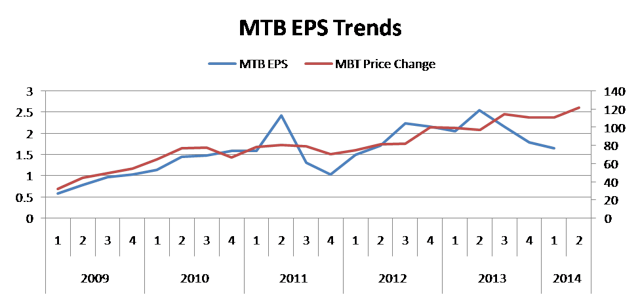 That brings this buy recommendation into question. If EPS has hit a ceiling, as it appears to have, buying MBT at these levels may not be nearly as attractive as the buy recommendation might have you believe. The P/E trends also suggest that MTB is at the upper end of its multi-year P/E trend, suggesting a relatively rich valuation for the company, based on its own historical measure.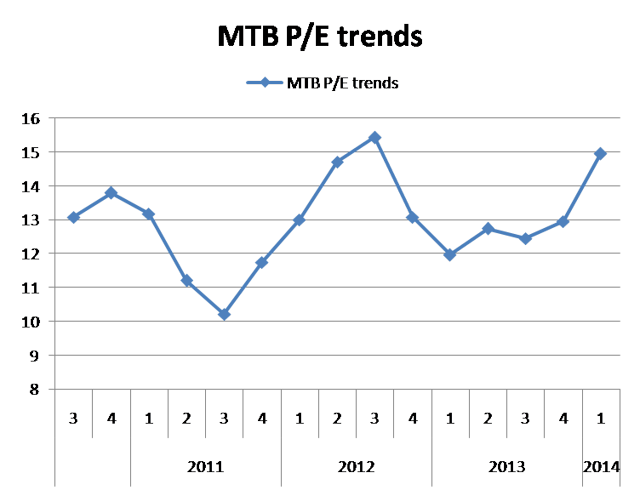 However, the most important part of our analysis came from our price-based evaluation. According to our real-time trading report for MTB, the stock has also tested its longer-term resistance level, and it is poised to decline back to longer-term support again. That makes MTB a sell/short at resistance, with a downside target of support.
According to our observations, MTB is a much better buy at longer-term support levels, so this buy recommendation from Goldman Sachs should be taken with a grain of salt. They may be saying that MTB looks like a solid company for long-term investments, but patient investors are likely to get much better entry levels.
Disclosure: I have no positions in any stocks mentioned, and no plans to initiate any positions within the next 72 hours.
Business relationship disclosure: By Thomas H. Kee Jr. for Stock Traders Daily and neither receives compensation from the publicly traded companies listed herein for writing this article.