It is hard to argue against the Kinder Morgan Group [(NYSE:KMI), (NYSE:KMP), (NYSE:KMR)] on a valuation basis. Using a simple dividend discount valuation model, KMI should be valued above $45 per share and KMP at around $85 per unit. However, these stocks have still been lagging the market, likely due to repeated bear attacks from Hedgeye and Barron's and concerns regarding IDRs and their impact on future growth.
Kinder Morgan: The various methods to buy
For income and dividend growth investors, Kinder Morgan has several compelling stocks worth considering:
KMP, or Kinder Morgan Energy Partners, offers a higher upfront yield of 7.40%, though the tradeoff is slower distribution growth of 5%. As an MLP, KMP generates a schedule K-1, which may be a hassle come tax time, if units are held in an IRA due to UBIT. However, this issue is highly muddled. Depending on which CPA you ask, you'll likely get a different answer each time.
KMR, or Kinder Morgan Management, is basically the stock dividend sister stock of KMP. While technically offering zero cash dividends, it does offer stock dividends equal to KMP's cash dividends. Thanks to its 4.5% discount to KMP, the stock dividends equate to a 7.70% "yield" and offering an equal growth rate to KMP.
KMI, or Kinder Morgan Inc., offers a compelling current 5.20% dividend yield, alongside 8% projected dividend growth. It is also a stock suitable for IRAs, due to its lack of schedule K-1s. While the yield is less than KMP and KMR, thanks to the growth rate, its total return should outpace the MLPs over the long term.
Rich Kinder buys 100,000 shares of KMI
"You sell. I'll buy. And we see who comes out best in the long run."

Richard Kinder
According to a recent SEC filing, Richard Kinder, chairman and CEO of Kinder Morgan, bought 100,000 shares of KMI class P stock at an average price of $32.3618, for a total estimated purchase price of around $3.24 million. This purchase boosts Mr. Kinder's stake in KMI to slightly under 232 million shares, good for a 22.5% stake valued at over $7.5 billion. Do note that when factoring in his family trust holdings, Mr. Kinder's stake increases to 243 million, or 23.5%.
As noted in the above quote, Mr. Kinder has not been shy in his support for Kinder Morgan, with his purchases representing some of the largest insider buys for all public companies. Indeed, these transactions are in addition to the 100,000 and 200,000 share purchases disclosed shortly after the sharp drops after the February 2014 Barron's front cover negative piece on Kinder Morgan.
Why is Mr. Kinder buying KMI over KMP?
Critics of Kinder Morgan will surely point out that Mr. Kinder only owns a token amount of KMP compared to his massive stake in KMI. However, this argument fails to take into consideration that KMI is already pretty much a highly leveraged play on the future success of KMP.
The vast majority (82%) of KMI's cash available for dividends comes from IDRs from its ownership of the KMP general partner interest. As I noted in an earlier article, KMI would be a much less valuable company without this stake. Indeed, besides for its El Paso Pipeline Partners (NYSE:EPB) GP and LP interest, KMI has relatively few other assets.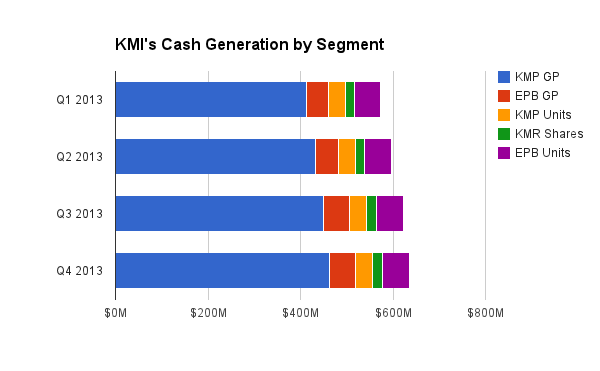 Conclusion
I expect KMI to see a modest "pop" on the news that Rich Kinder is buying more stock. As of this writing, KMI shares were up 1.50% and KMP units up 0.20% in pre-market trading. However, as a long-term focused investor, Kinder Morgan already has enough pluses to make a compelling buy.
As the fourth-largest energy company in North America by EV, Kinder Morgan is a key player in the ongoing energy revolution and infrastructure expansion cycle. Furthermore, when you factor in the large discount to peers based on DCF multiple, you'd be hard-pressed to find a cheaper midstream stock.
Disclaimer: The opinions in this article are for informational purposes only and should not be construed as a recommendation to buy or sell the stocks mentioned. Please do your own due diligence before making any investment decision.
Disclosure: I am long KMI. I wrote this article myself, and it expresses my own opinions. I am not receiving compensation for it (other than from Seeking Alpha). I have no business relationship with any company whose stock is mentioned in this article.