This is the fourth of several articles I am writing to show you exactly what I am doing to cope with an unexpected job loss after middle age, but before retirement age. The first installment, titled Part 1, was somewhat introductory. In Part 2, I began to explore my strategy in asset allocation and I covered the Business Development Companies I chose for my portfolio. Part 3, explored my Real Estate Investment Trust thoughts and choices. Today in Part 4, we will look at Banks and Energy companies. Some may disagree with my logic, some may complain that I have the advantage of age and a head start, but everyone can rest assured that I will honestly tell you exactly what I am doing with my own money.
______________________________
Today we continue looking at the asset allocations I used for my Rollover IRA. If this is the first time you are reading one of my articles, I suggest you go back and read "Unplanned Early Retirement, Part 1" to get the background on my situation and then read Part 2 and Part 3 to see my basic asset allocation and to see the reasons behind choosing specific Business Development Companies and Real Estate Investment Trusts.
My 401k to IRA Rollover action plan consisted of asset allocations and specific dollar targets for each security within each asset class. I was looking for positions that either had dividend growth with a yield at least 3% or 4%, or in the absence of dividend growth, I wanted yields in the 5% to 6% range or higher. I allowed myself some flexibility on these rules for the sake of diversification. I avoided positions that might generate foreign taxes or otherwise would make no sense in a tax deferred account. My final asset allocation plan, as executed in January and February 2014, was as shown in the following table: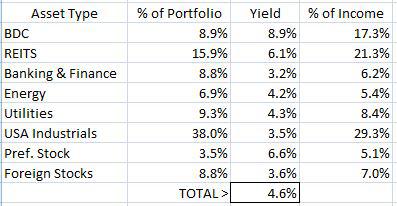 Today, I will discuss two of these asset categories, namely Banking and Energy, because there are only a few different companies in each to discuss. A much bigger discussion might ensue if I talked about all the companies I did not consider or that I considered but decided to avoid. However, in the interest of time - and holding the reader's interest - I will stick to the subject.
Bonds, banks, oil companies and utilities could comprise a classic retiree income portfolio, but "classic" does not necessarily mean "best." These types of assets have had some issues over the last few years.
First, let me address bonds. Several readers have observed that there are no bonds in my portfolio. Actually, there are no bonds or bond funds in my Rollover IRA, but I do have another very small IRA that is invested in an age adjusting fund which includes a mix of bonds and stocks. Also, as I have mentioned in previous articles, I have begun moving some of the funds in my taxable account over to tax-free municipal bond funds such as the Invesco Value Municipal Income fund (NYSE:IIM). I have used various types of bonds in the past for different purposes, but right now I think the yields and the safety factors do not line up the way I want. Right now, in my opinion safe bonds have low yields, and high yield bonds look risky. Not in the near future, but sooner or later, interest rates will go up and today's bonds will have a price crash. Except for the muni funds in my taxable account, I am willing to sit on the sideline and wait for a better time to buy bonds.
Utilities will be the subject of my next article, so I will leave that discussion for later. That brings us to our discussion today centering on banking and energy companies.
First, let's talk a little about banks. As I say in my disclaimer, I am no financial expert, but I do know what I like. I have a business account at a major regional bank, but my personal accounts and all of my cash reserves are in my credit union. Both organizations give good service and both have friendly people, but when you look for value the credit union wins hands down. Credit unions charge less in fees and pay more in interest, but for most people a traditional retail bank is a fact of life, and for an investor, credit unions are a nonstarter since they do not issue stock - their members are the shareholders.
My second observation on banks is that they have not been good to me as a shareholder. For example, I admit to my shame that I was a true believer in Washington Mutual. I thought WaMu was a stock I could keep for the long haul. Unfortunately, when that bubble burst it went quickly and I fell into the trap of hanging on to avoid taking a loss. Eventually, I was forced to take a big percentage loss. (Lesson learned: sell if you need to, do not deny reality.) WaMu was perhaps a unique case, but they were not alone. If not for government intervention we might have lost some other major institutions during the financial crisis. Even the banks that were generally regarded as well-run, or "too big to fail," had to take actions that were not shareholder-friendly, such as slashing their dividends. Everyone who invested in banks felt the pain of the decreased income and the price crash.
So based on recent history, I was very reluctant to fill my brand new rollover IRA with bank stocks. On top of that, most banks no longer provide the type of dividend yield I'm seeking. But there are some good reasons I think my portfolio should contain some exposure to banking. The banks that came through the crash had lower stock prices and had to jump through all kinds of government mandated hoops to demonstrate the financial health of their underlying businesses. Most reset their dividend rates at historically low levels. More importantly, the entire industry fell regardless of relative "guilt." Whenever an entire market falls, you can be sure that some relatively good companies are being unfairly dragged down and punished. This is the time to buy quality companies at a good price.
The first bank I added to my IRA was US Bancorp (NYSE:USB). This bank has long been my favorite as I consider it to be the best run large bank in the country. USB is the only bank that I held and continued to add shares through the financial crisis. Current yield is only 2.3% which is definitely below my target range, but I expect that yield will be going up on a regular basis. When the financial crisis hit in Q1-2009, USB had to cut its dividend from 1.70 per share all the way down to 0.20 per share. Ignoring the January 2009 dividend of 11.6% which paid out after the stock price had started to crash, the pre-crisis yield was about 5.7%. After the dividend cut, the yield, even with the new lower stock price, was a paltry 1.4%, but at least it was a dividend. Since that time, it has raised the dividend 3 times to the current 0.92 per share. We are halfway back, and since the current payout ratio is only 30% I'm looking for additional dividend growth in the near future. I put 3.13% of my rollover in USB on January 31, 2014. Including reinvested dividends, I am up 1.45% in 3 months.
The second bank I added to my IRA was Norwood Financial Corp. (NASDAQ:NWFL). NWFL is a small bank holding company based in Honesdale, PA, which is the county seat in Wayne County. Market cap is only $105 million. The major face to the retail customer is Wayne Bank. NWFL has been on my watch list for a long time because it pops up in a lot of articles as a high paying dividend stock in the financial sector. I never thought enough of it to actually pull the trigger in my taxable account, but I decided that it did fit in my IRA. Current yield is 4.2% which is very good for a banking industry that has seen so many problems. In fact, NWFL continued increasing its dividend right through the financial crisis. The stock price went from the $30 range in 2008 down to the $23 range in 2009, made a strong recovery, and then quickly crashed back to $23 again and stayed there for almost 3 years - a good example of a quality buying opportunity created by a general down draft in the market.
During that time, NWFL raised its dividend 5 times. In 2013, the dividend pulled back slightly from $1.24 to $1.16 per share, but the increases began again and it is now back up to $1.20. To me this is an indicator of a shareholder friendly management team that is also on top of the business. It is worth noting that almost 11% of the stock is held by insiders, so they have their own interests at stake. The current payout ratio is only 52%, leaving room for some additional dividend growth in the future. I put 2.58% of my rollover in NWFL on January 31, 2014. So far the stock price is down slightly, but I have collected enough dividends to cover that. One minor quibble is that NWFL is not eligible for automatic dividend reinvestment, so the dividend goes into my account as cash negating my strategy for free compounding and dollar cost averaging.
My third choice was JPMorgan Chase & Co. (NYSE:JPM). JPM is by far the largest bank I picked at almost 3 times the size of USB and almost 2000 times the size of NWFL. As explained above, I have a distrust of banks and the "too big to fail" major banks are the ones I trust least. I never seriously considered Bank of America Corporation (NYSE:BAC) or Citigroup Inc. (NYSE:C) because they do not meet my initial screening criteria for income. I did consider Wells Fargo & Company (NYSE:WFC), but I chose JPM in a close race. Among the largest national banks I think JPM and WFC are the best. Like USB, JPM cut the dividend significantly in 2009 from $1.52 down to $0.20 per share. Since January 2011 it has raised the dividend 4 times so that it is now at $1.60 per share which is higher than it was pre-crisis. The Federal Reserve overseers, who must approve these increases due to enhanced oversight since the crisis, have said they agree with the increase. With a payout ratio of only 36%, I expect these increases to continue. I put 2.17% of my IRA in JPM on January 31, 2014. Including dividends, the total value is down slightly since then.
My last choice was another small regional bank: Valley National Bancorp (NYSE:VLY). I really struggled with this pick. I owned VLY in my taxable account for some time and although it paid good dividends I had not done well on share price and eventually sold for a long-term 10% loss. Before investing, I reviewed all the reasons I picked VLY with a careful eye. VLY is the holding company for Valley National Bank based in Wayne, NJ. Valley operates in 16 counties in northern and central New Jersey, the New York City boroughs of Manhattan, Brooklyn and Queens, and on Long Island, New York. The market cap is almost $2 billion, so while it is not a major bank, VLY is significantly larger than NWFL. The dividend yield is 4.50%, but this is down from the five-year average of 5.4% and has in fact been cut as recently as Q4-2013. VLY has also issued special stock dividends from time to time. Insiders own 4.3% of the shares with another 43.6% held by institutions. This was my lowest conviction pick so I put less than 1% of my IRA in VLY. In fact, I watched this one closely and sold it for a quick 5.7% profit in 2 months. That gave me a nice profit to invest elsewhere, and now I can sleep at night without thinking about VLY. Unlike most of my picks, I can now say that I am not long VLY.
Now we turn to energy companies. There is a lot of buzz about energy companies today, particularly concerning North American shale and fracking. Some new reports are now starting to appear concerning deep water drilling for potential untapped reserves in the Gulf of Mexico and shale deposits in other parts of the world. Reportedly, millionaires are being minted in droves in boomtowns that were formerly sleepy communities in various remote places. Most of your Spam emails will tout some start-up, some small exploration company, some drilling technology company, or some other specialized corner of this booming market that most investors would not understand. Some people may get rich investing in one or two of these companies, but many will lose all the money they put there. There are a lot of risks in technology, ecology, politics and economic factors. For my rollover IRA, I wanted the reliable and strong oil majors. Many of them are in a great position to benefit from the boom and various other geopolitical and technological factors, but with an added stability that the smaller companies cannot have. There will be no surprises among my choices, I think.
The first is Exxon Mobil Corporation (NYSE:XOM), the biggest and oldest around. I do not really need to explain much about XOM's business. The current yield is 2.7%. It has increased the dividend every year for more than 30 years in a row. That is the kind of dependable record I like, so although the current yield is a little low, I expect the yield on cost to steadily increase as time goes on. In fact, my yield on cost is now already up to 3%. The payout ratio is only 34%, debt is low, and profit margins are good. I put 2.16% of my IRA in XOM at the end of January 2014. Including reinvested dividends that position is up 11.9% as of mid-May 2014.
My second choice was Chevron Corporation (NYSE:CVX). CVX also needs no introduction as Chevron is one of the old line brands in America. CVX had been on my watch list for a long time. Like XOM, CVX has been increasing its dividend for many years, and the current CVX yield is actually higher at 3.4%. The payout ratio is only 39% so it has room to continue increasing the dividend. Debt is low and margins are good. There has been a recent decrease in revenue and earnings, but I think this is temporary. I put 2.19% of my IRA in CVX. Including reinvested dividends that position is up about 13% in a little over 3 months.
My final oil company choice was ConocoPhillips (NYSE:COP). Conoco and Phillips 66 are both iconic brands, but this company does need a little introduction. COP is the upstream exploration, development and production organization that remained after the Phillips 66 (NYSE:PSX) retail and downstream operation was split out as a separate company in May 2012. At the time of the split I benefited as a shareholder in COP and received spinoff shares in PSX in my taxable account. I later sold the PSX at a profit, but I kept COP as a dependable play on new energy trends - such as shale oil, shale gas and oil sands - bolstered by old line production. This is as close as I will come to putting any of my IRA into the new technology energy boom. COP pays a 3.6% yield and increased the payout as recently as July 2013. With a 37% payout ratio, I am confident there will be future dividend growth. I put 2.55% of my IRA in COP. With dividends reinvested, that stake is up about 23% in a little over 3 months.
Please note that there is no way to do an exhaustive essay on any one of these companies when I'm trying to cover several of them in one article. In my own research, I considered a lot more aspects than I can cover here. If this article generates some interest, please study carefully and do your own due diligence before investing your hard-earned money.
In my next installment, I will continue by explaining my thinking on the utilities asset group and the specific companies in which I chose to invest. I hope you will tune in.
Disclosure: I am long COP, CVX, IIM, JPM, NWFL, USB, XOM. I wrote this article myself, and it expresses my own opinions. I am not receiving compensation for it (other than from Seeking Alpha). I have no business relationship with any company whose stock is mentioned in this article.
Additional disclosure: I am not a certified financial expert of any kind. This essay serves as a journal of my own investment experiences.