We are still at all-time highs this morning and we are doing all of this with weak economic data. We find this interesting because we are moving higher in spite of the headwinds facing the economy and not because of the economy necessarily improving. The recent M&A activity spike is certainly one of the reasons we are seeing the move higher, but we are seeing something that we think is quite unique and speaks to the bullishness out there. As we look at the deals some are trying to get done, especially in the pharmaceuticals sector, it appears that everyone wants to be a buyer or have time for their business to blossom.
It seems very few want to be sellers and that just adds to our bullishness. If cash is going to move off of companies' balance sheets and into the market as a tool for making deals, we can expect share prices to move higher across the board and asset prices to increase as well which could end up helping the general economy.
Chart of the Day:
The last time we saw the Dow struggle to break out it moved higher by roughly 1,000 points once market sentiment turned. Obviously no two moves are the same, but with our bullishness on the manufacturing companies we have to admit that we are of the school of thought that the Dow is due to head higher rather than lower through the end of the year.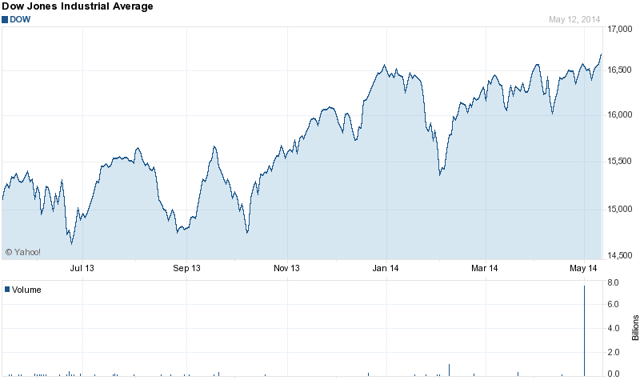 Source: Yahoo Finance
We have economic news today, and it is as follows:
Retail Sales (8:30 a.m. EST): Est: 0.3% Act: 0.1%
Retail Sales - Ex Auto (8:30 a.m. EST): Est: 0.6% Act : 0.0%
Export Prices - Ex Ag (8:30 a.m. EST): Est: N/A Act: -1.2%
Import Prices - Ex Oil (8:30 a.m. EST): Est: N/A Act: 0.0%
Business Inventories (10:00 a.m. EST): Est: 0.4% Act: 0.4%
Asian markets are higher today:
All Ordinaries -- up 0.91%
Shanghai Composite -- down 0.10%
Nikkei 225 -- up 1.95%
NZSE 50 -- up 0.72%
Seoul Composite -- up 0.92%
In Europe, markets are higher this morning:
CAC 40 -- up 0.27%
DAX -- up 0.67%
FTSE 100 -- up 0.16%
OSE -- up 0.50%
Questions About Coca-Cola
The last few weeks have been pretty brutal for Coca-Cola (NYSE:KO) management with poor earnings, a battle over their employee incentive package and losing the backing of Warren Buffett as it pertained to that pay package. Long-term we doubt any of that will be an impact as the market is generally pretty quick to forgive and forget. With that said, we are left questioning Coca-Cola's latest move as it pertains to Keurig Green Mountain (NASDAQ:GMCR).
By now everyone knows that Coca-Cola took a 10% stake in the company earlier this year with the opportunity to increase that stake over 36 months, or three years. The news today is that Coca-Cola has decided that after just three months that they wanted to increase their stake to 16%. They can still add to their position as the agreement gives them the right to buy up to 6.5 million more shares in the company over the remainder of the approximately 33 months left on their original agreement.
Many are focusing on the possibility that this is bad news for Sodastream (NASDAQ:SODA), but we are wondering if it is bad news for Coca-Cola. Their investment could turn out to be a huge winner, but why then not make the initial investment larger instead of coming back after just three months to increase your stake by about 60%? This seems like an attempt to cover up issues at the soft drink maker by directing attention to the company's investments rather than its actual operations.
There has not been a lot of bullish news for Keurig Green Mountain shareholders outside of the Coca-Cola deals. The new product launch will be key to future growth so one has to hope that this most recent purchase is an indication of an insider's view of how that product development is progressing.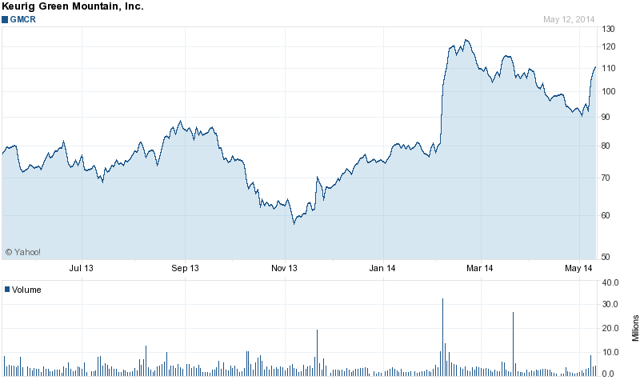 Source: Yahoo Finance
We have no doubt that the partnership will have a leg up on rivals due to the brand recognition of Coca-Cola and the work the company has done figuring out what consumers like to do as far as mixing their own soft drinks. Our main concerns are how fast Coca-Cola's management team is moving in regards to this partnership as well as how big this single serve soft-drink market can be when consumers can already buy various sized cans which are essentially the same thing. Both Sodastream and the Coca-Cola/Keurig Green Mountain partnership could end up losers in all of this.
Manufacturing Stocks
As we have stated numerous times over the past few months, we think that investors should be overweight industrial names right now in their portfolios. It is always important to properly allocate one's capital correctly, but we do not believe that requires one to keep a market weight to any particular sector. Going overweight those sector(s) which appear poised to outperform has always worked for us and is a prudent way to invest so long as one does not day-trade.
Our two favorite names among the manufacturing sector are Boeing (NYSE:BA) and United Technologies (NYSE:UTX) still. Boeing has had a correction after their poor guidance earlier this year, but has reversed course after their most recent numbers came in strongly - a trend we believe will continue. Neither of these companies will be bought out, but could very well roll up some smaller names into their various business segments and subsidiaries. Even with the aerospace overlap we think that there is room in portfolios to use both names within the manufacturing sector allocation.
Although we remain bullish on Boeing, we do want to be transparent and feel that we should disclose that we may personally have to decrease our exposure to the name in the near future after the large run following the correction.
Disclosure: I am long BA. I wrote this article myself, and it expresses my own opinions. I am not receiving compensation for it (other than from Seeking Alpha). I have no business relationship with any company whose stock is mentioned in this article.
Additional disclosure: UTX has previously been recommended.