HP (NYSE:HPQ) is set to report second quarter earnings on May 22nd. Investors and analysts will be watching for signs of continued strength in the Personal Systems segment. My expectation is that performance in the PC market will be worse than it was in the first quarter. But I expect excellent performance on the profitability, EPS, front.
There are bright spots on the innovation and product development front. HP is entering the 3D printing market during the summer. And the firm's offerings in the PC, converged storage, server, and cloud spaces are competitive.
I remain bullish on HP, as the shares remain 40% undervalued.
Recent Developments
Analyst's Note
HP is a leading provider of products, technologies, software, solutions and services to individuals, consumers, small- and medium-sized businesses, and large enterprises, including customers in the government, health and education sectors. HP's operations are organized into seven reportable segments for financial reporting purposes: Personal Systems, Printing, the Enterprise Group, Enterprise Services, Software, HP Financial Services, and Corporate Investments.
HP should use strategic approaches tailored to the needs of the business segment. The Enterprise Services segment is better suited to the traditional classical strategy that is thought in business schools, which is a result of the long-term contractual nature of the business. The software segment should follow a visionary and shaping strategy; it is following a shaping and adaptive strategy. The remainder of the core business should follow, and is following, an adaptive strategy.
| | | |
| --- | --- | --- |
| For the year ending (in millions of dollars except per share data): | 2013-04 | 2014-04E |
| Revenues | 27582 | 26755 |
| Gross profit | 6527 | 6154 |
| Operating income | 1601 | 1873 |
| Net income | 1077 | 1338 |
| Diluted EPS | 0.55 | 0.70 |
For the second quarter, I think revenues decline 3% on weakness in Personal Systems, Printing, and Enterprise Services. There is scope for an upside surprise from Personal Systems, but part of the recent strength in PC sales was driven by the end of the XP lifecycle, which should wane in the coming quarters. Printing is a no-growth to low-growth business right now, and the Enterprise Services group is in the process of a restructuring. With that stated, the cost reductions implemented in prior quarters will improve operating income and net income relative to the year-ago period. Additionally, I'm expecting GAAP diluted EPS of $0.70 while management is guiding towards GAAP diluted EPS of $0.62 to $0.66.
In summary, I'm expecting slightly down revenues with flat profitability relative to the prior quarter while the consensus and management's guidance is for flat revenues with deteriorating profitability. Thus, there is scope for a significant beat on the bottom line when management reports fiscal second quarter earnings.
On the server front, there is scope for a strong product refresh in server as ARM-based chips for servers begin to roll out. From social-networking companies and financial-services companies to other operators of large data centers, demand for power-efficient chips for servers, networking and storage systems is expected to be strong. This is an opportunity that is expected to materialize in the back half of the decade, as HP invests in ARM-based servers. Additionally, Moonshot is expected to be a substantial contributor to revenues in fiscal 2015.
Converged storage is a storage architecture that combines storage and compute into a single entity. Simply stated, it reduces the complexity of storage and improves application performance and delivery. Converged storage is one of the faster growing areas within HP, as the firm wins business from rivals NetApp (NASDAQ:NTAP) and EMC. Also, the wins from 3PAR have some pull through for StoreOnce, backup and recovery.
For the first quarter, HP is expected to generate a 4.8% return on equity, which is well above its cost of equity.
General Risks
The share price is likely to remain volatile and investors could lose a portion or all of their investment.
Investors should judge the suitability of an investment in HPQ in light of their own unique circumstances.
A decline in the global economic growth rate and/or a decline in the pace of economic growth in the United States could adversely impact the results of operations and the share price.
The technology industry is characterized by rapid technological change, which could materially adversely impact the results of operations.
Competition in product development and pricing could adversely impact performance.
Incorrect forecasts of customer demand could adversely impact the results of operations.
Higher interest rates may reduce demand for HPQ's offerings and negatively impact the results of operations and the share price.
This section does not discuss all risks related to an investment in HPQ.
Portfolio & Valuation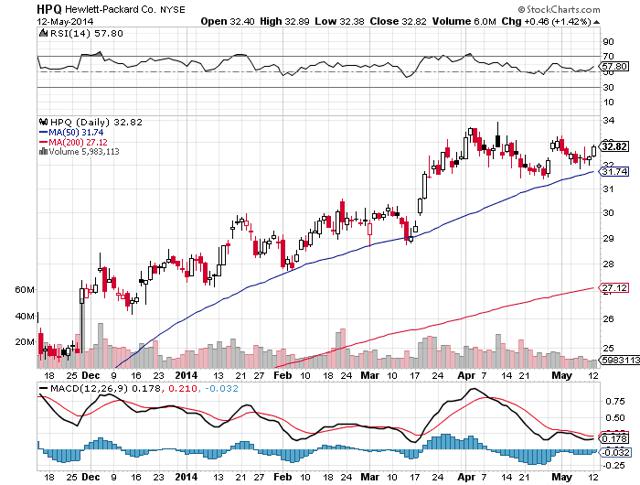 HP remains in a bull market of intermediate and primary degree. The bull market started back at the end of 2012 and may be in the latter innings. But the momentum favors bulls.
| | | | |
| --- | --- | --- | --- |
| Monthly expected return | Quarterly expected return | Quarterly standard deviation of returns | Sharpe ratio |
| 1.15% | 3.44% | 17.92% | 0.15 |
| | | |
| --- | --- | --- |
| | Intrinsic value estimates | Forward price multiples based on base case scenario |
| Optimistic | $65.26 | P/E: 16.78 |
| Base case | $46.61 | P/S: 0.84 |
| Pessimistic | $23.31 | P/BV: 3.23 |
| | | P/CFO: 8.39 |
Based on the fundamentals of HP, the intrinsic value of the shares is $46.61. At the current share price, HP is about 41% undervalued. Also, at the base case valuation, HP would be trading at under 17 times my 2014 EPS forecast.
Disclosure: I have no positions in any stocks mentioned, and no plans to initiate any positions within the next 72 hours. I wrote this article myself, and it expresses my own opinions. I am not receiving compensation for it (other than from Seeking Alpha). I have no business relationship with any company whose stock is mentioned in this article.