F5 Networks, Inc. (NASDAQ:FFIV), headquartered in Seattle, Washington, is a leading provider of technology that optimizes the delivery of network-based applications as well as the performance and availability of servers, data storage devices, and other network resources. The company's hardware, software, and virtual solutions help organizations address the relentless growth of voice, data, and video traffic to better support mobile workers and applications-in the data center, the network, and the cloud. F5's extensible architecture provides application optimization, protection for applications and the network, and enhanced application reliability.
FFIV recently reported earnings on April 23rd : F5's Q2'14 sales of $420 million beat the "Street" estimate of $414.4 million, and beat the company's guidance for $408-418 million. EPS of $1.27 beat the "Street's" estimate of $1.25, and the company's own guidance for $1.23-1.26.
Yet reports like this one from Zacks surfaced, indicating that F5 in fact reported a tepid quarter. Spin it any way you wish, when a company "beats" their own EPS and guidance, it's a positive event and should be taken that way. That is the way I interpreted the results and suggest investors do the same.
F5 then increased their forecast of Q3'14 sales for $428-438 million with EPS of $1.33-1.36, compared to the previous consensus of $428.5 million and $1.33 respectively.
However, this "beat" and "raise", didn't produce much interest as the shares closed @ $108 per share on April 23rd (the earnings release date) and two weeks later traded as low as $99.96 on May 9th.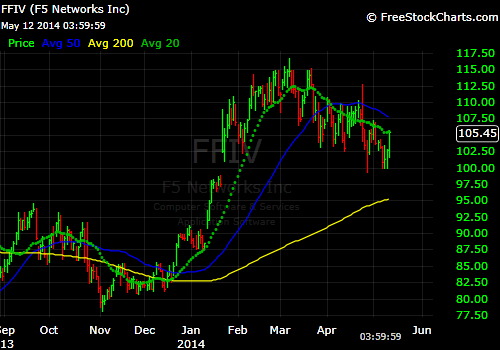 I do have some knowledge with investing in F5 Networks, as I originally bought the shares in 2013 @ $90 then sold @ $108, documented on my Seeking Alpha Instablog.
Another look at the company's balance sheet also reveals a healthy situation as well .
In Q2'13, cash, cash equivalents, and short-term investments totaled $623.8 million, up from $578.2 million last quarter; cash flow from operations was $82.0 million. Net cash and equivalents per share increased to $8.18 from $7.43. Accounts receivable increased to $223.5 million from $220.8 million, and inventories increased slightly to $20.7 million; days of sales outstanding (DSO) were at 48 days from 49, and inventory turns were down at 13.5x vs. 14.1x in Q4. Management expects DSO to be in the high 40's day range in the June quarter. Total deferred revenue rose 20% y/y to $587.7 million. Management repurchased 1.4 million shares in the quarter for a total of $150 million, and has approximately $631 million remaining under the repurchase authorization.
I initiated a new position in F5 Networks on May 12th, @ $103.80 and documented that as an Instablog entry.
In my view there is a lot to like here, real earnings, real growth, all while the shares have sold off, as anything "technology" related has been under pressure lately. These events now present an investor with an opportunity.
Here is the progression of Technology earnings estimates for q1 '14 as of May 9th, April 1, 2014, and Jan 1, 2014:
Technology: +9.3%, +2.5%, +7%;
One can quickly see how, as of April 1, 2014, the consensus estimates had grossly underestimated growth in the tech sector. Combine that with the overall sell off in tech related names, with a company that is beating estimates and raising guidance makes the shares of F5 Networks attractive at these levels.
I like the look of the daily chart here and believe the shares can make a run back to the 115-117 level. However, it's not all about the technicals, as the fundamentals also provide evidence that they are well on their way to support further price advances. That said, my longer term price target for the shares is $130.
Best of Luck to all !
Disclosure: I am long FFIV. I wrote this article myself, and it expresses my own opinions. I am not receiving compensation for it (other than from Seeking Alpha). I have no business relationship with any company whose stock is mentioned in this article. I am long numerous equity positions - all of which can be seen here on my Instablog."It is my intention to present an introduction to this security and state my intent and position. It should be used as a 'Starting Point' to conduct your own Due Diligence before making any investment decision."