Although there are still some short-term issues that the commodities market has to deal with, it does appear that long-term we could see increased demand and bulls reassert themselves into markets they have been absent from for some time now. The news out of India is good, and when combined with the efforts currently underway in Japan and China could set the commodities space up for some serious moves higher as demand increases. We do not want to make this sound as if it is a sure thing, because it is not, but it certainly seems that the pieces have been put in place for bulls to begin making their case.
The copper market continues to make its way back towards levels it traded at before the recent worries about China and our bullish call right around the $3 level appears to have been well placed. Profits could be taken now, but as we state later in today's article it does appear that the metal might have further to run.
Chart of the Day:
This chart shows the copper sell-off and subsequent slow and steady move higher since. We are not one to bet big on copper, but to bet big on what copper indicates. If one is a believer that the economy is going to enter real bull territory, then being long oil, junior metals companies and possibly even natural gas names would be logical.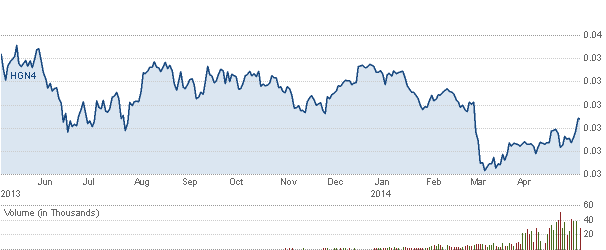 Source: CNBC
Commodity prices are as follows (at time of submission):
Gold: $1,296.80/ounce, up by $1.00/ounce
Silver: $19.575/ounce, up by $0.032/ounce
Oil: $101.27/barrel, up by $0.68/barrel
RBOB Gas: $2.9202/gallon, up by $0.0056/gallon
Natural Gas: $4.428/MMbtu, down by $0.006/MMbtu
Copper: $3.143/pound, down by $0.0065/pound
Platinum: $1,458.40/ounce, up by $16.50/ounce
Implications From Indian Vote
With a new government appearing set to take control of India, many are betting that the country begins to invest heavily in their infrastructure. This could result, according to certain analysts, in India's copper demand surpassing that of China's. If one is of the mindset that China's copper demand is to stay stagnant and not dip moving forward, then this is great news for those investors who are long copper stocks such as Freeport-McMoRan (NYSE:FCX) and Southern Copper (NYSE:SCCO).
For those who invest internationally and also in the commodity space, it is no secret that India has long neglected its infrastructure and this is a prime reason why China has outpaced it in regards to the growth in its manufacturing sector. Upgraded roads and railways would lead to a huge building boom in the country, especially if local laws are streamlined, and this is a scenario where growth would lead to further growth. If you build the transportation infrastructure, the manufacturing facilities follow which then leads to the residential units being constructed followed by the commercial. This might very well be a viable investing theme in the next decade, but right now rather than taking a direct investment in India we will stick to those international companies which could benefit from positive reforms from the newly elected government.
Molycorp Continues To Drop The Ball
We are glad that we went bearish on Molycorp (MCP) when we did and then only took part in a few trades afterwards which kept us from getting locked into this downward spiral that has seen the stock hit fresh all-time lows. We walked away when it became apparent that there were issues with management and the vision for the company. Molycorp cleaned house and should have cleaned their books with just one bad quarter, yet the bad news continued after investors thought that they had already been hit with the kitchen sink.
Being a bear is not always popular, but when the situation calls for it there are but two positions to take, a short position in the company in focus or simply avoiding that company at all costs. We chose to avoid Molycorp shares at all costs, and directed everyone who would listen to stay away as well. After the most recent quarter we got a few calls from friends who thanked us for talking them out of investing in Molycorp because the news has gotten far worse than anything that they had previously imagined possible...short of bankruptcy of course.
Some think that Molycorp shares are a buy now because they have fallen so low. That is never the correct way to look at the situation and unless the US government gives them a sourcing contract for stockpile building with premium pricing, we doubt that the company can continue operating without raising further capital via an equity sale.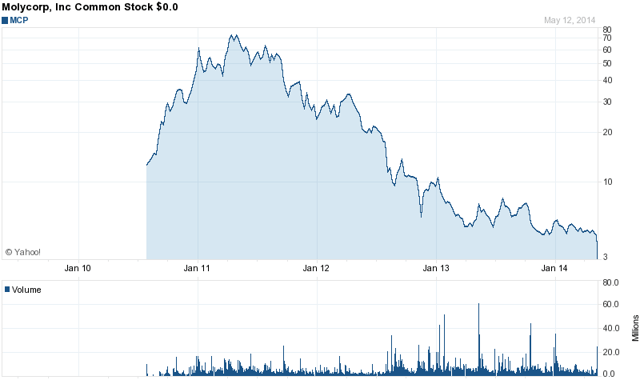 Source: Yahoo Finance
For some reason this continues to be a cult stock, and even those who have seen just how bad the situation can get wonder whether Molycorp is a buy at these levels. With the company now facing the real possibility of a cash crunch moving forward, we think that the answer is a resounding no. Think about it, if a bank is not willing to lend them money then why should investors want to invest in the company?
What About Other REE Companies?
With Molycorp chasing investors away, investors in the sector are looking elsewhere for possible investments. Right now we only see one situation which we feel is compelling, but that is with a tiny company and has more to do with a court case than any macroeconomic or REE specific news.
With the current market it makes little sense for investors to bet on names like Avalon Rare Metals (NYSEMKT:AVL) or Rare Element Resources (NYSEMKT:REE) as those projects are extremely risky at this point. Avalon wants to develop a project that requires over $1 billion and would be an underground mine. That is all well and fine, but underground mines have unique issues of their own and would provide headaches above and beyond even those that Molycorp itself is dealing with.
Rare Element Resources had what looked like a really promising project in the US before REE prices began decreasing but with their project being geared towards the LREEs (light rare earth elements) investors need to accept that the economics of that project continue to worsen and ultimately that their project will not be developed.
Disclosure: I have no positions in any stocks mentioned, and no plans to initiate any positions within the next 72 hours. I wrote this article myself, and it expresses my own opinions. I am not receiving compensation for it (other than from Seeking Alpha). I have no business relationship with any company whose stock is mentioned in this article. FCX has previously been recommended.
Editor's Note: This article covers one or more stocks trading at less than $1 per share and/or with less than a $100 million market cap. Please be aware of the risks associated with these stocks.