Potash Corporation of Saskatchewan (NYSE:POT) remains a top investment choice for investors who want to play a recovery in fertilizer stocks. The potash sector experienced rapid turmoil nearly a year ago when competitor Uralkali (OTC:URALL) announced that it would break up the Belarusian/Russian potash cartel and instead pursue a volume-over-price strategy. As a consequence, both potash prices and share prices of fertilizer companies selling potash, phosphate and nitrogen products fell off a cliff. Simultaneously, investor sentiment with respect to fertilizer businesses tanked, and many companies lost 30% or more of their market capitalization in a matter of days.
Contrarian investment opportunity
For more background information as to why I thought Wall Street got it wrong, and Potash Corp. was an excellent contrarian investment at the time, I'd like to refer you to my original investment thesis from September 25, 2013 (here). The main reason why I aggressively recommended fertilizer stocks in general, and Potash Corp. in particular, was because the CEOs of a variety of fertilizer companies took the opportunity to publicly invalidate Wall Street's assumptions of a sector meltdown (see references made in the above-mentioned article).
Long story short: Uralkali announced a volume increase, Wall Street and investors panicked, and share prices collapsed. In other words, The likelihood of finding tremendous value was extraordinary high. I cannot imagine any other sector that offered such outsized return potential at the time (except for maybe some stocks in the financial sector in 2010), and I have aggressively and repeatedly made the case for an investment in fertilizer companies. Not surprisingly, with investor emotions slowly fading into the background, a more rational approach to potash firms took over. Fast forward one year. The doomsayers have been wrong once again, and potash firms across the board are rebounding slowly but consistently.
At the beginning of the year, in early February, I made the controversial statement that I expect Potash Corp., as well as other potash companies, to return to their pre-crisis stock price levels. I wrote:
Hefty share price declines oftentimes define the beginning of a slow and gradual recovery trend, and it was of no real surprise that potash companies rebounded nicely in the second of half of 2013 and the beginning of 2014. Now, share prices of potash firms are correcting once again, which I attribute to an overall profit-taking mentality in the marketplace. However, long-term investors can still find a decent bargain in Potash Corp. of Saskatchewan over the next two or three years, and I have repeatedly argued that I expect shares of potash firms to climb back to pre-crisis levels (in the case of Potash Corp. this would imply a target price north of $38 per share).
While controversial at the time, Potash Corp. now indeed seems on its way to reclaim its pre-crisis price level.
Share performance
The chart below depicts the share performance of Potash Corp., Mosaic (NYSE:MOS), K Plus S AG ADR (OTCQX:KPLUY) and Compass Minerals International (NYSE:CMP) over the last two years. All companies have rebounded significantly from their lows marked just after the Uralkali announcement in July/August 2013.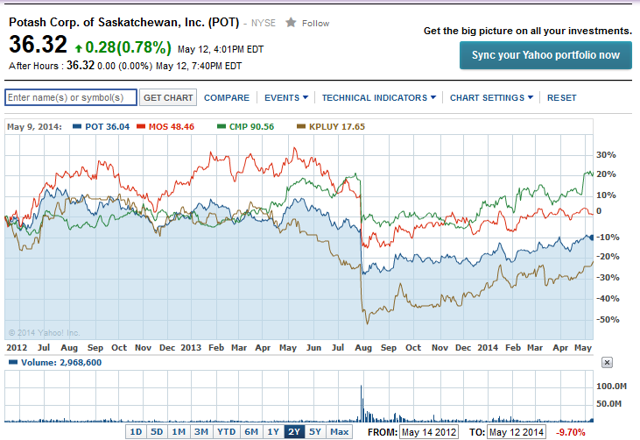 First quarter 2014 results
Of course, Potash Corp. felt the effect of distressed potash prices in the last quarter. The company reported earnings per share of $0.40 which compares against earnings per share of $0.63 in last year's first quarter. Lower nutrient prices clearly had an impact on Potash Corp. The chart below depicts the change in Potash Corp.'s gross margin from the first quarter 2013 to the most recent quarter.
The comparison is particularly insightful, because nutrient prices were affected by Uralkali's strategic repositioning in the second half of 2013 (and still are in Q1 2014) but not in Q1 2013. As investors can see, Potash Corp. took the largest gross margin hit in its potash segment, while its other segments nitrogen and phosphate were not as severely impacted.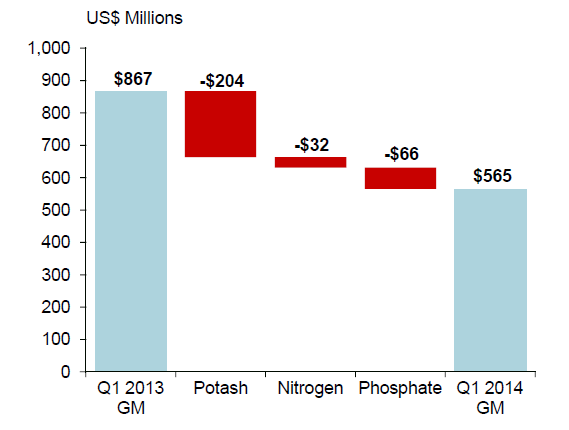 (Source: Potash Corporation Q1 2014 Conference Call Presentation, April 24, 2014)
Long-term business drivers are as convincing and solid as ever
Though Uralkali definitely caused massive uncertainty for potash producers with respect to future fertilizer prices, which also encouraged strategic buying behavior of fertilizer dealers, one of the main reasons for my long thesis was that long-term supply/demand dynamics continue to be very favorable for potash producers. A growing world population, limited supply of land available and suitable for agriculture and the need to increase crop yields are very convincing secular macro trends that should support share prices of fertilizer companies such as Potash Corp. and its peers.
Investors who like the fertilizer business but don't want to go all-in with Potash Corp., could consider German fertilizer company K Plus S AG ADR (OTCQX:KPLUY), which has significant exposure to the salt business and is less reliant on potash (see the original thesis of this completely below-the-radar company here).
Conclusion
What we really see here unfolding is a repeating pattern that should be all-too-familiar to contrarian investors. Uralkali's announcement to leave the cartel structure was a Black Swan event, and investors panicked and sold shares with no regard for their intrinsic value. After hysteria and excitement abated, share prices recovered slowly but steadily over an extended period of time. Contrarian investors could have made good money here if they bought just when pessimism peaked. Of course, it is not realistic to assume that every contrarian investor could have picked up Potash Corp. at the lowest possible price. However, if investors just bought after the most extreme volatility subsided, they could have pocketed somewhere between 20%-25% until now with more upside potential ahead. The recovery in potash stocks is not over yet. Strong BUY.
Disclosure: I am long POT, MOS, KPLUY. I wrote this article myself, and it expresses my own opinions. I am not receiving compensation for it (other than from Seeking Alpha). I have no business relationship with any company whose stock is mentioned in this article.
Editor's Note: This article discusses one or more securities that do not trade on a major U.S. exchange. Please be aware of the risks associated with these stocks.