ARMOUR Residential REIT, Inc. (NYSE:ARR) is a mREIT that invests predominantly in fixed rate, adjustable rate and hybrid adjustable rate mortgage-backed securities backed by government-sponsored enterprises such as Fannie Mae (OTCQB:FNMA), Freddie Mac (OTCQB:FMCC) or Ginnie Mae. ARMOUR Residential has somewhat gained notoriety with investors due to its sector-leading distribution yield of approximately 14% as well as its poor performance of its shares over the last five years.
MREITs such as ARMOUR Residential shot up in popularity after the real estate bubble burst in 2007/2008 and the financial crisis unfolded. Low interest rates and high leverage ratios allowed mREITs to capitalize on investments in a portfolio of mortgage-backed securities and funnel substantial amounts of cash flow through to investors.
Share performance
ARMOUR Residential is the worst performing mREIT over a one-year, two-year and five-year performance measurement period when compared against the following peers: Annaly Capital Management (NYSE:NLY), American Capital Agency Corporation (NASDAQ:AGNC), American Capital Mortgage Investment Corporation (NASDAQ:MTGE), Hatteras Financial (NYSE:HTS) and Capstead Mortgage (NYSE:CMO).
ARMOUR Residential has lost 38.55% of its value over the last two years, 29.80% over the last twelve month but is up 6.53% YTD.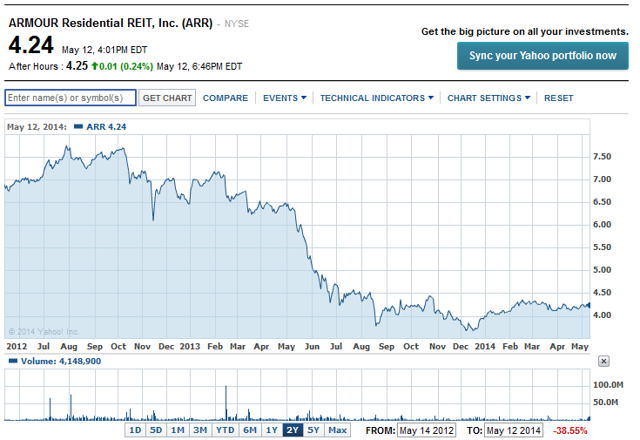 (Source: Yahoo Finance)
ARMOUR Residential's underperformance compared to other mREITs is striking and is an immediate reflection of ARMOUR Residential's higher balance sheet risks, high leverage and a distribution yield that some may deem unsustainable. In addition, ARMOUR Residential's dividends have been cut by 58% since 2011 which clearly contributed to the decline in ARMOUR Residential's share price.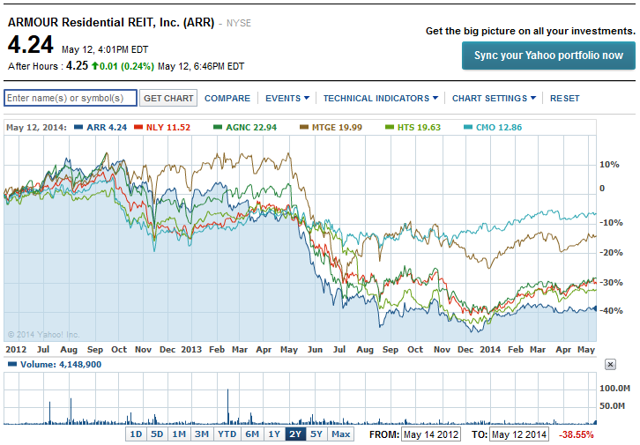 (Source: Yahoo Finance)
First quarter results were not encouraging
ARMOUR Residential delivered first quarter 2014 results on May 5, 2014 which were everything else but pretty. For the first quarter 2014 ARMOUR Residential reported:
A GAAP net loss of $19.8 million or $0.07 per common share. This compares against GAAP net income of $102.3 million or $0.29 per common share in the year ago quarter.
Core income of $58.3 million or $0.15 per common share compared against core income of $67.5 million or $0.20 per common share in Q1 2013: A decline of 14% or 25% on a per share basis.
A Q1 2014 average net interest rate margin of 1.82% compared against 1.35% in the year ago quarter.
Two developments in particular contributed to my continued bearish stance on ARMOUR Residential:
Its leverage ratio remains high and actually has increased sequentially: For the most recent quarter, ARMOUR Residential's leverage ratio stood at 8.12:1 which compares against 6.92:1 at the end of December 2013. Way too high in my opinion.
The most prevailing reason to maintain a negative outlook on ARMOUR Residential: Another quarter of declining book value per share. ARMOUR Residential reported a book value per share of $4.67 in Q1 2014 which compares against $4.75 per share in Q4 2013 (minus 1.7% sequentially) and against $6.69 per share in the year ago quarter (minus 30% y-o-y).
Both Annaly Capital Management and AGNC have presented first quarter results that hinted at a reversal of negative book value growth: Annaly reported a sequential increase in book value per share of 1.4% and AGNC showed positive book value growth of 2.3%. As long as ARMOUR Residential's book value erosion has not stopped, investors should not consider an investment in the mREIT.
Dividends and yields
If an mREIT can be used as an example of why mREIT investments despite their high yields are not necessarily lucrative, one has to look no further than ARMOUR Residential. As described above, ARMOUR Residential has not been a good investment for shareholders: The stock is down nearly 39% over the last two years and capital losses are higher than ARMOUR Residential dividend income.
ARMOUR Residential currently pays investors $0.05 per share per month which translates into annual shareholder payments of $0.60 per share. With an annualized forward dividend yield of 14.15% ARMOUR Residential ranks at the top end of the mREIT yield spectrum -- even surpassing the 13% yield of American Capital Mortgage Investment Corporation.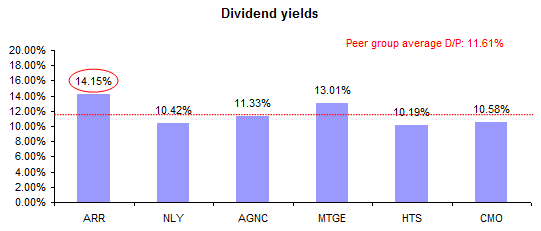 (Source: Achilles Research, Finviz.com)
Conclusion
I am generally not a fan of mREITs, though I do have a positive opinion on classic real estate investment trusts as vehicles for income. MREITs attract most of their investors from the retail base, many of whom purchase solely for cash flow income. Nothing wrong with that, but ARMOUR Residential's historical performance is a good reminder that cash flow income can be more than offset by capital losses. Given ARMOUR Residential's first quarter results, I see little reason to change my outlook on the mREIT. I have previously been extraordinarily bearish on Annaly Capital Management and American Capital Agency Corporation as well, however, both companies have delivered sequential book value growth. Declining per share book values remained a centerpiece of my mREIT short thesis. As long as ARMOUR Residential's book value growth doesn't reverse, there is no rush in purchasing this mREIT for income. Short or Avoid.
Disclosure: I am short NLY. I wrote this article myself, and it expresses my own opinions. I am not receiving compensation for it (other than from Seeking Alpha). I have no business relationship with any company whose stock is mentioned in this article.