As of this writing, data about how the Model S is doing in April are beginning to flow in. Since Tesla (NASDAQ:TSLA) doesn't report this data, I think it's useful to check on the dispersed incoming reports.
Here are the numbers we have at this point regarding deliveries of the Model S. The U.S. is a rough estimate, and the others come from several reporting bodies. The source for these numbers is the EV-Sales blog, which tracks EV sales in all the different countries.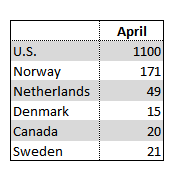 What do these numbers represent? That's hard to say, since it's still early in the quarter. Tesla has the habit of delivering a lot of cars late in the quarter, probably to make its numbers.
Part of the reason is that cars going to foreign markets take their time to arrive. Still, it's somewhat strange that sales would take that much of a plunge early in the quarter, when Tesla said that it spent the last quarter filling up the pipeline, so there ought to be cars available to deliver right away (Source: Q1 Shareholder letter, bold emphasis is mine)
This year we are engaged in the most rapid expansion in Tesla's history. In Q1, we produced a record 7,535 Model S vehicles for global delivery. We also slightly exceeded guidance by delivering 6,457 cars while also filling the pipeline of deliveries into Europe and Asia to support growing global demand.
Anyway, to have a sense of what the incoming reports mean, I'll compare them to:
January (the first month of the previous quarter);
The average Q1 monthly sales.
This ought to give us an idea of how Q2 is shaping up. Let us see what it implies:

Click to enlarge
At the moment, the available numbers seem inconclusive. While April is shaping up slower than the average monthly deliveries Tesla had in Q1, at the same time, April is beating January (the first month of Q1). The comparisons are inconclusive, though, because as I explained, Tesla said it filled up the pipeline in Q1, whereas after Q4, it was probably much harder to deliver in Europe after the year-end rush to make deliveries.
All-in-all, we need data for May before we begin having a more solid opinion of how things are going. And having some data on China would help, too. We should also take into consideration that Tesla has said its Q2 production is already sold out (Source: Q1 2014 earnings call transcript, bold emphasis is mine):
Patrick K. Archambault - Goldman Sachs & Co.

Okay, that's helpful. Just as we think about the cadence of deliveries, which is obviously very back-half loaded, but you're obviously confident in the 35,000. Can we just get a little bit more clarity as to sort of what's driving sort of the back-half inflection? Is it cell capacity, is it that second, excuse me that second production line coming on? Is it just - it seems like it's more supply-driven than demand-driven, but just wanted to get a little more clarity on what's driving that sequential progression?

Elon R. Musk

And then, the benefit other constrainers, which is the vehicle production line. So, it actually will actually be taking the factory - the Fremont factory down for roughly days or so in July to convert inline, which enables a substantial increase in our production capacity on the vehicle side, as well as a labor house reduction. So it's just fundamentally more efficient process. Yeah, if it is worth highlighting the point. Very often, in the media, it seems like there's confusion between Tesla production and Tesla demand. For example, like we're sold of Q2 production, already. The term sales usually means demand, but in our case sales means deliveries. It's our measure of demand, it's a measure of how many cars we're actually able to get to customers. If we had been better at production and delivery would have little bit more cost.
Having this confirmation directly from CEO Elon Musk means we need to be careful when predicting deliveries below estimates. After all, even a quarter of flat deliveries in U.S. and Europe just needs 1000 deliveries in China plus the UK, which isn't hard to do.
Tesla's main worry, given the apparent delivery flatness in the U.S. and Europe, will come in Q3, Q4, when it's supposed to show a significant increase in deliveries. I'll remind readers that to hit the 35,000 delivery expectation, it will need combined deliveries of 21,000 Model S in Q3, Q4 after deliveries of around 14,000 in Q1, Q2. Such an increase in deliveries is highly likely to require growth in the U.S. and Europe to be achieved, and so represents the first real test of Tesla's growth.
Conclusion
The first bits of data regarding Model S deliveries in April 2014 have started flowing in. Given the pattern Tesla usually exhibits in delivering fewer cars at the start of each quarter, these numbers are, for the moment, inconclusive.
Disclosure: I have no positions in any stocks mentioned, and no plans to initiate any positions within the next 72 hours. I wrote this article myself, and it expresses my own opinions. I am not receiving compensation for it (other than from Seeking Alpha). I have no business relationship with any company whose stock is mentioned in this article.