Rowan Companies Plc. (NYSE:RDC)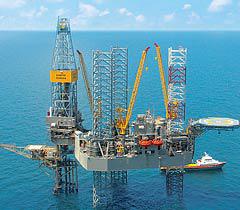 The company was founded in 1923 by Charles and Arch Rowan, and provides offshore oil contract drilling services and has expanded worldwide. Rowan Companies Plc. Is based in Houston, Texas.
Rowan has a fleet of 34 offshore drilling rigs, including three drillships under construction. Its fleet consists of four drillships, three of which are under construction, and 30 jackups, 19 of which are rated high-specification. The company has a very strong jackup fleet, and now is trying to enter the market of the ultra-deep drilling sector. The Rowan Renaissance drillship entered the market in April 2014.
Rowan released recently its Q1 2014 results, and I believe it is the right time to look at the company's fundamentals in-depth.
M. Thomas B. Burke is the new CEO, and presented the last conference call on May 6, 2014. Here is what he said:
I do not foresee any significant changes to our strategy. We are focused on operating high-specification jackups and ultra-deepwater drillships. Our high-specification fleet and global presence positions us well for future success. Although certain sectors or markets have softened in recent months and many new rigs are entering the market, our current backlog, capable young fleet and operational expertise continue to provide a solid foundation for Rowan.
Complete fleet analysis, April 23, 2014.
Monthly fleet status report as of April 23, 2014.
More information has been added after the conference call on May 6, 2014
1 - Ultra-deepwater drillships.
#
Name

Year

Built

Specification

K feet

Contract

End

Current

Day rate

K$

Location
1
Rowan Renaissance
2014

10/12

(Drilling 40)

4/14-4/17
619
West Africa
2
Rowan Resolute
Q2 2014

10/12

(Drilling 40)

9/17
608
Gulf of Mexico
3
Rowan Reliance
Q4 2014

10/12

(Drilling 40)

1/18
602
Gulf of Mexico
4
Rowan Relentless
Q2 2015

10/12

(Drilling 40)

Available
-
-
2 - Three categories for the jackups: Conventional (1), Premium (2) and High-Specification (3).
Q1 2014 results snapshot
Net income from continuing operations was $55.6 million, or $0.45 per share, compared to $68.1 million, or $0.55 per share in the first quarter of 2013.
Excluding the revenue impact of a one-time gain related to a settlement from a collision in 2012, income from continuing operations for the first quarter of 2014 was $34.7 million, or $0.28 per share.
SG&A expense totaled $30 million and will increase to $35 million to $37 million in Q2 2014. Full 2014 SG&A expense is still in the range of $130 million to $140 million.
From the conference call:
Our first-quarter normalized earnings per share was $0.28. This excludes the impact of a litigation settlement gain relating to a 2012 rig collision and a gain from discontinued operations relating to the sale as a land rig retained from the sale of LeTourneau in 2011.
Revenues were $377.6 million, down 4% from Q4 2013 due to essentially a lower utilization between renting periods. (Out-of-service time from Gorilla VI and Gorilla VII)
Note: Rowan is initiating a dividend of 0.10/share starting Q2 2014 or 1.3% per year. Backlog is at an all-time high at $5.037 billion. Full-year 2014 capital expenditure is estimated at $2.1 billion.
J. Kevin Bartol, CFO, gave this statement regarding the 2014 guidance:
Looking at full year 2014, we estimate our operating expenses, again excluding rebuilds, will be in the range of $950 million to $965 million, which is lower than our previous guidance primarily due to the impact of ongoing cost control efforts, including optimizing rig crew levels on the Rowan Stavanger, which is now expected to work in the U.K. sector for a longer period of time than originally planned. The extended shipyards stayed for the Gorilla VI as it prepares its 3.5 year contract for work in Norway, is also contributed to the reduction of certain cost --- -- reduction of operating cost and certain cost will continue to be capitalized.
General remarks regarding the fleet average age and day rates per categories.
The recent 10Q on May 12, 2014, offers some good indication.
| | | | |
| --- | --- | --- | --- |
| Jackups | Conventional | Premium | High-spec. |
| Rig number | 3 | 8 | 19 |
| Rig Utilization % | 33 | 91 | 83 |
| Day rate in $ 2014 | 121,797 | 116,802 | 199,848 |
| Day rate in $ 2013 | 95,745 | 97.975 | 201,944 |
It is very difficult to generalize a fleet's age and day rates, but this approach can reveal some unseen elements, which may uncover some strength or weakness hidden somewhat in the larger flow of data. Due to Rowan's recent entry in the Ultra-deepwater drillship business, I do not believe it is relevant to talk about this new segment here. Thus, I will study only the jackup segment, which is the strongest part of the company right now.
The jackup segment will be divided into three different classes, already indicated in the table above: Conventional, Premium and High-Specification. The same groups as Rowan indicated in its 10Q.
| | | | |
| --- | --- | --- | --- |
| Jackups | Conventional | Premium | High-Spec. |
| Rig number | 3 | 8 | 19 |
| Age | 39 | 32.4 | 8.2 |
| Available/idle/shipyard | 3 | 0 | 1 |
As we can see, Rowan's fleet aging is quite substantial for the Conventional and Premium jackups, which represent 36.7% of the total jackups. It is perhaps an issue if the company is focusing on the ultra-deepwater drillship segment for the next few years?
Rowan has a capital expenditure at $1.7 billion for 2014 allocated to its new drillships. It is not an immediate concern, but a concern, nonetheless, amplified by the actual softness of the market.
Also, in the 10Q, the conventional jackups have a day rate at over $121K and a rate of utilization at 33%, however, they are now all available, which means that the rate of utilization of this group is 0, and day rate of 0, as far as I am concerned.
Rowan is the leader in High-specification jackups with its 19 rigs, well ahead of Seadrill Ltd. (NYSE:SDRL), Ensco Plc. (NYSE:ESV) or Nobel Corp. (NYSE:NE).
This is a definitive plus for the company for the next five years, although the two other groups (Conventional and Premium) are now aging fast and will struggle down the road. Could Rowan be an acquisition in the future? Transocean Ltd. (NYSE:RIG) or even Ensco Plc. could partner up and get some important positive synergy from this business relationship.
I may add that Rowan is entering the ultra-deepwater sector at an unfortunate time, but managed to rent already most of its new drillships. There is fierce competition in this sector against SDRL, RIG and others, but if the market softness is temporary, as I think it will, then there is no worry about this situation, and Rowan is making the right choice.
Conclusion and recommendation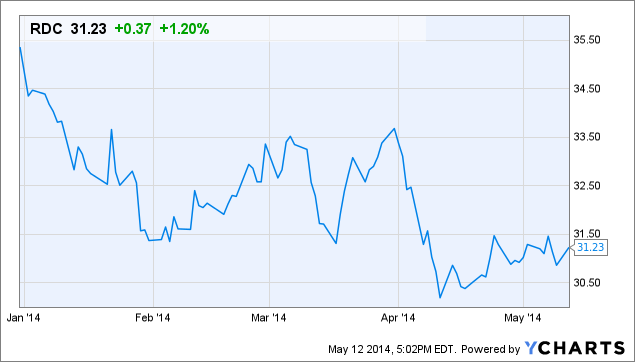 RDC is a top-tier offshore drilling company specialized in High-Specification jackups, and it is easy to see why, after analyzing its fleet and impressive backlog which more than doubled since 2011. The company has a strong balance sheet and a satisfactory debt level at $2.81 billion, which will allow RDC to eventually expand the new ultra-deepwater drillship segment, and also take care of the jackup segment which will present many good opportunities in the future.
It is important to notice that RDC is offering a small dividend of 1.3% starting Q2 2014, which is a positive step and something significant that was missing for shareholders. Of course, It is a far cry from SDRL's yield of 11+% or RIG's 7%.
RDC is well-positioned with its High-Specification jackups fleet and should do very well for the next five years. The day rate in this segment has increased over 370% since 2009, from just a bit over $50K per day to $187K now.
The stock price has suffered a drop of about 12% since the beginning of 2014 and presents a good opportunity at this $31 level, which seems to be a multi-year support.
Disclosure: I am long SDRL, RIG, ESV. I wrote this article myself, and it expresses my own opinions. I am not receiving compensation for it (other than from Seeking Alpha). I have no business relationship with any company whose stock is mentioned in this article.