In our previous article dated April 25, 2014 on NQ Mobile (NYSE:NQ) we wrote about the $80 million total NQ paid for a 58% stake in Tianjin HuaYong Wireless Technology (vLife), a company they claim is vital for their NQ Live platform. In the article we mentioned how we spoke with two app developers and asked them about the potential of live wallpapers since it appears to be a major focus by NQ Mobile going forward. The app developers' response was that they were skeptical of the potential of NQ Mobile's live wallpapers and NQ Live.
One of the developers told us that many smartphone users like to have shortcuts (icons) of their favorite apps on the home screen. Therefore for those types of users, the icons on the home screen will get in the way of the interactive content or the interactive content will get in the way of the icons. As a result there could end up being a lot of clutter on the home screen. In addition they told us that they believed most smartphone users would likely get annoyed by advertisements appearing on their home screen.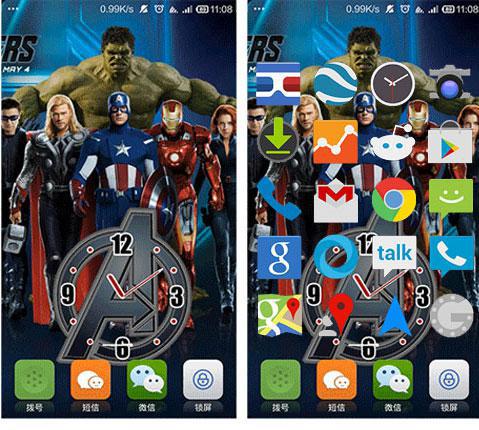 We provided a mockup showing the potential clutter (seen above) which was included in our previous article.
More recently though NQ Mobile has a press release on May 5, 2014 saying that the HTC One M8 Harman Kardon edition smartphone being sold by Sprint is powered by NQ Mobile's NQ Live technology. This is a special model of the HTC One M8 that is geared towards music enthusiasts and is only available from Sprint. It is also apparently the first commercial execution of NQ Live.
As indicated on NQ Mobile's blog, the home screen is a NQ Live wallpaper which features a "dynamic collage of album covers that features different album highlights or partnership highlights every few seconds". In addition a "Tray" and a "Peel Function" is also part of NQ Live on the phone.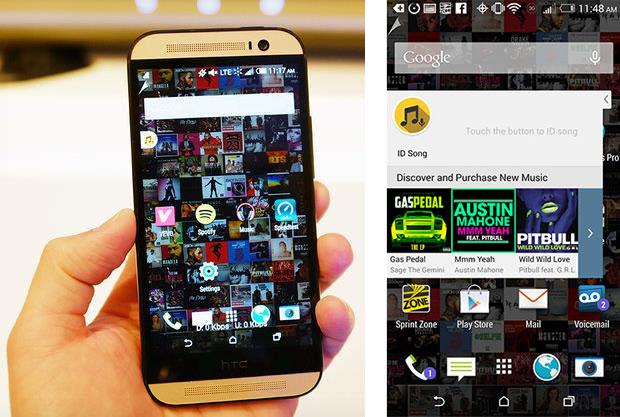 A review dated May 9, 2014 of the HTC One M8 Harmon Kardon edition by eCoustics, a consumer electronics review website, appears to confirm what the app developers predicted and told us; that having interactive content on the home screen can produce too much clutter and users do not like having advertisements on the home screen of their phone.
In the eCoustics review under the "Sprint Uglies Up HTC's Sense Skin" section it says:
We're used to plenty of pre-installed apps, blatant advertising, and unattractive UI tweaks on budget smartphones and tablets. But this time, Sprint has brought the whole mess to a brand-new, high-end phone, and boy is that annoying.

But the default home screen on the Harman Kardon M8 is an unattractive, cluttered-up mess. There's a live background made up of dozens of album covers, which flip in distracting 3D fashion every once in a while, combining to reveal a larger album cover. The busy look of the album collage clashes with the icons on the home screen, making for what feels like a digital version of a messy desk.
To summarize the review stated that the NQ Live wallpaper on the phone clashes with the icons on the home screen, which results in an unattractive, cluttered-up mess that is distracting and annoying. This is consistent with the predictions the app developers we spoke with gave on having interactive content on live wallpapers for smartphones when there are many icons on the home screen.
In addition the review on the Harman Kardon M8 interface continues and says:
Then there's a floating tab on that side that, once pressed, slides out a floating music widget at an achingly slow pace. This lets you tap to identify a song that's playing (Shazam style), and otherwise serves up ads for what seems like random music.

If all that wasn't obnoxious enough, the upper-left corner is stylized to look like it's a peeling piece of paper. Tap here and pull across the screen to reveal Sprint Live-a feed of ads for more random music, and ads for Spotify and the Nextradio FM radio app, both of which come pre-installed on the phone.
So it would appear the reviewer was put off and annoyed by all the advertisements added to the phone using NQ Live technology. This is also consistent with the prediction the app developers gave us about having advertisements on live wallpapers in our previous article. They said they were extremely doubtful smartphone users would like having advertisements on the home screen and many would most likely get annoyed.
Disclosure: I am short NQ. I wrote this article myself, and it expresses my own opinions. I am not receiving compensation for it (other than from Seeking Alpha). I have no business relationship with any company whose stock is mentioned in this article.
Additional disclosure: While I hold a short position on NQ at the time this article was submitted, I have been actively trading NQ both long and short the past few months. I may continue to do so in the near future