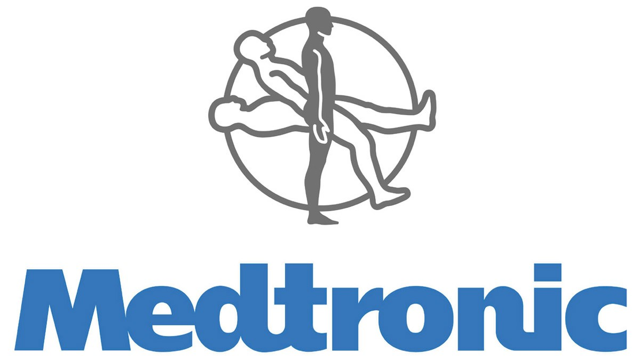 Click to enlarge
Medtronic (NYSE:MDT) manufactures and distributes medical therapies worldwide. The business divides its operations into two segments: Cardiac & Vascular, and Restorative Therapies. The Cardiac and Vascular Group includes cardiac rhythm disease management [CRDM], coronary, structural heart, and endovascular products. The Restorative Therapies group includes spine, neuro-modulation, and surgical technologies products.
Current Events Year-over-year sales were up 4% on a constant currency basis for the latest quarter. Medtronic announced that its long-term renal denervation project failed to pass its HTN-3 trial due to not meeting efficacy requirements. Medtronic's future growth depends on continuing therapy innovation and unlocking the opportunities for health therapy products in emerging markets.
Growth Opportunities: Medtronic operates in a heavily-legislated, quickly-changing industry. The heavy legislative burden of the healthcare industry creates significant barriers to entry for smaller firms, reducing competition and allowing dominant industry players to retain a competitive advantage. Medtronic's 35 years of increasing dividends are evidence of its ability to continuously innovate and stay in-line with the fast-changing health industry. The company currently has a very promising pipeline of new products.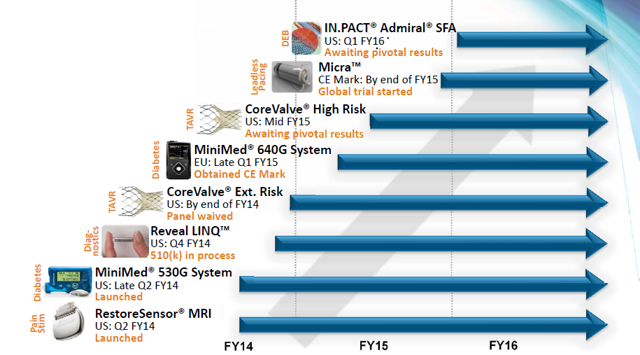 Click to enlarge
Source: JP Morgan Healthcare Conference Presentation
Medtronic has a significant opportunity to grow revenues through expanding the company's product offerings in emerging markets. Currently, emerging market revenue accounts for 12.5% of the company's revenue. Medtronic's emerging market revenue grew 12% on a constant currency basis year-over-year for the most recent (3rd) quarter. The business expects double-digit emerging market growth to continue, and possibly increase over the next several years.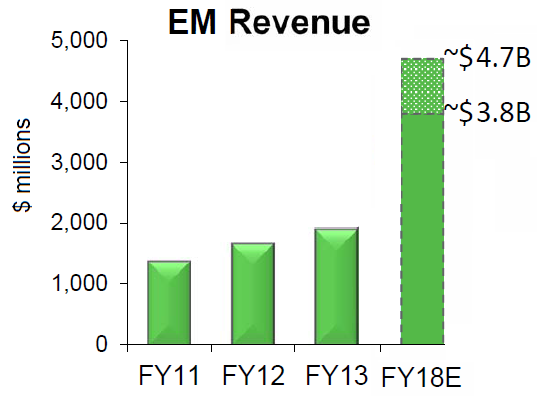 Source: JP Morgan Healthcare Conference Presentation
Shareholder Return: Medtronic expects to grow revenues by between 3.5% and 6.5% per year over the next several years. The company's current dividend yield is 1.84%. Medtronic is expected to repurchase 2% of its market cap this year. Shareholders of Medtronic can expect a compound annual growth rate of between 7.5% and 10.5% going forward from growth, dividends, and repurchases.
Valuation Medtronic appears to be undervalued based on its P/E ratio compared to its peers.
| | | |
| --- | --- | --- |
| Ticker | Name | P/E |
| MDT | Medtronic | 17.28 |
| | Abbott Labs | 28.25 |
| | Stryker Corp. | 40.15 |
| | St. Jude Medical | 24.98 |
| | Baxter International | 20.48 |
| COV | Covidien | 20.81 |
| | Beckton, Dickinson, & Co. | 24.84 |
| | C.R. Bard | 15.84 |
Source: Finviz Comparison to Other Businesses with 25-Plus Years of Increasing Dividends
Consecutive Dividend Increases: Medtronic has increased its dividend for 35 consecutive years. Beckton, Dickinson (NYSE:BDX) and C.R. Bard (NYSE:BCR) have both increased their respective dividends for 42 years. All 3 businesses have an excellent track record of rewarding shareholders.
Why it matters: The Dividend Aristocrats (stocks with 25-plus years of rising dividends) have outperformed the S&P 500 over the last 10 years by 2.88 percentage points per year.
Source: S&P 500 Dividend Aristocrats Factsheet, February 28 2014, page 2
Dividend Yield: Medtronic's current dividend yield is 1.84%, which ranks it at 75 out of 105 companies with 25+ years of increasing dividends.
Why it Matters: Stocks with higher dividend yields have historically outperformed stocks with lower dividend yields. The highest-yielding quintile of stocks outperformed the lowest-yielding quintile by 1.76 percentage points per year from 1928 to 2013.
Source: Dividends: A Review of Historical Returns
Payout Ratio: Medtronic's low payout ratio of 30.90% compares favorably to other stocks with 25+ years of increasing dividends. The business has room to increase dividends faster than revenue growth for many years.
Why it Matters: High-yield, low-payout ratio stocks outperformed high-yield, high-payout ratio stocks by 8.2 percentage points per year from 1990 to 2006.
Source: High Yield, Low Payout by Barefoot, Patel, & Yao, page 3
Long-Term Growth: Medtronic has grown revenues per share by about 6.4% per year over the last decade. The company's solid growth ranks them at 33 out of 105 comparable stocks.
Why it Matters: Growing dividend stocks have outperformed stocks with unchanging dividends by 2.4 percentage points per year from 1972 to 2013.
Source: Rising Dividends Fund, Oppenheimer, page 4
Volatility: The company's standard deviation over the last decade is 24.13%. The company's relatively low volatility ranks it at 29 out of 105 for this metric.
Why it Matters: The S&P Low Volatility Index outperformed the S&P 500 by 2 percentage points per year for the 20-year period ending September 30th, 2011.
Source: Low & Slow Could Win the Race, page 3
Conclusion
Medtronic is ranked number 12 out of 105 stocks with 25-plus years of dividend increases based on the five buy rules from the 8 Rules of Dividend Investing. Medtronic is a solid business that has proven to be shareholder friendly over the last 3 decades. The business operates in a fairly fast-changing industry, but has proven to be able to keep pace with the changes in healthcare legislation and technology.
Disclosure: I have no positions in any stocks mentioned, and no plans to initiate any positions within the next 72 hours. I wrote this article myself, and it expresses my own opinions. I am not receiving compensation for it (other than from Seeking Alpha). I have no business relationship with any company whose stock is mentioned in this article.