So much for good weather helping retail sales. This morning's retail sales report for the month of April came in weaker than expected on all fronts. On the headline reading, economists were expecting an increase of 0.4% for the month, but the actual increase only came in at 0.1%. Ex Autos, the report was even weaker at a level of 0.0% versus expectations for a gain of 0.6%. For this part of the report, it was the biggest miss relative to expectations since June 2010.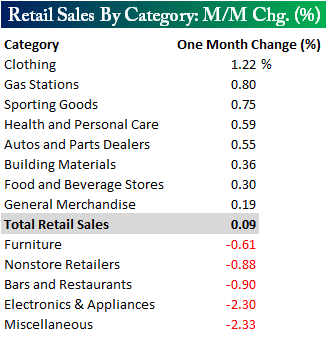 The table above shows the breakdown of the April retail sales report by category. While the headline reading showed only a modest increase, the breadth of April's report was positive with eight categories showing growth while five saw declines. The largest increases were seen in Clothing (+1.22%), Gas Stations (0.8%), and Sporting Goods (0.75%). With this month's increase in the Clothing category, that sector has seen its first back to back monthly increases of more than 1% since April 2011. On the downside, the biggest declines were seen in Miscellaneous (-2.3%), Electronics and Appliances (-2.30%), Bars and Restaurants (-0.90%), and Online (-0.88%).
The table below breaks down the change in share of total sales over the last year for each category in the retail sales report. Groups highlighted in green represent the largest increases over the last year, while red indicates groups that have seen the largest decline in their share of total sales. Even after this month's decline in sales for online retailers, that category's share of total sales has seen the second largest increase in the last year. The only category that has seen a larger increase in its share is Autos, where the total share of sales is back above 20% for the first time since October 2007. This could be a signal that consumers are increasingly confident to the point where they are more comfortable making big ticket purchases, but we would prefer to see confirmation of this trend from Electronics and Appliance retailers and Building Materials, which also represent big ticket purchases.