Varonis (NASDAQ:VRNS), a big data analysis and mapping software developer, reported its Q1 '14 financial results on May 5 for the first time as a public company since its February IPO. The company reported increased losses caused by increased R&D and SG&A investments and provided an outlook of record high revenues and record high losses for the full year 2014. The market reacted dramatically to the company's results: the stock price declined almost 13% a day after the earnings and has continued declining since. However, should long term investors sell their Varonis shares after reading the Q1 '14 results and the market reaction? Not so fast. Varonis is a micro-cap growth company that operates in a growing market and should be treated as a long term investment. For this kind of company, revenues generation and the business story can be more important than multiples and hard numbers to assess a possible increase in stock price in the long term.
As shown in chart 1 below, Varonis' revenues increased year after year from 2010 in a 37% CAGR and expects to hit an all-time high in 2014. When analyzing a company such as Varonis, CAGR revenues reflect the company's ability to generate revenues in increasing amounts year after year and maintain consistent growth in the business. Varonis has shown a 37% CAGR over four years, which is higher than other significant competitors in the big data mapping market such as Symantec (NASDAQ:SYMC) and SAP (NYSE:SAP) that have 4% and 10% CAGR revenues respectively. The gap between Varonis' four years CAGR and its competitors can be explained by the companies' profiles: while Varonis is in its early stages and focuses on the big data mapping market, Symantec and SAP are mature companies with wide portfolios and are looking into big data mapping as an emerging market to expand their revenues. High revenue CAGR is good evidence that Varonis is able to market its products and increase sales fast, showing a good trend suitable for a growth company.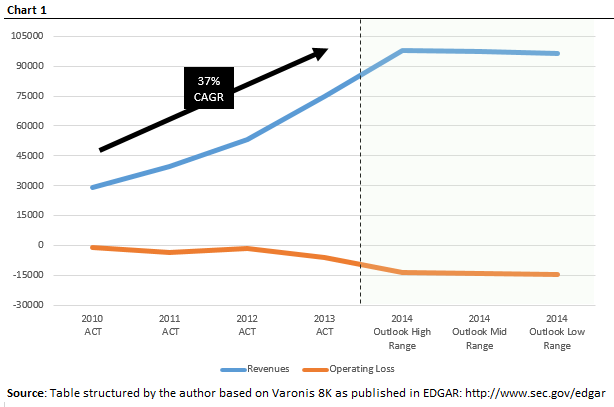 On the other side of the operating margin, Varonis is increasing its R&D and SG&A investments every year to support the growth figures. Although R&D and SG&A percentages of revenues are steady around 30% and 70% (respectively), every year they offset almost 100% of the revenues. Adding the cost of revenue to the R&D and SG&A spending drives Varonis to a negative operating profit. As a growth company, increasing R&D and SG&A investments is needed to develop new products and improve customer engagement; however, increasing R&D and SG&A spending every year is not sustainable for the long term and in a few years Varonis will get to the right size of operation that can support the revenues growth and present a positive operating profit from that point onwards.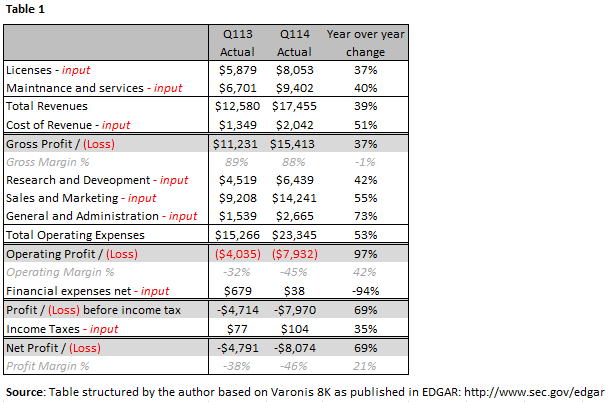 As shown in table 1, Varonis ended Q1 '14 with a 39% increase in revenues over Q1 '13, which is 2 points above the four-years CAGR revenues mentioned earlier, indicating a good trend for a growth company. Varonis also presented a 51% increase in cost of revenue and a 53% increase in operating expenses that drove a Q1 '14 operating loss almost 100% higher than Q1 '13. An increased operating loss is obviously not positive for any company; however, increased R&D and SG&A investments are part of the growth process the company is going through.
Varonis' R&D investment increase can be partially explained by the DatAnswers investment. On May 5, 2014, Varonis introduced DatAnswers that enables customers who already use Varonis products to successfully search and locate human generated files. DatAnswers by itself will probably not attract new customers to Varonis, but it enhances Varonis' big data mapping solutions and enables the company to sell more DatAdvantage or IDU licenses as it allows customers who analyze their human generated files with Varonis solutions such as DatAdvantage or IDU to easily locate and access mapped and analyzed files. Adding this feature to the Varonis portfolio makes DatAdvantage and IDU more appealing to customers, which is a major opportunity to gain more customers and generate more revenues. The Varonis SG&A increase can be explained in the sales personnel growth as was mentioned in the earnings call by Yaki Faitelson, Varonis' CEO. An increase in sales headcount is a move in the right direction to improve customer support and worldwide sales.
Varonis' revenue outlook for 2014, as shown in chart 1 above, ranges from $96.5M to $98M and reflects all-time record revenues of around a 30% increase year after year. It is below the four-year CAGR figure but still a high increase that fits the company profile.
Conclusions
In Q1 '14 Varonis presented increased operating expenses and operating loss alongside increased revenues, and stock reacted with a double-digit decline. Although the stock price lunged and earnings might seem negative, Varonis should be treated as an early stage software company that operates in a growing market. Varonis' four-year CAGR revenue is significantly higher than its competitors and the company's outlook for 2014 is to hit record revenues. Varonis is still investing in its R&D and SG&A and is able to offset these investments with revenues to keep a marginal operating loss. Q1 '14 results reaffirm the thesis detailed in previous articles that Varonis presents a short term loss due to R&D and SG&A investment but will present a positive bottom line in the long term as revenues increase by double digits.
Disclosure: I have no positions in any stocks mentioned, and no plans to initiate any positions within the next 72 hours. I wrote this article myself, and it expresses my own opinions. I am not receiving compensation for it (other than from Seeking Alpha). I have no business relationship with any company whose stock is mentioned in this article.