First of all, let's point out the many things a skeptic could say about Baidu (NASDAQ:BIDU). The online search industry is expanding in China, and as such, is attracting competitors at an increasing rate. An alliance between China Mobile (NYSE:CHL) and Xinhua News Agency seems poised to provide some competition for BIDU in the search business. China has 500 million subscribers and Xinhua is largely known for their cutting edge news services. So, many analysts believe leveraging both brands and their current services they will be able to provide a superior user experience to BIDU. I believe this is overblown, as neither firm has experience in the internet realm or online search. They are entering a realm where one of their major advantages (CHL's massive subscriber base) will have to compete in a mobile search market where Baidu already has a 30% share.
Mightier foes than CHL and Xinhua have attempted to dislodge Google (NASDAQ:GOOG), for example, with terrible results. Also, consider that BIDU already has a 70% Chinese share, which is comparable to Google's formidable 66% share in the United States. It will take years before these two entrants can create the technology platform that is attractive enough to take share away from Baidu. By the time this happens, if it ever does, I expect BIDU to be embedded in China in much the same way Google is in other markets.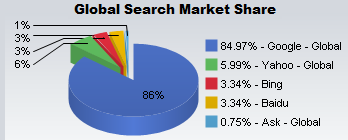 Google's problems in China are also great news for BIDU. According to marketshare.hitslink.com Google has about 85% of the global search market share. They represent one of the only competitors capable of creating superior services in the short term to compete with BIDU. I am assuming that China will always water down the services of a renegade Western firm to ensure their sovereign interests are protected and their home grown companies retain an advantage. As a result, I expect outages, censorship and further tensions between Google and China to offset a potential technological and capital advantage that Google seems to possess. It seems to be working; from Q1 2010 to Q2 2010, Google's share of search revenues fell from 31% to 24%.
Another Chinese competitor that may provide challenges to Baidu in the long term is Sohu.com, which was founded by MIT graduate Charles Zang and has aggressively been hiring Google China associates since news of their temporary withdrawal. Sohu is spinning off their online search entity, Sogou search, in a business collaboration with another internet veteran, Alibaba, with both founders putting a 16% stake in the new company. With the backing of both Sohu and Alibaba, Sogou search is poised to be more successful than the offerings from CHL and Xinhua. Currently, however, Sogou is third in market share with 0.8%. They have a significant amount of ground to make up.
Finally, one of the major instant message players in China could create their own offering in the search and ad businesses. Tencent is the dominant instant messenger service in China; of the 400 million internet users in China, 70% of them message and 80% of those use Tencent. This represents about 225 million users with direct access to an online service that could be easily complemented by a search platform. However, as mentioned previously, a reliable technology platform for performing complex and meaningful searches is not built overnight. Tencent is no doubt working on this already, but BIDU has the pieces in place to stay at least one step ahead.
For these reasons, I think that Baidu actually is in better position now than they ever have been.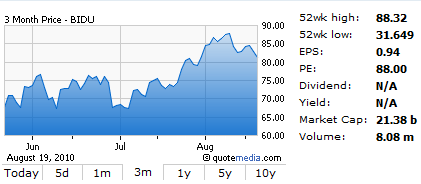 Fundamental Valuation
Baidu, by my calculations, is actually undervalued. I find their opportunities right now, along with the rocky waters Google has faced and will continue to face, to be enough to warrant a large increase in stock price over the near term. I calculate an intrinsic price floor of $105 and a ceiling of $220. This is using a discount rate of 18%, which incorporates the risks of investing in a Chinese company. I feel this is a more conservative measure of risk than the market currently implies. Furthermore, the short term growth rate of 30% is certainly feasible for a firm that has exploded in very recent years. This growth rate is well below the low end of consensus estimates.
Relative Valuation
Baidu right now seems vastly overvalued from a relative perspective. However, in reality, there are no peers from which accurate and reasonable comparisons can be drawn. Their P/E ratio represents an incredible opportunity to provide searches and receive revenue from the largest internet using community in the world. Also, consider that over the last few years their relative valuations have actually decreased substantially, while cumulative three year return stands at 370%.
The point is, that relative valuation in this situation does not apply. I believe that Baidu is a stock that should be valued based on projected cash flows, growth and ability to differentiate services in a massive market. For this reason, I give a relative valuation grade of incomplete.
Ratio Analysis
From a liquidity perspective, Baidu has generally declining trends in current and quick ratios. However, their free cash flows have grown exponentially over the last five years and represent an increasing ability to pay down whatever small liabilities they have from current earnings. All of their liquidity ratios are above three and very healthy. For liquidity, I give Baidu a grade of A.
Profitability is something that Baidu has not had a problem with. Their margins have contracted slightly over the last five years, but their return on equity continues to improve and reward shareholders. Furthermore, their free cash flow margin has nearly doubled in the last five years, indicating strong sustainable channels of cash that BIDU can rely on for covering short term expenses and liabilities. Forward looking analysis concludes that the troubles Google encounters in China add to the sizeable advantage that Baidu currently has in mainland China. I see no credible competitor in the near to medium term that can compress the profitability of Baidu as a whole. For profitability, BIDU receives an A+.
Leverage is something that can help companies in a variety of ways. Right now, Baidu carries very little long term debt. Their cost of debt hovers around 7% while the market implied cost of debt is exponentially higher than that. The question is – why the disparity in these two numbers? BIDU is not leveraged and holds a kings hoard of cash compared to their income. For leverage, Baidu receives a grade of A-.
Concluding Remarks
I believe Baidu (BIDU) is a stock to buy now or regret later. Their presence in the largest internet user community in the world will enable them to create incredible returns for their shareholders. Right now, the search market in China is only 10% of the United States, but in five years the picture will be different. I believe the shares have been kept low because analysts are questioning the business model that these search companies currently use. However, Google has been plenty successful using that strategy to gain a stranglehold on the world search market and a brand that has enabled them to branch into operating systems and browsers.
Baidu could be the same such beast for the billions of Chinese residents that will access the internet in the next decade.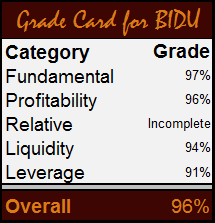 Disclosure: No positions