The diabetes space is occupied primarily by what has come to be known as Big Pharma. However, in April this year, a small biopharmaceutical company, Lexicon Pharmaceuticals (NASDAQ:LXRX), quietly reported encouraging data on its experimental drug, LX4211, for type 1 diabetes. The report follows another successful proof-of-concept study of the same drug for type 2 diabetes reported in October 2013. LX4211 introduces a new element in the treatment of diabetes, and might as well give the established players in the field a run for their money.
Diabetes
The two types of diabetes - type 1 and type 2 - although radically different, are typically characterized by high blood sugar. While type 1 is a genetic disorder where the body fails to produce insulin, one develops type 2 diabetes over the course of one's life, and it results from insulin resistance, or the body's ineffective use of insulin.
Maintaining blood sugar levels in diabetics is of prime importance for reducing the risk of complications, such as renal failure, retinopathy, myocardial infarction and coronary heart disease.
Before the approval of Invokana of Johnson & Johnson (March 2013) and Farxiga of Bristol Meyers Squibb and AstraZeneca (January 2014), the preferred treatment for diabetes (type 2) was Merck's DPP-4 inhibitor, Januvia (approved in 2006).
LX4211 - introducing a new element in diabetes treatment
LX4211 is a first-in-class dual inhibitor of sodium-glucose linked transporters (SGLT1 and SGLT2).
Medical science has known for a long time that metabolic equilibrium of glucose can be improved by inhibiting urinary glucose reabsorption. Approval of Invokana and Farxiga established, in principle, that SGLT inhibitors are effective glycemic control agents for managing blood sugar levels in patients with diabetes type 2. SGLT inhibitors work to block glucose absorption in gastrointestinal tract and kidneys. While SGLT1 mediates intestinal glucose reabsorption, and SGLT mediates kidney glucose absorption.
An SGLT inhibitor is different from a DPP-4 inhibitor, which helps in reduction of blood glucose through hormones in the pancreas and the liver. LX4211 is also radically distinct from Invokana and Farxiga, as both are SGLT2 inhibitors, while LX4211 is a dual inhibitor and blocks both transporter proteins.
Encouraging results
Type 1 diabetes: On April 14, 2014, Lexicon announced that LX4211 achieved the primary endpoint of reducing mealtime insulin use in patients with diabetes type 1, along with secondary endpoints, including "improved glycemic control with a mean HbA1c reduction of 0.55% in the LX4211-treated group compared to a reduction of only 0.06% with placebo."
On the occasion, the company CEO said that results from the clinical trial provided "a clear demonstration of proof-of-concept of LX4211 as an oral, investigational new drug for type 1 diabetes complementing insulin therapy."
Earlier, in October 2013, the company announced results of a proof-of-concept study of LX4211 for type 2 diabetes patients. LX4211 had demonstrated clinically significant reductions in high blood sugar levels after meals in type 2 diabetes patients with moderate to severe renal damage.
Pipeline
Lexicon does not have any product in the market, but has an interesting pipeline of drugs for treatment of carcinoid syndrome, irritable bowel syndrome (IBS), rheumatoid arthritis and glaucoma.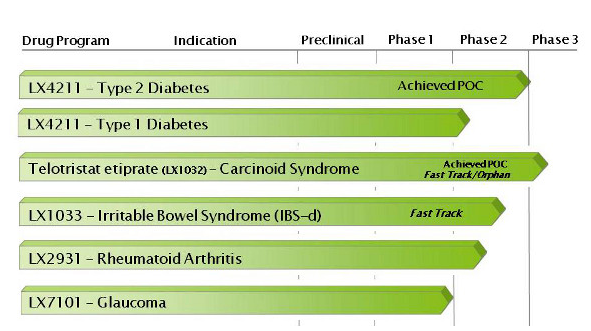 With disappointing mid-stage results of LX1033 for IBS behind it, the company is pinning its hopes on LX4211 and carcinoid syndrome treatment, LX1032, which is also waiting for progressing into late-stage Phase III.
Invading a large market dominated by Big Pharma
Worldwide, 347 million people have diabetes. In the U.S., 8.3% of the population, or 25.8 million people, had diabetes, according to 2011 data collected by American Diabetes Association. Roughly 79 million people were showing symptoms of prediabetes - the gray area between normal and diabetic blood sugar levels. About 90% of all diabetes cases pertain to type 2.
Diabetic care has improved in the last decade - firstly, due to diet awareness campaign launched by governmental and private agencies, and secondly, after approval of diabetes drugs discussed above that have been developed by and/or in partnership with Big Pharma.
Lexicon is trying to invade that space and challenge the supremacy of Big Pharma with its dual inhibitor, which could control blood sugar levels more effectively and provide better glycemic control than the existing drugs. It needs to be noted that LX4211 is designed for adjuvant action on type 1 diabetes, which the existing drugs do not provide.
Risk factor
Apart from the long-drawn (and expensive) approval process, Lexicon faces a major cash crisis.
As of December 31, 2013, the company has a little more than $100 million in cash, equivalents and short-term investments. But it has also been losing a lot of money every year - a $104.12 million loss in FY 2013.
The cutting down on expenses by way of axing half of its workforce in January 2014 is a positive, as it signals the company's determination for conserving cash for taking LX4211 (and also LX1032) forward into Phase III trials. However, the road ahead is not easy, as pivotal late-stage trials are mighty expensive, costing hundreds of millions.
The regulator's approach to diabetes, an extremely large market, is also a problem going ahead. The space, as mentioned before, is dominated by pharmaceutical giants, and LX4211 may find it difficult to match the safety standards established by them. Farxiga was approved after a long delay, but Eli Lilly's case is a classic example of how difficult it may get to get the SGLT inhibitors approved. The FDA issued a complete response letter for empagliflozin, Eli Lilly's investigational SGLT2 inhibitor drug, asking partner Boehringer Ingelheim to resolve issues raised by it regarding its manufacturing facility, despite the company presenting data from 10 multinational trials and 13,000 diabetics. These are standards that Lexicon may find it hard to match.
Conclusion
Although LX4211 has clearly demonstrated that the developmental process can proceed to late-stage study, and the stage is set for it to stake a claim in the diabetes treatment market, considering the factors discussed above, it would be pretty difficult for Lexicon to meet the challenges.
The company has two options to consider:
Wait for a moneybag partner. Lexicon will not have to look too hard, as currently, there are only two SGLT inhibitor drugs in the market, and any of the large biotech companies, including Eli Lilly (NYSE:LLY), which is also developing its own type 2 diabetes drug - dulaglutide, long-acting GLP-1 (glucagon-like peptide 1) receptor agonist - might be interested.
For the time being, restrict LX4211 to the smaller diabetes type 1 market. Although a very small market - only 10% of the overall diabetes market - if approved, it would at least provide the company a foothold and a revenue stream.
This is an interesting stock, and I have it on my watchlist. But I will wait for some concrete catalyst before investing.
Disclosure: I have no positions in any stocks mentioned, and no plans to initiate any positions within the next 72 hours. I wrote this article myself, and it expresses my own opinions. I am not receiving compensation for it (other than from Seeking Alpha). I have no business relationship with any company whose stock is mentioned in this article.