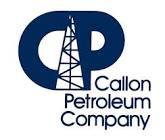 Callon Petroleum (NYSE:CPE) released a bullish Q1 earnings report that advanced the thesis first presented in my February 20 article Callon Petroleum: Permian Basin Pure Play's Stock Is A Bargain. The stock blasted through my 2014 price target of $8.75 and is now up 50% since the article's publication and is now north of $10. That said, the stock appears to have the potential for another 25% by year end.
Q1 Earnings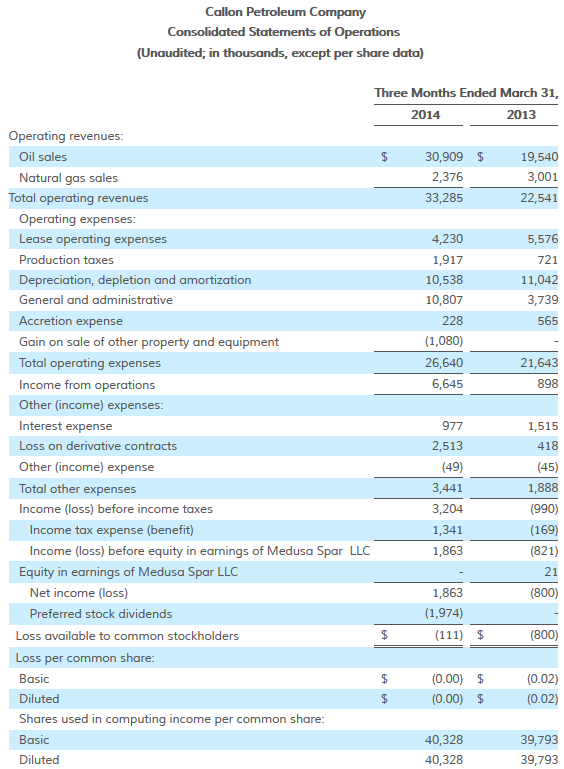 Highlights from Callon's Q1 earnings report include:
Total operating revenue was up 48%.
Permian daily production of 4,355 boe/d was a sequential increase of 46% over comparable Permian production in Q4 of 2013, comprised of 85% oil.
Adjusted EBITDA, a non-GAAP financial measure, was $21.9 million.
Adjusted income available to common shareholders, a non-GAAP financial measure, was $0.11 per diluted share.
Operationally, Callon drilled 9 Hz wells and completed 7 during the quarter. Callon's initial two Wolfcamp B Hz wells in Midland Country produced average 30-day peak rates of 911 boe/d and average 50-day peak rates of 820 boe/d. A Wolfcamp A Hz well in Upton County continues to produce under natural flowing pressure after 40 days and will be placed on submersible pump after casing pressure declines.
Average realized prices were strong and mitigated one of my earlier concerns. In particular, realized gas prices were 61% higher:

Additional Bullish Catalysts
During the quarter, Callon completed full redemption of the Senior Notes (13% due 2016) in April. The redemption will substantially reduce the $977,000 of interest expenses experienced in Q1.
As a result of the better than expected YTD drilling results , primarily as a result of completion optimizations which include longer laterals, Callon raised guidance for full-year 2014 by approximately 7%: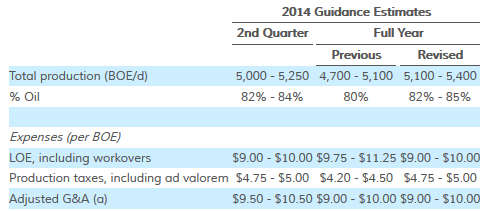 Another positive development: full-year lease operating expense guidance was revised down a buck to a midpoint of $9.50/boe from $10.50. Using average Q1 production of 4,355 boe/day, the LOE reduction means a savings of ~$392,000 per quarter or over $1.57 million on an annual basis. As production grows through the year, these estimated savings will obviously increase.
The revised 2014 production guidance represents a meaningful change for CPE's outlook and is the result of two key factors: the company has increased both its type curve and EUR estimates. In the Seeking Alpha Q1 conference call transcript, Callon Senior VP of Operations Gary Newberry discussed the new EUR estimates and I have summarized the data in the chart below:
Field
Estimated EUR
Est. Well Cost

Taylor Draw

Garrison Draw

(Southern Midland Basin)

475-525,000 boe
$6.3-7 million

East Bloxom

(Upton County)

575,000
$7.5 million

Carpe Diem, 9,000' lateral

(Central Midland Basin)

660,000
$8.5 million
Using Q1's average realized price of $84.82 per boe, we can readily see these wells have excellent economics. For example, wells in the Southern Midland basin could generate revenue of over $40 million for a $7 million well. In the Central Midland Basin (the Carper Diem field), the wells are even more compelling with revenue of ~6.5x well costs.
Note also that Newberry said:
...all of the EUR and production data that I will discuss is based on two stream reporting. We have estimated that these numbers will be approximately 15% higher on a comparable three stream basis.
So, as good as the table above looks, there is the potential for significant upside moving forward. All of this is extremely bullish for Callon, a small player but one that has 13,500 net acres in the region described by the chart above. This is depicted in a slide from the company's April presentation: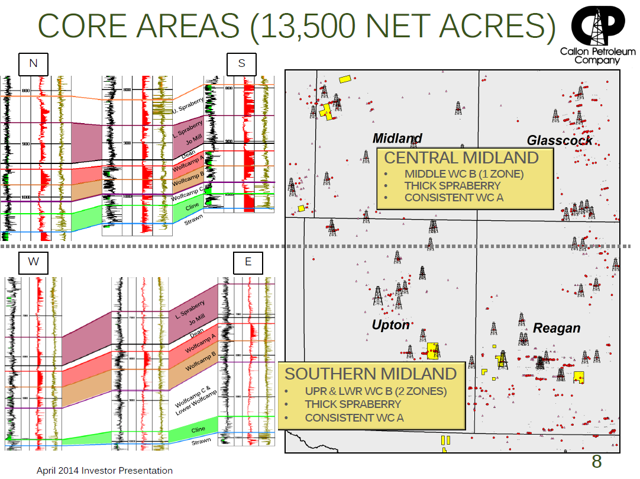 Click to enlarge
Note this acreage contains stacked plays (Spraberry, Wolfcamp A, Wolfcamp B) that can share infrastructure and thus improve capital efficiencies.
Summary & Conclusion
Despite the significant run-up in Callon Petroleum's stock price, the company may have further to go. Several bullish catalysts, including:
Higher than expected well production rates
An improved type curve and higher estimated EURs
Lower lease operating expenses
Lower interest expenses due to full redemption of the 13% Senior Notes
all point to higher profitability and higher reserves growth. In my first article I said:
... the bigger upside is the relatively low-risk undeveloped reserves potential of 140,000,000 boe: >9x more than current total reserves of 14.9 million boe. Therefore there is an excellent chance CPE can continue to grow PV-10 reserves at a 20% clip for the next three years. If so, the PV-10 value would be over $0.5 billion - or ~2x the company's current market cap.
Even after the recent stock run-up, the market cap is only $411 million. The company is now in full development mode in the Permian. This means more focus on optimizing completion techniques and increasing capital efficiencies. Considering the bullish drill-bit results and increased EUR estimates reported in Q1, it seems highly likely the PV-10 value will grow at a significantly higher rate than my previous 20% estimate. If I raise the PV-10 growth rate to 35% to better reflect recent drill bit results, higher production and EUR guidance, and start with 2013's year-end value of $301 million, I get $406 million for this year, and $548 million by year-end 2015. With a current market cap of $411 million, and an outstanding senior secured revolving credit facility of $68 million, CPE's current EV is ~$480 million. That means the stock currently trades at a potential discount of $68 million to my projected year-end 2015 market cap, and suggests a further 25% move in the stock is warranted. Longer term, this stock has all the makings of a multi-bagger. CPE is still a BUY.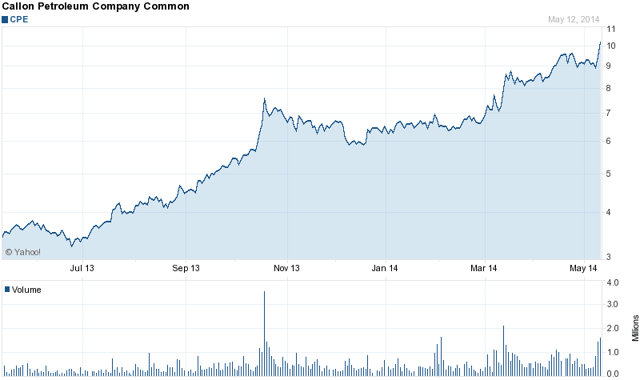 Click to enlarge
Disclosure: I have no positions in any stocks mentioned, but may initiate a long position in CPE over the next 72 hours. I wrote this article myself, and it expresses my own opinions. I am not receiving compensation for it (other than from Seeking Alpha). I have no business relationship with any company whose stock is mentioned in this article.
Additional disclosure: I am an engineer, not a CFA. The information and data presented in this article was obtained from company documents and/or sources believed to be reliable, but has not been independently verified. Therefore, the author cannot guarantee its accuracy. Please do your own research and contact a qualified investment advisor. I am not responsible for investment decisions you make. Thanks for reading and good luck!