As many developed markets trend perilously close to double dip territory, investors are desperately searching for low risk industrialized countries in order to stash cash. While a few nations in the Pacific rim– such as Singapore and Australia– have posted solid GDP growth and kept unemployment to low levels, solid markets have been harder to come by in larger countries where debt levels threaten to choke off growth in Japan, Europe, and the U.S. One country that has managed to avoid the worst of the crisis, thanks in large part to the prudent nature of its banks, is Canada. Yet since the United States is the largest import and export partner of the country, the Canadian economy is likely to be heavily impacted by recent weakness in American markets and accelerating job losses in the world's largest economy. "Unfortunately for Canada, they're very reliant on what's going on in the U.S.," said David Pierce, director of GPS Capital Markets in Sault Lake City, Utah. "A lot of people are still talking about this double-dip recession, and more bad news coming, and if that happens, I think it will finally start to drag the Canadian economy down."
This trend looks to be put to the test later today as Canada reports its July Consumer Price Index (CPI) figures. With counterparts in America and the UK posting flat numbers, all eyes will be on the Canadian economy to see if they are headed for deflation or inflation. "Consumer prices in Canada are expected to grow at an annualized pace of 1.9% in July after expanding 1.0% in the previous month, while the core rate of inflation is forecast to bounce back to 1.8% from 1.7%" said David Song, a Currency Analyst for DailyFX.com. "However, as the Bank of Canada expects price growth to average 2.1% in the third quarter, Governor Mark Carney may see scope to normalize monetary policy further in the second-half of the year and raise the benchmark interest rate by another 25bp at its next rate decision in September in an effort to stem the risks for inflation."
2.1% is very close to reaching the high end of what the Bank of Canada is likely able to tolerate for inflation expectations so if prices look likely to accelerate beyond this level it could spur the Bank to action sooner rather than later, which is likely to heavily impact not only Canadian equities but the Canadian dollar as well. Should inflation levels rise, look for the news to be positive for the 'loonie' which could help to spur the currency back to parity against the U.S. dollar, a move that would further impact Canadian equities, especially ones which engage in exports across the border such as the oil or manufacturing sectors. However, with weakness in wholesale orders and Canadian leading indicators it doesn't look as if their policy moves will be as clear cut as one might initially expect, suggesting that a weak inflation reading will allow the bank to hold off on normalizing rates in the near-term but a high reading will not necessarily compel the bank to action in September.
Due to this important data on Canada's CPI, we have decided to make the iShares MSCI Canada Index Fund (NYSEARCA:EWC) today's ETF to watch. The popular fund has close to $3.5 million in assets under management with average volume of 3.5 million shares suggesting that the fund is liquid enough to handle a possible spike in activity after today's announcement. EWC tracks the MSCI Canada Index which offers investors allocations to 102 firms with major operations in Canada. The fund is heavily concentrated in three sectors; financials (33.6%), energy (23.3%), and industrial materials (21%) while offering no allocation to hardware or software companies. Interestingly, the fund's top sectors are among the most likely to be impacted by a large change in CPI figures suggesting that this could be a volatile day for EWC if the actual numbers do not line up with predictions. The fund has been relatively stable throughout the year; losing just 0.2% since the start of January.
click to enlarge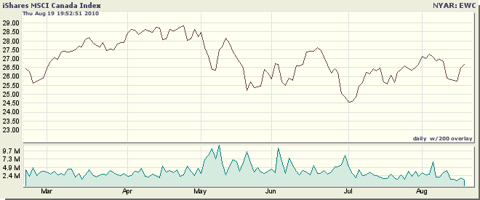 Disclosure: No positions at time of writing.
Disclaimer: ETF Database is not an investment advisor, and any content published by ETF Database does not constitute individual investment advice. The opinions offered herein are not personalized recommendations to buy, sell or hold securities. From time to time, issuers of exchange-traded products mentioned herein may place paid advertisements with ETF Database. All content on ETF Database is produced independently of any advertising relationships.