There are several ways in which to get "high yield" in this market: Mortgage REITs, junk bonds and rural telecoms are just a few. Many of these asset classes, if not all, are considered to be very risky places in which to invest.
In the oil and gas space there are also a few high-yield options. These are attractive because, unlike the other options, these higher-yielding oil and gas companies' balance sheets are backed by the production of hard assets. That's not to say these companies, which are often upstream MLPs or offshore rig lessors, aren't risky themselves: Often times these companies are also highly-leveraged. Generally, these companies are a higher quality way in which to obtain a higher yield.
So what are some of these names? Upstream MLPs are the first and most obvious choice. These partnerships currently yield between 8% and 10%. They acquire mature assets with low decline and high margins. They also return that cash to shareholders. GAAP earnings are unfortunately not useful for these partnerships for a couple reasons: These partnerships hedge nearly all production, and most subtract capital spent on hedges from earnings in the immediate quarter, although production will not be realized until later.
In addition to this, upstream MLPs must lever up significantly because they must acquire to grow. On the other hand, the high distribution rate to shareholders, which is often 100% of cash flow, makes for little financial flexibility in a depletive business where partnerships must spend to maintain production. Many people are apprehensive about these upstream MLPs, and rightfully so.
THe alternative to these upstream MLPs? Offshore rig lessors. Not all are big dividend-payers, but some are. The foremost of these is Seadrill (NYSE:SDRL). With a yield of 11%, Seadrill yields more than do most upstream MLPs. But is Seadrill more "risky" than upstream MLPs are? That is the question which this article seeks to tackle, and it will do so by comparing Seadrill to the largest upstream MLP, Linn Energy (LINE). On a weighted basis, Linn accounts for half of the market cap of all upstream MLPs.
Seadrill or Linn Energy?
Distribution coverage
When looking for income investments, one of the most important questions, if not the most important question, is how well-covered the dividend is. On this important criteria, Seadrill and Linn are pretty much tied: Both companies pay 100% of their respective cash flows to shareholders, give or take a few percentage points at any given time.
Balance sheet
Linn has $9.4 billion in debt versus $1.2 billion in EBITDA, giving Linn a debt to EBITDA ratio of almost eight times. This is a misleading number because Linn recently closed a huge acquisition and can no longer give forward EBITDA guidance. From backing out interest and maintenance capex from what used to be termed distributable cash flow, Linn's debt/forward EBITDA ratio for this year is approximately 4.09 times. To be fair, most upstream MLPs are a bit lower on the scale.
Seadrill, on the other hand, has over $15 billion in debt and forward EBITDA guidance of about $3.3 billion. That gives Seadrill an estimated debt/EBITDA ratio of a little over 4.5 times. It would seem that Linn has the advantage here.
Financial flexibility
Take a deeper look for a moment. It's not just the balance sheet alone that is important, but also the ability to handle financial difficulty that is so paramount. Both companies pay the totality of cash flow in the form of dividends, so there is no flexibility there outside from a dividend cut.
Instead, let's look at capital expenditures. This year Seadrill will spend about $2.3 billion in capital expenditures, virtually all of which will go to building new ships. If credit markets freeze or if rates jump, Seadrill could, theoretically, scrap all those plans and still operate just fine. However, if Seadrill needed to delever quickly, management would have no choice but to cut dividends.
Looking at Linn, over half of that company's $1.5 billion capex budget is being employed merely to offset the decline. Like Seadrill, Linn could also operate its business with no growth capex, but a natural decline would eventually impact things if the credit market stayed unfriendly for multiple years. Because growth capex is not financed with cash flow, Linn would also have to cut distributions to delever.
In comparing financial flexibility, Seadrill and Linn are roughly even, but Seadrill has a slight advantage because, as a rig operator, it does not have to directly cope with base resource decline, although the company will have to retire older rigs and replace them with new ones. Even with that in mind, however, the newer rigs will fetch a much higher dayrate than would the older ones.
Growth and capital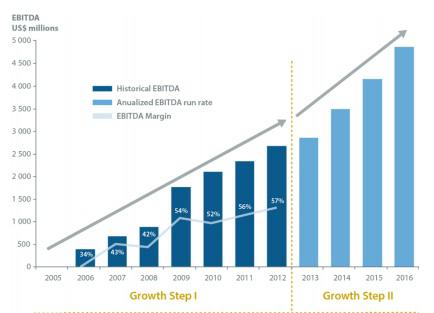 Courtesy of Seadrill investor relations
Growth from capital spending is where Seadrill separates itself from the upstream MLPs. As we can see above, Seadrill's rig-building efforts are expected to deliver substantial growth. Growth will be in the double digits if the dayrate market remains buoyant.
For the $800 million in growth capital it spends, Linn Energy will grow production organically by 3% to 5%. Growth is important to leveraged high-yielders because a company with a decent growth runway, such as Seadrill, will be better able to pay off its debt obligations years down the road. Seadrill has the advantage here, too.
Conclusion
Both Linn Energy and Seadrill are high yielders. Despite the advantages in growth and balance sheet flexibility that Seadrill has over Linn, Seadrill still provides a higher dividend yield with a similar coverage ratio. With more growth, Seadrill will have better financial flexibility than will Linn Energy. And as a rig-builder, Seadrill does not need to directly deal with resource depletion rates. Both companies would have to cut dividends in a situation where deleveraging is necessary, and both are certainly calculated risks. But Seadrill is, at this time, the better calculated risk to take. Personally, I am long both Linn and Seadrill, but if I had to choose one today, it would be Seadrill.
Disclosure: I am long LINE, SDRL. I wrote this article myself, and it expresses my own opinions. I am not receiving compensation for it (other than from Seeking Alpha). I have no business relationship with any company whose stock is mentioned in this article.