Yields on European periphery bonds are near record lows, in spite of a weak economy in many of these countries. Whether this is a result of signs of a rebound or speculation that the ECB will start a massive buyback program to stem the Euro's rise; the current levels seem to be unsustainable. While elections, slow growth, and high debt loads were some of the factors that sank emerging market stocks earlier this year, southern European countries saw rising stocks and lower yields with similar economic characteristics.
The European assets have benefited from the search for yield as investors shunned emerging markets for higher-yielding developed markets. In the face of a potential slowdown, regions with record high unemployment and the threat of deflation would not fare well, also considering the inflexibility of a single currency. At this point, it would be more beneficial to move into emerging markets, as a slowdown in growth and imminent action from the ECB can only push yields higher and cause harm to southern Europe.

Source: ETF.com
With signs of the global economy slowing, countries such as Spain and Italy, with already anemic growth and poor economic metrics, could slip back into a recession much faster than markets like China; which, despite its problems, is still projecting growth greater than 7%. High unemployment in these countries also shows that despite the recovery in the Euro area, it is not translating into job growth in the private sector, or increasing credit. In fact, it has recently been reported that the private sector is struggling to pay back loans to banks, and creditors are seeing delays in payments. This has not caused problems in these countries as of late because of the favorable rates at which bank can roll over these sour debts. This creates a race between employment and growth, strengthening private sector balance sheets or rates increasing; putting strain on banks and companies. Should the ECB move to weaken the currency next month, it would (they hope) increase inflationary expectations in the region, which would also push up yields. Even in the event of asset purchases, yields could rise from here, as we saw with the US after QE was announced.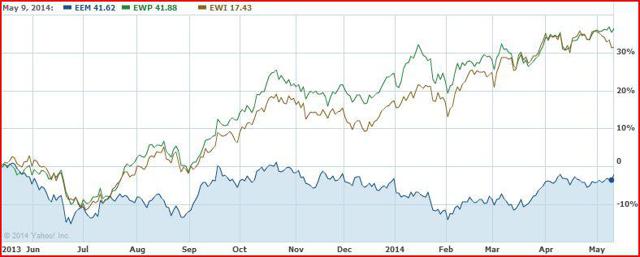 Click to enlarge
Source: Yahoo Finance
Looking for ways of generally shorting these factors, the iShares MSCI Italy Capped ETF (NYSEARCA:EWI) and the iShares MSCI Spain Capped ETF (NYSEARCA:EWP) would fit the bill. Both are heavily weighted in the financial sector, which would struggle with souring loans, UniCredit (OTCPK:UNCFF, UCG.MI) and Intesa (OTCPK:IITOF, ISP.MI) of Italy are in talks with KKR to try to market some of their restructured loans, which stand at 6 billion and 2 billion euros respectively. ENI (NYSE:E), the largest holding in the EWI, would be hit from the slowdown in the energy sector that many analysts are expecting from the recent overproduction globally and slow economic growth. Banco Santander (NYSE:SAN) of Spain is still coping with poor loans related to the housing market at home, but investors seem happy with the increased investment into Brazil. With nearly as many branches in Latin America as it has in Spain, one would look at this as a good way to play emerging markets, but with a P/E almost double the iShares MSCI Emerging Markets ETF (NYSEARCA:EEM) (and 40% higher than the largest Latin American stocks), it would prove more lucrative to play the EM regions directly.
Top holdings: EWI and EWP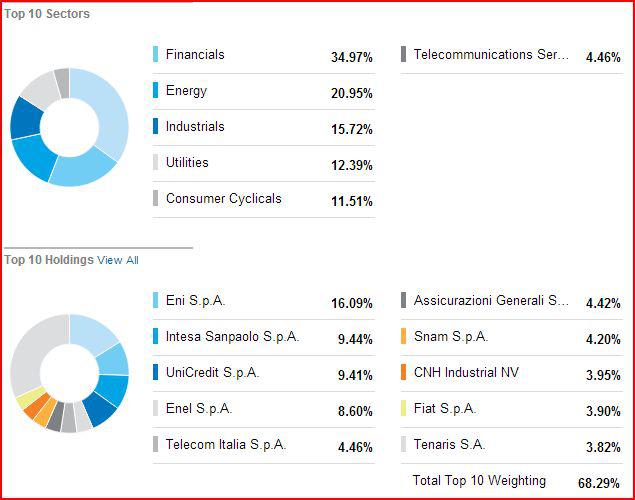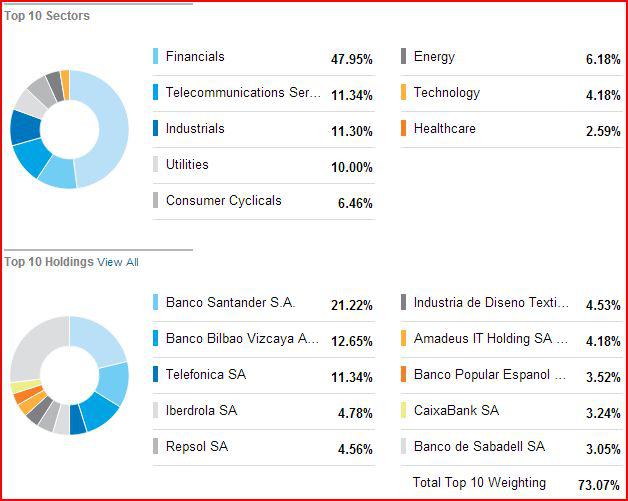 Source: ETF.com
One of the risks to this play would be a massive amount of QE announced by the ECB, which could push the yields lower in the short term as markets digest the news. With Draghi being more concerned with the value of the Euro, I feel that a cut in interest rates will be the first likely step in the process, and asset purchases would be reserved for more dire circumstances.
I would look towards emerging markets as a potential play in lieu of the European region. With growth in EM already downgraded, many of the countries are still projected to see growth higher than the rosiest of estimates for southern Europe. I like the EEM for its balanced approach across markets, but more specific plays can be taken, given your investment appetite. If you are concerned with specific countries within the EEM, you can opt to hedge them out with options on country-specific ETFs; such as buying puts on the iShares MSCI China ETF (NYSEARCA:MCHI) to remove the exposure to the Chinese portion of the ETF, while still having upside and dividend potential. As far as expenses go, the difference between the Emerging Market and southern European ETFs is about 10bps (~50bps for EWI, EWP and ~60bps for EEM/MCHI), so that shouldn't weigh too much in the equation.
Disclosure: I have no positions in any stocks mentioned, and no plans to initiate any positions within the next 72 hours. I wrote this article myself, and it expresses my own opinions. I am not receiving compensation for it (other than from Seeking Alpha). I have no business relationship with any company whose stock is mentioned in this article.