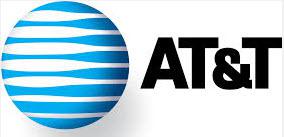 AT&T (NYSE:T) has been in the spotlight as of late regarding a potential acquisition of DirecTV Group (DTV). Rumors suggest AT&T has offered $50 billion for the company. I perceive the communications industry is consolidating and on the brink of a major paradigm shift. I posit AT&T is at a major inflection point as we speak. Furthermore, AT&T pays a hefty dividend and may provide dividend investors the opportunity for significant capital gains. In the following sections I will attempt to deconstruct the pros and cons of the potential DirecTV purchase. I will then do my best to distill a judicious buy or sell recommendation on stock.
Communications Sector Under Consolidation
There are too many examples to list regarding the recent level of consolidation in the communications industry. For example, the Comcast (NASDAQ:CMCSA) and Time Warner Cable (TWC) merger immediately comes to mind. AT&T's purchase of DirecTV may be a preemptive strike by the company to defend against this merger of cable giants. There is no doubt the communications sector is rapidly consolidating and only those who are thinking several moves ahead will survive.
Potential Pros and Cons of DirecTV purchase
In the following section I will detail what I perceive as the pros and cons of the potential DirecTV acquisition
Pros
The acquisition would be somewhat accretive regarding free cash flow and earnings. The lift in free cash flow may support future dividend payments and growth.
Several cost saving synergies could be capitalized on reducing customer care and programming costs significantly.
AT&T may be able to leverage DirecTV's 20 million US subscriber base to increase subscribers to the company's U-Verse network.
With a combined 27 million subscriber base, AT&T's subscriber count would rival Comcast's 30 million subscriber base.
The deal would basically be a form vertical integration immediately getting AT&T into the content provider business. DirecTV has some prized programming deals and streaming rights.
AT&T could divert video traffic from U-Verse to DirecTV's satellite network, freeing up network capacity.
Cons
AT&T plans to use stock primarily for the deal, yet the combined entity would sport roughly $95 billion in debt.
AT&T's other business lines may suffer due to the acquisition tying up a significant amount of funds.
DirecTV's subscriber growth is waning.
AT&T's spectrum and broadband levels would see no improvement.
The positives far outweigh the negatives.
There is a lot to consider when deconstructing the potential acquisition of DirecTV by AT&T. Nonetheless, I see the deal as genius. First, the deal is accretive and cash flow positive underpinning AT&T's potential dividend growth. Second, the synergistic effect of combining DirecTV's subscriber base and content with AT&T's U-verse network is huge. AT&T could leverage DirecTV's content to offer a mobile video service to the company's wireless subscriber base.
The company is undervalued on a historical and relative basis
AT&T is a solid company with excellent prospects for future growth. Even so, I posit the stock is underappreciated currently. The stock is trading at a TTM P/E ratio of 10, among the lowest of any stock in the industry, and signals that investors have not been willing to pay a premium for this company's business prospects.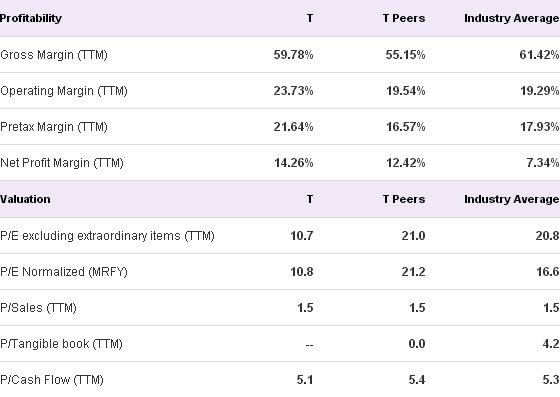 (Table provided by Scottrade.com)
AT&T trades for a P/E of 10.8, while the industry average is 21.2. This implies AT&T has significant upside simply to trade on par with the company's peers. Further, the potential upside of an accretive deal with DirecTV is not priced in currently.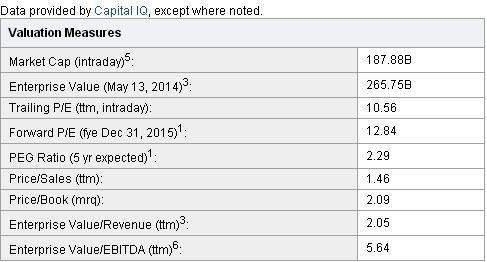 (Table provided by Yahoo.com)
Strong free cash flow provides opportunity for increased return of capital to shareholders. Cash flow from operations was $8.8 billion. Free cash flow was 3 billion after backing out capital expenditures of $5.8 billion.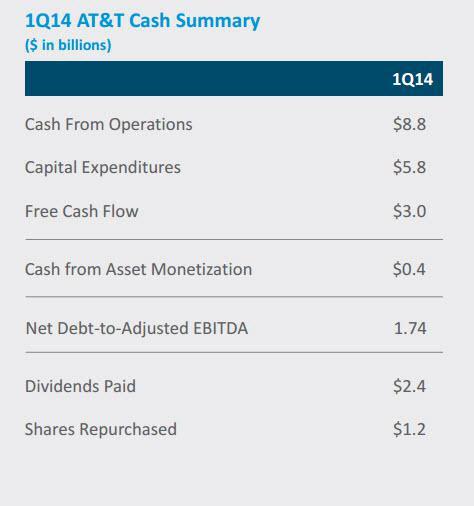 (Table provided by ATT.com)
This strong free cash flow allowed the company to buy back 37 million shares in the quarter for $1.2 billion. Cash flow is an extremely important factor in determining the value of a stock. There seems to be a shift in market sentiment recently. I believe a shift in focus to more conservative low beta stocks such as AT&T will drive the stock higher as well.
Downside Risks
AT&T's downside risks are many. First, the competitive environment for the company is vicious. A relentless onslaught of new products and competitors attempt to disrupt the status quo on a daily basis. Furthermore, macroeconomic and geopolitical risks which are out of the company's control could take a turn for the worse at any time.
Conclusion
I submit the DirecTV deal would be a huge positive for AT&T shareholders in the long run. Moreover, AT&T's stock sports a 5% dividend yield and has the potential for both capital gains and income production. Based on the current facts available, I posit AT&T should be trading for at least a P/E of 12.5 by 2015. This implies the stock has 25% upside and a $45 price target. Nevertheless, if you choose to start a position in any stock, I suggest layering in a quarter at a time at a minimum to reduce risk.
Disclosure: I have no positions in any stocks mentioned, but may initiate a long position in T over the next 72 hours. I wrote this article myself, and it expresses my own opinions. I am not receiving compensation for it (other than from Seeking Alpha). I have no business relationship with any company whose stock is mentioned in this article.