Conclusion: Cornerstone Strategic Value Fund (NYSEMKT:CLM) recently announced non-transferable rights offering (8/19/10) seems to make little sense for existing shareholders but would be beneficial for the advisor.
Drive-By Analysis: If all the rights were subscribed at the closing price of 8/18/10 and a NAV price of 8/13/10 (the most current valuations) then shareholders' average price per share would decline 2.5% (see chart below).

More importantly existing shareholders would still be buying stock at a 41.4% premium which would cause the weight average premium to decline from its 57.2% premium to 38.8% of the post-rights offering adjusted NAV. While this might not be immediately anti-dilutive to the shareholders it places downward pressure on CLM's lofty and vulnerable premium.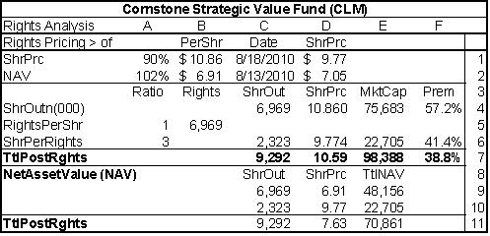 Why is this important? This is important because CLM's stock valuation is heavily dependent on CLM's maintenance of a significantly higher premium (57.2%) than the CEF market segment's current discount (1%). If CLM's discount were to decline to par, shareholders would experience a further 36.4% drop in the stock price.
Why is the premium so high? CLM's high nominal distribution yield is due to its distributions being significantly composed of a return-of-capital. CLM's nominal yield is currently 15.5% of which 0.5% is being generated from net investment income.
From 2006 to 2009, based on GAAP numbers, the average amount of return of capital was 89%. During this period CLM paid out $13.04 per share in return of capital—or giving the shareholders back their own money after the advisor taking a 1% fee plus administrative costs.
From 2005 to 2009 its average net investment income was $.14 per share and its average capital gains was $.06 per share. This translates into less than a 2.0% return-on-NAV (ROE) on both net investment income and capital gains. CLM's average return-on-its market capital has been a negative 8.2% from 2005 to 2009.
Running Out of Fuel: CLM announced in 2009 a reduction of approximately 50% in its annual distribution. Based upon the current rights offering and historical averages, it is projected that by 2013 CLM will likely again have to again reduce it distributions and its share price would have lost 30.1% of its value (see Chart below).
A Hard Case to Make for the Shareholders: Based on this analysis it hard to make a strong case for existing shareholders participating in this upcoming rights offering.
The "coup de grace" of why this rights' offering makes little sense for existing shareholders is the lack of insider ownership by the board. Three independent board members own no stock and the remaining two own less than $10,000. Yet all independent board members collect $22,000 annually for directors' fees. The chairman of the board owns less than $50,000 in CLM's stock.
Caveats: From an investment banking perspective the board is doing the absolute correct thing: selling stock when it is trading at a significant premium to its NAV. The questions are: Why is the stock trading at that premium? Will it be sustained? Is it a reasonable time to be buying?
There are two possible scenarios in which CLM could generate a future positive return for shareholders.
1. If CLM's high premium can be maintained or increased in the future;
2. The management of CLM becomes "stock wizards" and begins generating alpha for its shareholders.
The former may not be so strange in the Bizarro World of CEF investing; the latter is a long shot.
Disclosure: Neither Long nor Short