BES: A Platform Built for the Mobile Enterprise
BlackBerry's (NASDAQ:BBRY) role in pioneering enterprise mobility is well-documented. Unlike many recent articles published, my intent is not to rehash the past but, rather, to analyze and discuss BlackBerry's continued role as the mobile enterprise leader, which is the foundation for its future and the sole reason I invested in the company, despite its recent disastrous foray into consumer land.
BlackBerry is well-positioned to continue leading in enterprise mobility. I have been following - and competing against - the company for nearly 15 years and am amazed that none of the big enterprise software companies has been able to come close to displacing it. This is due in part to the sheer size of the companies, as most are behemoths having swallowed their competitors over the past 10+ years, which makes it really hard to be nimble and responsive to leaps in technology. But it's also due to their world being desktop-centric (with a legacy client-server architecture and god knows how many millions of lines of code), whereas BlackBerry was built for mobile from the ground up. This might not sound like a big deal, but it is, especially when it comes to performance, flexibility, scalability and maintenance. Here's a simple view of BlackBerry's architecture: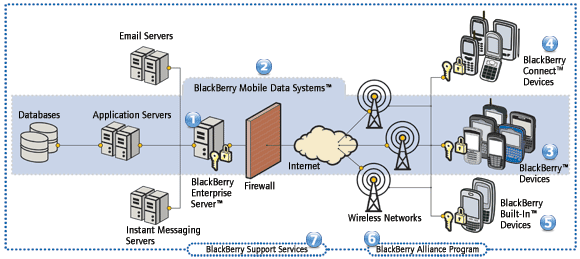 The BlackBerry architecture provides a competitive advantage and will serve it well as it continues to pursue a strategy of being the leader in what CEO John Chen calls the "Internet of Things." That, in itself, is another article for another time.
BlackBerry is already an enterprise software leader, ranking #70 (surprisingly, ahead of Dell at #95) in PWC's ranking of the 100 top North American enterprise software vendors. BlackBerry offers the only true pure-play mobile enterprise platform. Apple (NASDAQ:AAPL) (iOS) and Google (GOOG, GOOGL) (Android) were built for the consumer and adapted, to some degree, for enterprise. Microsoft (NASDAQ:MSFT) (Windows) has spent the better part of nearly 20 years trying to develop a winning mobile platform, and is probably the best example of how hard it is to go from a desktop-centric, client-server architecture to mobile.
Mobile Device Management
To even play in the mobile enterprise space, an OEM or pure-play (e.g., Good, Boxtone, MobileIron, Airwatch, etc.) must offer device security and manageability. And guess what? The BlackBerry spec is the industry standard from which their roadmaps were derived. These firms have made considerable headway building out their features and signing up customers in the past few years, at BlackBerry's expense while it was chasing device market share via the consumer (always a losing proposition unless your name is Samsung (OTC:SSNLF)). Despite that, BlackBerry's MDM customer base is, today, an eye-popping 80,000+ enterprises, more than all other MDMs combined. By a lot. BlackBerry recently published a nice infographic that illustrates the breadth and depth of its reach:
The MDM providers only exist because Apple and Google have chosen not to make the same level of investment in device security and manageability as BlackBerry within their respective platforms. Apple has built enough functionality to satisfy 80% of the enterprise market, but not the 20% that requires greater security and manageability and tends to be in highly regulated industries, i.e., financial services, healthcare and government. (I worked for an OEM, and have seen the requirements from some of the largest players in these verticals, and can tell you that after analyzing them, I concluded it wasn't worth the effort. Apple figured this out as well and essentially stopped its investment in this area at about the same point we did.) Google has punted to the OEMs (and didn't even bother taking the work Motorola Mobility did in this area and adding it to Android). The only Android OEM making any real effort in this area is Samsung with Knox, with limited, if any, success, and whose approach is so flawed it is yet another article in and of itself.
The mobile enterprise goldrush has been populated by MDM vendors and boatloads of VC money behind it, and for the IT managers who care about such things, sanctioned as a legitimate business by Gartner via its own "Magic Quadrant." Below is a snapshot of the latest: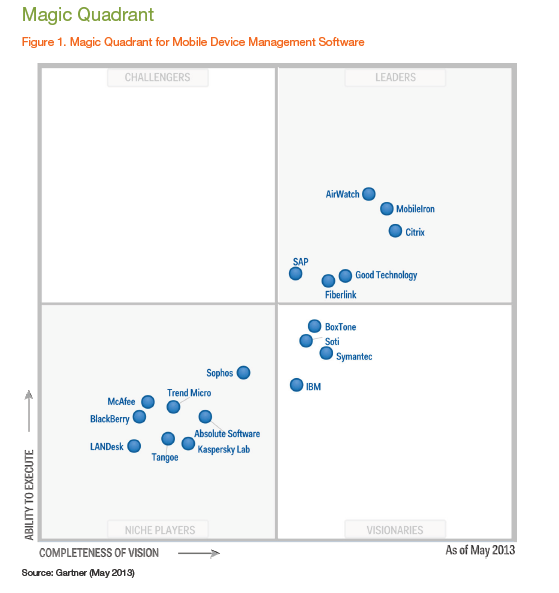 You'll notice that BlackBerry is in the penalty box (the dreaded lower left quadrant). This may be for several reasons, i.e., neglecting its roadmap while chasing consumer market share, viability of the company, or simply not paying to play the Gartner game. I suspect it is some combination of the three. Nonetheless, this does not bother me. Why? Because the market is moving beyond MDM, which is quickly being re-cast as commodity functionality (which it is) in favor of what Gartner has christened the Enterprise Mobility Management (EMM) suite (BlackBerry is well-positioned here, but alas that is, yet, another article). This is the natural evolution of enterprise software point solutions when they grow up and coalesce, or get bought by a bigger company, if they haven't died off.
A proof-point that we are in the midst of this transition is the flurry of M&A activity around MDMs: Citrix (NASDAQ:CTXS) acquired Zenprise; Intel (NASDAQ:INTC) and McAfee; IBM (NYSE:IBM) and Fiberlink; Good and Boxtone; VMWare (NYSE:VMW) and Airwatch. MobileIron and Good are the only pure-play MDMs remaining, and each has filed for an IPO, a seemingly remote prospect given the turmoil in technology stocks. In the game of MDM M&A musical chairs, there are only a few left, so it will be interesting to see if either gets acquired before an IPO or the cash runs out. (Good Technology, interestingly enough, was bought by Motorola in 2006 for a whopping $500 million, and sold in 2010 to Visto (which renamed the combined company Good) for pennies on the dollar.)
It is also interesting to note that on May 13, BlackBerry announced that it is opening the BES 10 platform to a few select MDMs, including Airwatch (VMWare), Citrix and IBM. This is an important development as Chen, with over 20 years of experience running enterprise software companies, knows that a key to success in the enterprise is playing nice with the existing IT environment. It is also yet another proof-point of the commoditization of MDM. My suspicion is that this is really the starting point for further collaboration with these companies.
Conclusion
Despite its recent turmoil, BlackBerry has been very busy cementing its role as the market leader in mobile enterprise software. With its early leadership in this area, assets, and large installed base of customers, it's easy to see why John Chen, an enterprise software guy to the core, has taken on the challenge of fixing BlackBerry, not only ensuring its viability as a continuing concern, but also its leadership position in the very category it pioneered. The BlackBerry Business Blog provides insight into the work the company is doing in this area.
As an investor, patience is key here, as it will take time for the market to value BlackBerry as an enterprise software and services company, and Chen certainly has to do his part to get the metrics in place to rationalize such. Patient longs will be greatly rewarded when that day comes.
Disclosure: I am long BBRY. I wrote this article myself, and it expresses my own opinions. I am not receiving compensation for it (other than from Seeking Alpha). I have no business relationship with any company whose stock is mentioned in this article.