By Bryan McCormick
Kirkland's (NASDAQ:KIRK) missed earnings and revenue forecasts this morning and said freight costs will hurt margins later this year. The supplier of home goods, a member of the S&P 600 SmallCap Index, is getting hammered by more than 25 percent.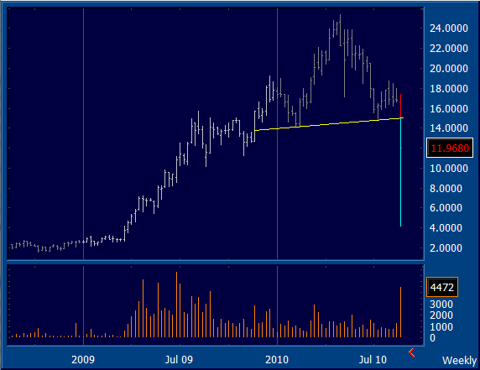 (Click to enlarge)
What is interesting about the chart is found on a weekly basis, where a bearish pattern has clearly been developing: A head-and shoulders-topping formation that is very large in scale.
I have drawn a yellow line to indicate the "neckline" around $15, the area where it triggered and became active. It would take a move back above that line to undo the damage done today. The price objective for a head and shoulders is measured from the peak of the head, in this case the big price peak on the chart, to the neckline. That measure is then added to the day where price broke the neckline. I have shown that with a light blue vertical line. The resulting downside objective suggests KIRK could return to the $4 level where it traded in March 2009.

Disclosure: No positions