By David Russell
Saks (NYSE:SKS) has significant support at $7.50, traders continue to sell options at that key level.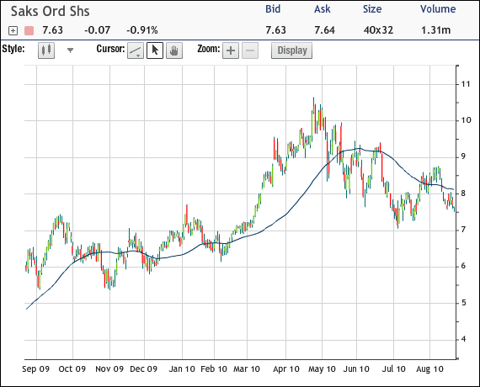 Click to enlarge
(Click to enlarge)
Today, our tracking systems detected the sale of about 13,000 November 7.50 calls for $0.84. At the same time, an existing short position of the same size was closed in the August 7.50 contracts for about $0.19.
The investor is probably holding a long position in the shares and selling calls against it to harvest income. In the cast of today's trade, which followed similar market-neutral strategies in May and June, he or she collected a net $0.65.
That premium is now added to whatever amount they earned when the August calls were sold in a previous session.
SKS fell 0.91 percent to $7.63 in afternoon trading and is little changed in the last month. The luxury retailer has consistently produced positive results, with strong sales and improving profit margins thanks to limited markdowns.
Some chart watchers will likely consider the $7.50 level important because it was resistance in September and January before the stock ripped higher along with other consumer-discretionary names in March and April.
Implied volatility on SKS has also remained relatively elevated at about 50 percent, despite realized volatility steadily pushing lower. That favors writing and puts because high implied volatility inflates the value of the contracts sold short.
Overall options volume in the stock is 15 times greater than average so far today.

Disclosure: No positions