The last time I wrote about Baidu, Inc. (NASDAQ:BIDU) I stated, "Due to the high earnings growth rate expectations, solid financial management efficiency ratios, and a support level which I don't think will be breached I will take a chance here and buy an additional small batch to my position." After the writing the article the stock increased 4.25% versus the 4.5% gain the S&P 500 (NYSEARCA:SPY) posted. Baidu is a Chinese internet search provider, just like Google (NASDAQ:GOOG).
On April 24, 2014, the company reported first quarter earnings of $1.24 per share, which beat the consensus of analysts' estimates by $0.21. In the past year the company's stock is up 63.55% and is beating the S&P 500, which has gained 16.14% in the same time frame. With all this in mind, I'd like to take a moment to evaluate the stock on a fundamental, financial and technical basis to see if it's worth buying more shares of the company right now for my growth portfolio.
Fundamentals
The company currently trades at a trailing 12-month P/E ratio of 34.39, which is expensively priced, but I mainly like to purchase a stock based on where the company is going in the future as opposed to what it has done in the past. On that note, the 1-year forward-looking P/E ratio of 21.02 is currently fairly priced for the future in terms of the right here, right now. The 1-year PEG ratio (0.85), which measures the ratio of the price you're currently paying for the trailing 12-month earnings on the stock while dividing it by the earnings growth of the company for a specified amount of time (I like looking at a 1-year horizon), tells me that the company is inexpensively priced based on a 1-year EPS growth rate of 40.56%. The company has great near-term future earnings growth potential with a projected EPS growth rate of 40.56%. In addition, the company has great long-term future earnings growth potential with a projected EPS growth rate of 25.34%. Below is a comparison table of the fundamental metrics for the company for when I wrote all articles pertaining to the company.
| | | | | | | | |
| --- | --- | --- | --- | --- | --- | --- | --- |
| Article Date | Price ($) | TTM P/E | Fwd P/E | EPS Next YR ($) | Target Price ($) | PEG | EPS next YR (%) |
| 13Apr14 | 149.74 | 31.00 | 20.51 | 7.30 | 72 | 0.76 | 40.87 |
| 13May14 | 156.11 | 34.39 | 21.02 | 7.43 | 111 | 0.85 | 40.56 |
Financials
On a financial basis, the things I look for in general are the dividend payouts, return on assets, equity and investment. The company does not sport a dividend to speak of but is sporting return on assets, equity, and investment values of 15.3%, 27.5% and 16.7%, respectively, which are all respectable values. In this particular instance, I will forego the dividend aspect of the financials because the stock is in my growth portfolio; and in the growth portfolio a stock does not have to have a dividend.
The really high return on assets value (15.3%) is important because it is a measure of how profitable the company is relative to its assets, telling us how efficient a management team is at using its assets to generate earnings (for comparison purposes, Baidu has the highest ROA in the large-cap internet information providers industry followed by TripAdvisor Inc. (NASDAQ:TRIP) which sports an ROA of 14.4% and Google Inc. (NASDAQ:GOOGL) which sports an ROA of 12%).
Below is a comparison table of the financial metrics for when I wrote all articles pertaining to the company.
| | | | | | |
| --- | --- | --- | --- | --- | --- |
| Article Date | Yield (%) | Payout TTM (%) | ROA (%) | ROE (%) | ROI (%) |
| 13Apr14 | N/A | N/A | 25.9 | 45.7 | 16.7 |
| 13May14 | N/A | N/A | 15.3 | 27.5 | 16.7 |
Technicals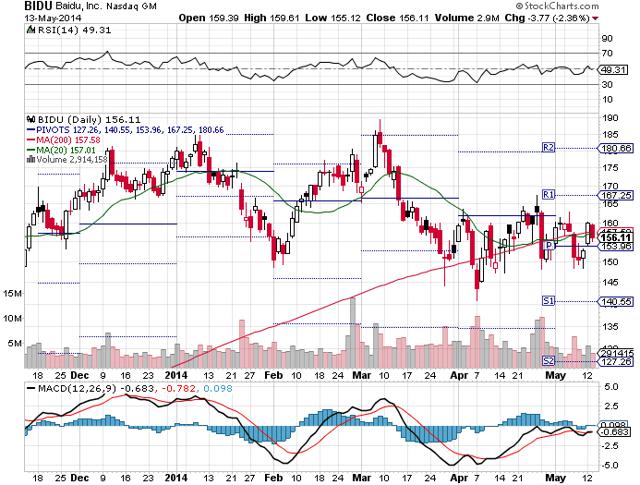 Click to enlarge
Looking first at the relative strength index chart [RSI] at the top, I see the stock muddling in middle-ground territory with a current value of 49.31. I will look at the moving average convergence-divergence [MACD] chart next. I see that the black line is above the red line with the divergence bars increasing in height, indicating bullish momentum. As for the stock price itself ($156.11), I'm looking at $167.25 to act as resistance and $153.96 to act as support for a risk/reward ratio which plays out to be -1.38% to 7.14%.
Recent News
Deutsche Bank has upgraded the stock to a "Buy" rating. The price target was also increased from $178 to $229 as the analyst stated, "We believe it is unjustified for BIDU to trade at a significant discount vs. [peers] amid steadily improving fundamentals.
The company beat earnings by $0.21. For the first quarter earnings were $1.24 on revenue of $1.52 billion.
The company not only beat earnings but they also guided second quarter revenue higher. Revenue growth for the first quarter was 59.1% compared to 50.4% in the fourth quarter. The company however did spend a lot more having SG&A increase 136.9% from the prior year due to mobile promotional efforts which should help the company make more money going forward.
Conclusion
We are currently in an environment where the growth for internet information stocks is high, but at the same time the multiples are even higher. With the high-flying names selling off of late there are definitely some opportunities out there to capitalize on some stocks, and I believe Baidu is one of those names. Fundamentally the company is fairly valued based on next year's earnings estimates but inexpensively valued based on next year's earnings growth potential. Financially, the efficiency ratios have deteriorated a bit but are still really high. On a technical basis I believe the stock may have a little upside to it in the short term. Due to the slightly bullish technicals, high near-term earnings growth expectations, and high long-term earnings growth expectations, I will pull the trigger here right now but only on a small batch.
Disclaimer: This article is meant to serve as a journal for myself as to the rationale of why I bought/sold this stock when I look back on it in the future. These are only my personal opinions and you should do your own homework. Only you are responsible for what you trade and happy investing!
Disclosure: I am long BIDU, TRIP, SPY. I wrote this article myself, and it expresses my own opinions. I am not receiving compensation for it (other than from Seeking Alpha). I have no business relationship with any company whose stock is mentioned in this article.