Johnson & Johnson's (NYSE:JNJ) recent rally found more support when the company announced its earnings report last month. For the first time in its history, the company's share price passed $100 (even though it had gotten really close to this in 2001 when company decided to split its stock when the price was a few dollars short of $100) and many investors are wondering if there is more room to go.
In the last couple months, we have been witnessing a sell-off in bubble stocks as well as biotech companies while there is a strong run towards value stocks. While JNJ is involved in biotech, it is also seen as a value stock, especially given its strong history of solid dividends.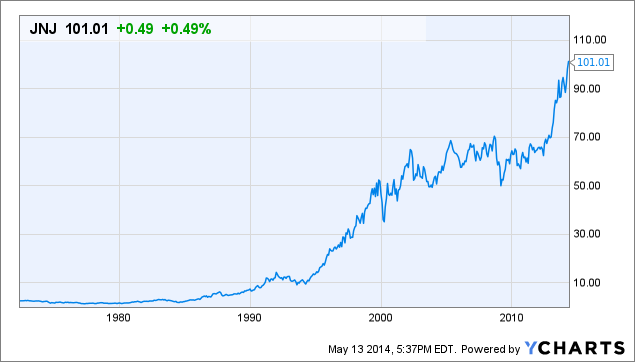 The chart below shows the revenue growth of Johnson & Johnson and it includes the last quarter's results (instead of annual revenues, I pulled the revenues for the twelve-trailing months). In the last 4 quarters, JNJ generated $71.92 billion in revenues, indicating further revenue growth. Also, keep in mind that the company has never generated this much revenue at any other time in its history. If we exclude a speed bump during the Great Recession, JNJ's revenue growth looks very consistent over the years.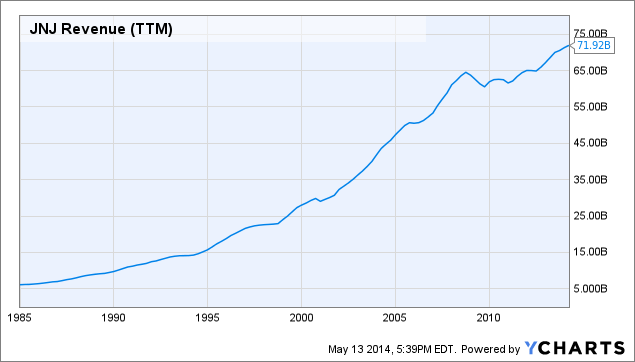 The company currently sells for 4.05 times its trailing revenues, which is higher than what we have been seeing in the last decade when the average looks closer to 3.50. On the other hand, if we look at a bigger picture and focus on the last 20-25 years, the current price-to-sales ratio looks more in-line with the historical standards.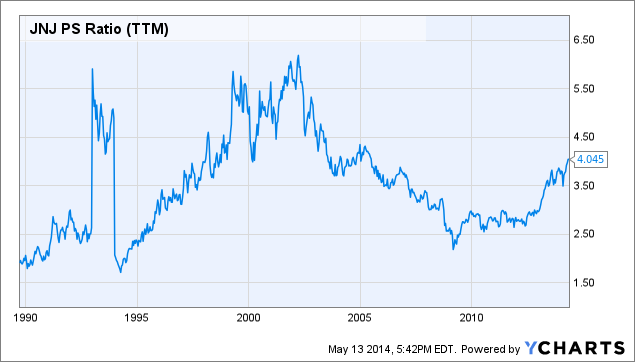 Revenues are important; however, what a company does with those revenues is also as important. The good news is that the improvements we have been seeing in JNJ's margins are still in play and we are seeing further improvements. After bottoming at 67.50%, the company's gross margin continued to climb and it currently sits at 69.07%. If the trend continues and the company repeats its historical success, we can see gross margins as high as 72%. This improvement would add about $2 billion to the company's gross profits even in the absence of revenue growth.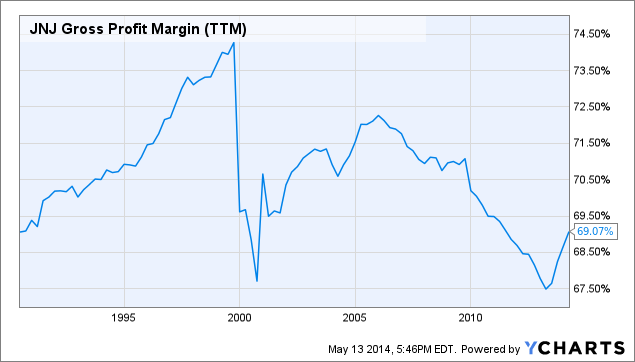 The improvements in gross margin feel next to nothing if they don't reflect in a company's operating as well as net profit margins. At the end of the day, these two margins determine how much of its profits a company will get to keep in its pocket. As of right now, I am pleased to report that JNJ's operating margin and net profit margin are both at levels they were prior to the Great Recession. In the last 4 quarters, JNJ's operating profit margin was as large as 26.59% and the company's net profit margin was as high as 20.94%. These are both very strong margins, especially considering that the company's net profit margin was around 13% just a couple years ago. If JNJ can improve its gross margin towards historical levels, these two margins will also improve further.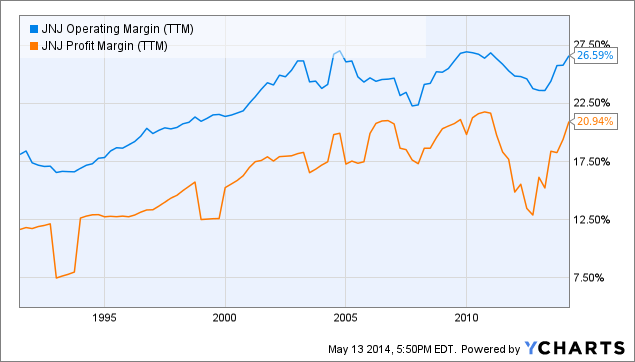 Last quarter, JNJ earned $1.54 per share, which helped the TTM (twelve-trailing-months) metrics greatly. The chart below shows JNJ's net earnings per share on TTM basis. Notice the sharp jump on the company's net earnings in the recent months. JNJ is currently enjoying the most profitable period of its entire history.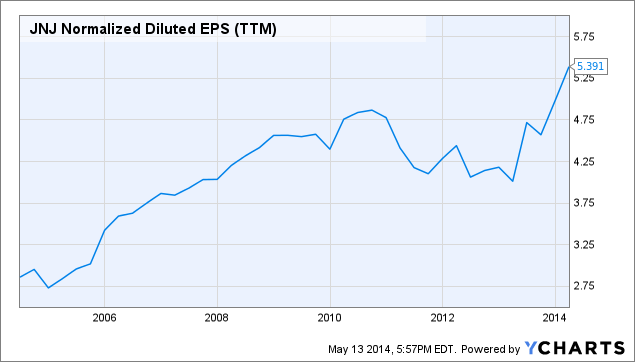 While the investors are currently valuing the company higher than how they valued it in the beginning of the decade (in relation to its net earnings), we might still see some P/E expansion over the next couple years. The current P/E ratio of the company sits at 19.29 and this is somewhat below the average of 22-23 since the year of 2000. As JNJ's growth hasn't slowed down between then and now, do we really need to assign the company a lower P/E than we were back then? In my opinion, that's a good question to ask.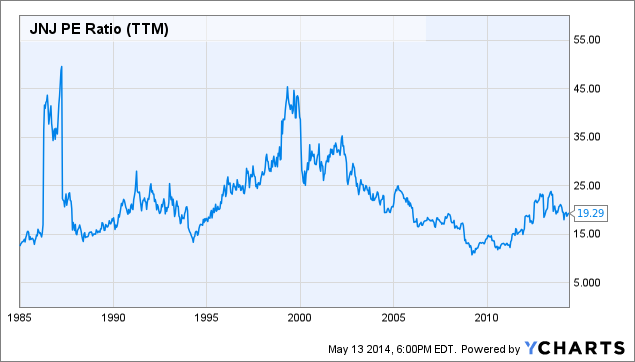 It would be wrong to talk about a dividend champion like JNJ without mentioning cash generation. In the last 4 quarters, JNJ generated $19.06 billion of cash from its operations and $15.42 billion in free cash flow. We are looking at very strong numbers considering that only a decade ago, the same company was generating roughly half of this figure (and two decades ago, it was generating less than a quarter of what it is generating today).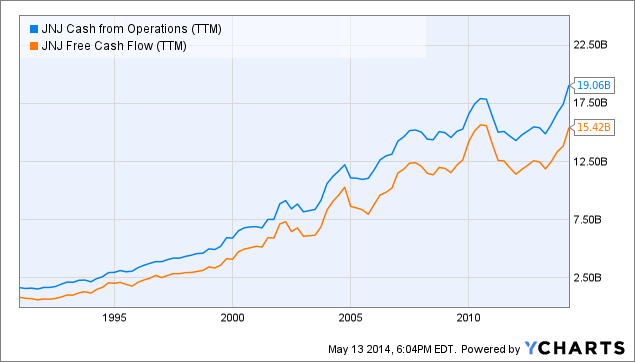 Do investors appreciate this enough? Let's find out. Currently JNJ trades for 15 times its operating cash flow and 19 times its free cash flow compared to historical averages of 23-25 for operating cash flow and 25-27 for free cash flow. Obviously the investors are not currently paying much for a possible growth in the company's cash flow. Maybe the investors take the cash flow growth for granted or maybe they believe that the growth will finally come to a halt. At least that's what the current pricing tells us.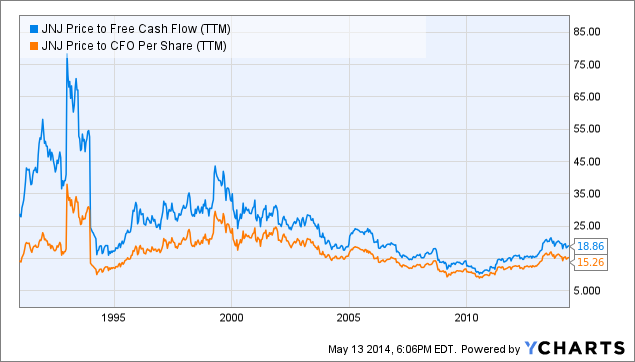 Did I mention that JNJ is a dividend champion? Last month, JNJ announced another increase in its dividend payments, which would raise the quarterly dividend to 70 cents and annual dividends to a total of $2.80 per share. The yield is still below 3%; however, this is mostly caused by an increase in the share price. I am sure most investors wouldn't complain about an increase in share price even if this means lower dividend yield (actually if we calculate the dividend yield from the purchase price, most investors will have much higher yields than the current yield since most investors have bought the stock at prices lower than the current price, which is an all-time high).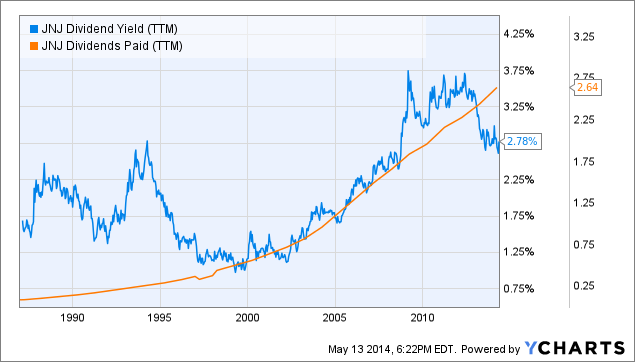 Moving forward, JNJ is very likely to continue seeing growth both in revenues and net income. In the last quarter, the company saw double-digit revenue growth in Africa and Asia and it saw strong trends in Europe, showing signs of recovery. In the near future, this trend should hold up and Asia should continue to become a big part of JNJ's growth story. One threat for the company in the international markets comes in shape of currency exchange rates. in the last quarter, the company's revenue growth would have been 2% better if it wasn't for the currency rates and this may continue affecting JNJ's revenue growth as we move forward.
As JNJ continues to sell or spin-off some of its business units focusing on consumer products, the revenues will probably be flat in this sector for a while. On the other hand, the pharmaceutical sector will continue to see strong growth trends in the foreseeable future, evidenced by the company's recent performances. If we look at JNJ's pharmaceutical business alone, we are looking at revenue growth of nearly 17% outside of the US and about 8% of growth in the US. This is truly impressive for a company of JNJ's size. JNJ's medical devices business keeps growing at a small pace and it will continue to grow its revenues by about 2-3% annually as the weakness in the US market will be offset by the strength elsewhere.
The analysts expect JNJ to grow its earnings tremendously in the coming years. For the next 3 years, the analysts see JNJ earning $5.75, $6.50 and $7.19 per share. This would give the company forward P/E of 15, which is very attractive for a company that's in aggressive growth mode, which also happens to enjoy safety of being a blue chip and a dividend champion.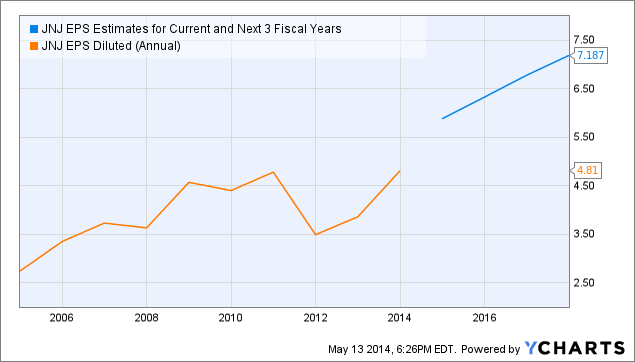 For the time being, JNJ continues to be one of the most attractive stocks in the market.
Disclosure: I am long JNJ. I wrote this article myself, and it expresses my own opinions. I am not receiving compensation for it (other than from Seeking Alpha). I have no business relationship with any company whose stock is mentioned in this article.