By Chris McKhann
Option traders are positioning for further downside in global stocks using the EAFE Index, following large bearish activity yesterday.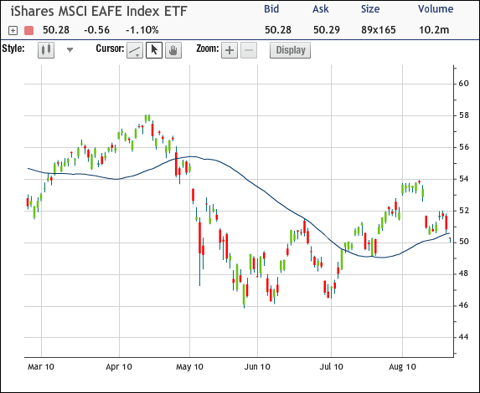 (Click to enlarge)
The iShares EAFE exchange-traded fund (NYSEARCA:EFA) is down another 1.10 percent to at $50.28 today. This adds to yesterday's losses and continues the trend of the last two weeks which has seen the price drop from resistance at $54. The fund tracks markets in Europe, Australasia and the Far East.
The most interesting trade here is a 10,000-lot put spread in October. A trader bought the 50 contracts for $2.31 and sold the 45s for $0.86, resulting in a net cost of $1.45. The volume at both strikes was more than open interest.
This put spread is looking for EFA to push back down to – or past – the 52-week low of $45.85 that was set in May. Our tracking systems also detected the purchase of more than 22,000 September 50 puts, mostly for $1.63 and $1.64, although volume was below open interest in that strike.
Overall options activity in the fund is more than twice the average level today, with puts accounting for more than two-thirds of the total. There was also a large put roll yesterday.

Disclosure: No positions