One of the most discussed names in our market today is electric vehicle maker Tesla Motors (NASDAQ:TSLA). Last week, Tesla reported its fiscal first quarter results. While Q1 results beat, guidance was a little shaky, and investors used the news to sell the stock. Tesla's story is playing out mostly as expected, but with the stock near three month lows, what should investors do now? Today, I'll take another look at Tesla.
Q1 results:
As a reminder, Tesla reports results on both a GAAP and non-GAAP basis. To see a reconciliation between the two, please see the above linked investor letter. Analyst estimates are based on non-GAAP results, so the main results I'll discuss in this section will be non-GAAP unless otherwise specified.
For the Q1 2014 period, Tesla reported revenues of $713.05 million, which beat analyst estimates for $699.10 million. For those that read my Tesla earnings preview, this number was basically where I expected it to be. On the bottom line, EPS came in at $0.12 per share. While this number beat analyst estimates by two cents, it may have been disappointing to those expecting a larger beat. After a huge beat in Q4, I figured that $0.15 to $0.20 would be doable, and I'm guessing many thought that range would be hit as well. This small beat is basically a repeat of the Q3 2013 quarter, where Tesla only beat by a penny and the stock dropped afterwards. For the quarter, Tesla delivered 6,457 vehicles, slightly ahead of the company's guidance for 6,400.
Q2 and 2014 guidance:
Tesla reiterated its full year guidance for more than 35,000 Model S deliveries this year. As part of that guidance, the company expects to deliver about 7,500 Model S vehicles in Q2. For the quarter, the company expects to produce 8,500 to 9,000 vehicles. Like Q1, the excess production is due to in-transit vehicles to fill the pipeline for Europe and Asia. Battery cell supply will constrain production in Q2 but that issue expected to improve in Q3. The company also expects the gap between production and deliveries to narrow in future quarters. The company has started Tesla leasing, but due to the production/delivery gap, only about 200 vehicles will be leased in Q2. The number of leased vehicles will grow over time, especially in Q3 when the company fills orders from Q2.
Perhaps the most disappointing part was when Tesla detailed its expense guidance. Non-GAAP automotive gross margins are expected to increase slightly from Q1 to Q2. R&D expenses are expected to rise by 30% sequentially and SG&A expenses will rise by 15%. As a result, Tesla stated that it expects to be marginally profitable on a non-GAAP basis. This is a worrisome statement, which I'll discuss more in the next section. The company will also kick off construction of the gigafactory later this year.
Analyst estimate changes:
In the table below, I've detailed analyst estimates, both going into the Q1 report and where they stand currently. Again, all estimates are non-GAAP.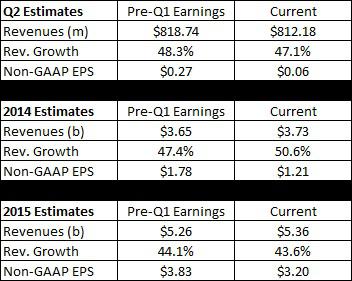 For the current Q2 period, revenue estimates have edged lower. That makes sense as most were probably expecting a few more deliveries in the quarter. Obviously, EPS estimates have come down tremendously. I think analysts might even cut those estimates further towards the flat line.
This makes the second half of 2014 even more interesting. For a few months now, I've been detailing how analysts were expecting a huge second half. Going into the Q1 report, analysts were looking for about $1.52 billion in revenues during the first half of the year, along with more than $2.1 billion in the second half. Now, analysts are looking for about $1.53 billion in the first half, followed by $2.2 billion in the second half.
In terms of EPS, the picture is even more stark. Going into Q1, analysts were looking for about $0.37 in profits in the first half of 2014, while expecting a $1.78 profit for the year. Now, analysts are looking for about $0.18 in the first half and $1.21 for the year. Tesla is expected to ramp up deliveries and revenues significantly in Q3 and Q4. However, the company will need to control its expenses a bit if it wants to beat current analyst forecasts for more than $1.20 of non-GAAP per share profits.
In terms of 2014 and 2015, the revenue estimate averages have increased a bit, and that makes sense given the Q1 revenue beat. On the flip side, EPS estimates have been slashed thanks to the increased expense guidance. 2014 EPS estimates are now at the lowest point that I've seen. This reverses the rise we saw after the huge Q4 beat. Investors probably need to ratchet down their EPS expectations going forward. Don't forget, the company continues to dilute investors by the quarter, which adds pressure to EPS. In terms of GAAP earnings, Tesla showed a diluted share count rise of more than 9 million shares over the prior year period to 123.47 million in the 10-Q filing. The outstanding share count rose by about a million shares in Q1.
An update on short interest:
One item I've tracked extensively for Tesla is short interest. Tesla has been a very heavily shorted stock, as there are many non-believers. The chart below shows Tesla's short interest over the past two years.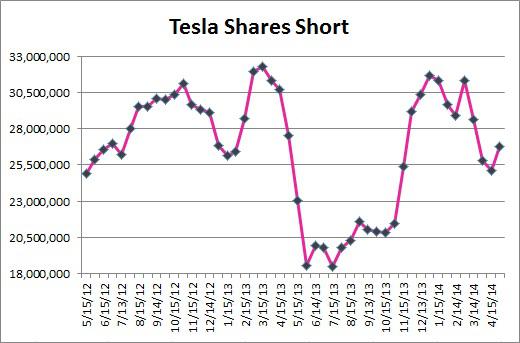 There was a small pop in short interest in the second half of April. The most recent short interest update showed approximately 26.75 million shares short at the end of April. With an outstanding share count from the above 10-Q of approximately 124 million shares, it means that about 21.5% of the outstanding share count is shorted. If you use the float number from Yahoo! Finance of 89.80 million, just under 30% of the float is short. Tesla continues to be a highly shorted stock, which means there is still short squeeze potential for this name. It will be interesting to see if short interest dropped after the Q1 report. Did shorts cover on the fall?
There is one other interesting item to note here. Tesla's days to cover ratio, which measures the number of days it would take for all shorts to cover based on average volume, hit a new yearly high. At the end of April, the days to cover ratio stood at 4.10. That is not really a tremendously high number, compared to other names that might have a days to cover ratio in the high single digits or even well into the double digits. However, it shows that Tesla's trading volume at the end of April was a bit low. Remember, short interest in Tesla was down by nearly 5 million shares in the first four months of 2014. So the fact that the days to cover ratio is slightly up over that time shows how volume is at a low point. Volume will increase for the mid-May update thanks to earnings, but I still expect it to be down over the prior year period. Part of that has to do with the stock being at much higher prices than this time last year.
Stock may have found a level of support:
In my earnings preview article, I discussed potential support levels should Tesla fall post-earnings. I mentioned that the 100-day moving average was around $195, and the 200-day moving average was around $175. Well, Tesla did fall after earnings, and the stock nearly hit the 200-day moving average late last week, as you can see in the chart below.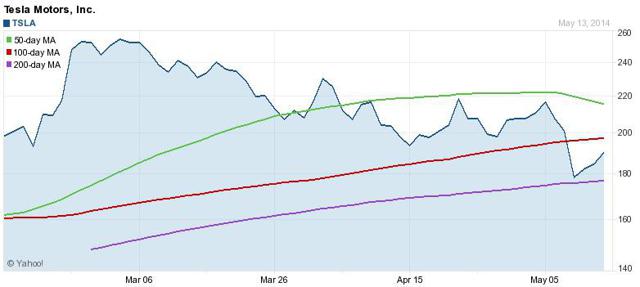 Click to enlarge
(Source: Yahoo! Finance)
Tesla shares were about a dollar or so from the 200-day when they bounced, and they've rebounded a bit since then. Just like the 50-day supported the stock in January with a little help from the pre-announcement, the 200-day seems to be supporting the stock now. It will be interesting to see if there is any technical selling in the next couple of weeks if the 50-day crosses below the 100-day or 200-day. At the low point of $177.22 reached late last week, Tesla shares were off 33.12% from their 52-week high of $265.
Final thoughts:
While Tesla beat on the top and bottom lines for Q1, expenses have become a concern. The Q1 EPS beat was not that impressive, and Tesla's statement about marginal non-GAAP profitability in Q2 worried investors. Analyst EPS estimates have come down tremendously as a result, and this puts even more pressure on the second half of 2014 for Tesla.
However, this is not a $265 stock anymore. Tesla shares have fallen, and recently found support near the 200-day moving average. While on many metrics this is still an expensive stock, investors waiting for a pullback have certainly gotten one. With markets at new highs, another pullback (especially in the momentum names) could push Tesla back down to the 200-day. For those that have to be in Tesla, you could start a small position here, and average down as the stock goes lower. I wouldn't recommend going all-in on Tesla just yet though, as I'd be a lot happier at the 200-day.
Disclosure: I have no positions in any stocks mentioned, and no plans to initiate any positions within the next 72 hours. I wrote this article myself, and it expresses my own opinions. I am not receiving compensation for it (other than from Seeking Alpha). I have no business relationship with any company whose stock is mentioned in this article.
Additional disclosure: Investors are always reminded that before making any investment, you should do your own proper due diligence on any name directly or indirectly mentioned in this article. Investors should also consider seeking advice from a broker or financial adviser before making any investment decisions. Any material in this article should be considered general information, and not relied on as a formal investment recommendation.