Precious metals in general, and gold in particular, are peculiar commodities.
Essentially, during periods with no economic stress, precious metals tend to behave like other commodities, with prices in line with mining (or extraction) costs with an added premium.
In times of economic crises, with Central Banks printing money, historically gold behaves as currency.
It is in fact clear from the chart below that gold was trading at a very high premium to oil, well above what fundamentals would have suggested, despite the fact that all commodities had risen during the period. Price of gold is on the left side of the chart, price of oil on the right.
In other words, non-conventional monetary policy used by the Federal Reserve (quantitative easing) had impacted the price of gold more than that of other commodities.
When the market, with better prospects for the economy, has started to price in a return to more conventional monetary policy, gold got back in line with oil and with its mining cost.
At the moment, lacking new financial or geopolitical shocks, the price of gold should remain between 1200 and 1350 USD/Oz, with any higher prices representing a sell signal and lower prices a buy signal.
Obviously, in case of renewed tensions in the financial markets, a new analysis with price boundaries should be carried out, but so far even recent events in Ukraine have failed to test the above boundaries. This might mean that markets do not think the crisis is an event with the potential to disrupt the economic recovery. However, investors should beware of a renovated importance of geopolitical stress, as outlined in one of my previous articles on Seeking Alpha.
In essence, given the current trading range, any dips below 1250 should be read as a 'buy' signal, while investors should consider selling on peaks above 1350, unless the economic outlook worsens considerably, in which case Central Banks might resort to money printing again.
Also, given a renewed importance of difficult to predict geopolitical risks, investors would be well advised to position their portfolios with some holdings of precious metals as an insurance against equity and bond disappointments.
Trade carefully.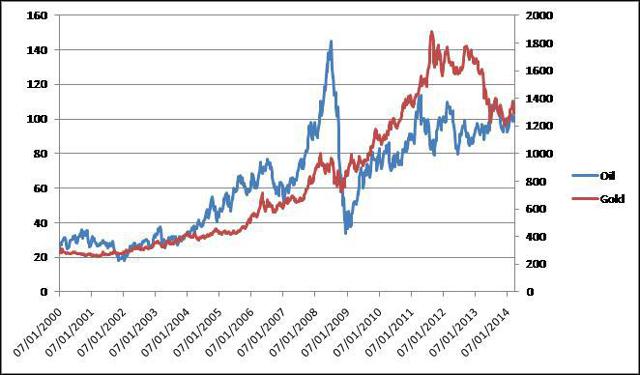 Disclosure: I have no positions in any stocks mentioned, and no plans to initiate any positions within the next 72 hours. I wrote this article myself, and it expresses my own opinions. I am not receiving compensation for it. I have no business relationship with any company whose stock is mentioned in this article.