Business is War
It is often said that business is war. And to the extent that that is true, Procter & Gamble Co. (NYSE:PG) is well positioned to conduct business at a very high level. The firm has a long legacy of hiring ex-military types. The firm seems to like the discipline and strength of character that the military instills in its people. However, don't let this confuse you into believing that Procter & Gamble is a staid or rigidly run enterprise. In our opinion, nothing could be farther from the truth. We see Procter & Gamble as one of the most innovative and inspirational companies in the global consumer products industry.
In only his second year as Chief Executive Officer, Robert McDonald inherited one of the most difficult operating environments that Procter & Gamble, or any other firm for that matter, has faced in recent times. However, this 30-year veteran of Procter & Gamble is skillfully drawing upon his experience at the firm and the foundational training he learned at West Point Military Academy.
Even though Mr. McDonald developed much of his leadership skills through military training, in our opinion he brings an enlightened approach that motivates his team to innovate and succeed. Strong management is an attribute that we covet in any operating business that we analyze. From top to bottom we think Procter & Gamble Co. possesses one of the strongest teams in all of industry.
Since the proof is in the pudding, a look at Procter & Gamble's operating history provides clear evidence of this blue chip's heritage of operating excellence. Figure 1 below looks at Procter & Gamble's consistent earnings growth and consistent dividend payout since 1992 through the lens of our EDMP F.A.S.T. Graphs. (Note, that on our historical earnings correlated graphs that span more than 15 years data is only plotted every other year, due to space constraints, and is noted by an asterisk next to the years).
The red shaded areas mark the recessions of 2001 and the great recession of 2008. This graph illustrates how Procter & Gamble was able to maintain a high level of profitability during these difficult times.
(Click charts to enlarge)
Figure 1 PG 20yr. EPS Growth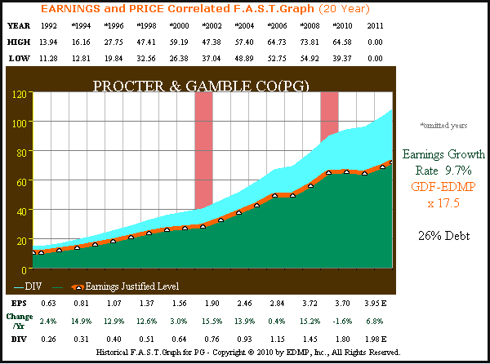 Click to enlarge
Figure 2A below adds monthly closing stock prices and correlates them to Procter & Gamble's earnings growth (the orange line with white triangles). There are two important takeaways to be gleaned from this picture. First is how price follows earnings over the long run, and how when they became disconnected from earnings they inevitably revert to the mean. Second, note that it has only been during 2009 and 2010 that Procter & Gamble's monthly closing stock price has fallen below the earnings justified value line (orange line with white triangles). Since Procter & Gamble has remained strongly profitable this would indicate undervaluation, at least on a historical basis, relative to earnings.
Figure 2A PG 20yr. EPS Growth Correlated to Price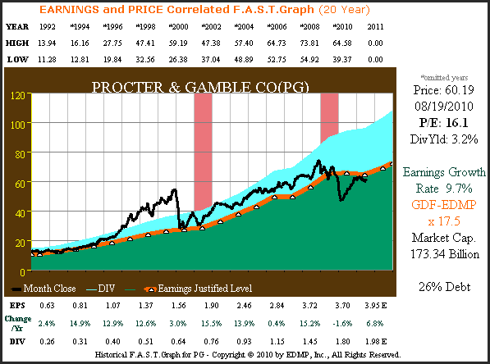 Click to enlarge
Figure 2B below calculates the long-term performance associated with Figure 2A to include a dividend cash flow table. A couple of important points can be seen here. First, that Procter & Gamble's consistent earnings growth of 9.7% seen in Figures 1 and 2A above translated into a closely correlated annualized rate of return of 9.2%.
The slight difference between the earnings growth rate and annualized rate of return is attributed to today's current historically low valuation that discounts the return slightly. Second, the consistent annual increase of Procter & Gamble's dividend speaks loudly to the strength of this company and their commitment to rewarding shareholders.
Figure 2B PG 20yr. Performance History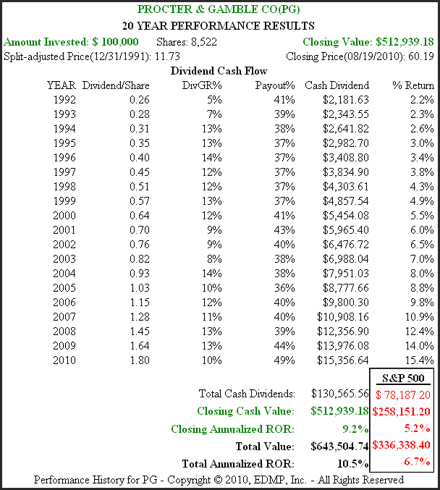 Click to enlarge
Figure 3 below looks at Procter & Gamble from the perspective of adding and correlating operating cash flows (light green shaded area marked with an "o")to earnings and stock price. From this graph it is clear that Procter & Gamble's operating cash flows have consistently been higher than earnings per share and remained that way even through the two recessions.
To us this indicates that Procter & Gamble's dividend has been well protected by operating cash flows throughout its history. Also it's clear that stock prices are currently at an abnormally large discount to cash flows.
Figure 3 PG 20yr. Operating Earnings & Cash Flows Correlated to Price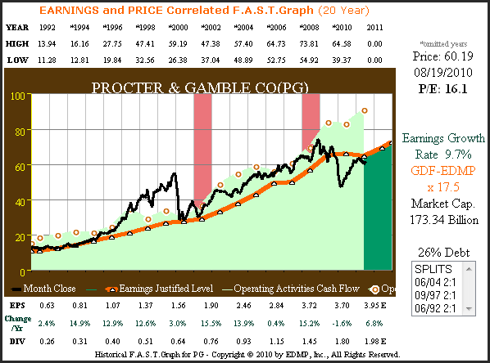 Click to enlarge
Thesis for Growth
Procter & Gamble's broad portfolio is led by 22 billion dollar brands. The company operates three business segments:
1. Household products, which generate approximately 48% of sales.
2. Beauty and grooming, which generates approximately 34% of sales.
3. Health and well-being, which generates approximately 18% of sales.
A few of their most recognized brands include Tide, Pampers, Gillette Fusion, Dawn, Duracell, Bounty paper towels, Iams pet foods, Pringles, Charmin and hundreds of others. Procter & Gamble is continuously innovating their brands. For example, in August alone they added the Braun Multi-quick 7 cordless hand food processor, Pantene Reinvention line of women's hair products, Old Spice "Smell like a Man, Man" and its popular Old Spice chiseled chest guy ads.
One of the reasons for the military references in the opening of this article stems from the accusations of their leading competitors that Procter & Gamble is waging a price war in order to regain their footing. In truth, Procter & Gamble has slashed prices on only approximately 10% of their business lines which according to CEO McDonald does not constitute a major price war. Instead, he sees this as part of an overall growth strategy that Procter & Gamble is initiating under his leadership.
Three Strategies for Growth
Procter & Gamble has laid out three strategies for growth. The first was to focus on core brands and drive leading market share in their most important traditional markets of the US and Europe. According to the company, approximate 80% of P&G sales and growth the past decade have come from 10 businesses. These include baby care, blades and razors, fabric care, family care, feminine care, home care, oral care, prestige fragrances, retail hair care and skin care. About 75% of the company's sales and profit growth have come from their leading billion-dollar brands.
Next, Procter & Gamble chose to shift their business portfolio to more beauty and personal care businesses. According to the company the percentage of sales in more capital intensive paper and food businesses went from 42% at the beginning of the decade to 25%. Simultaneously, the percentage of sales in more asset efficient, faster growing, higher-margin businesses have increased from 18% to 33%. For the past eight years sales and profit growth from beauty, personal care and healthcare have accounted for more than 60% of the total.
Their third strategic growth strategy was to reach more low income consumers particularly in developing markets. This strategy has been led by many innovative product developments to create affordable P&G brands, and therefore, to better penetrate markets in the developing world. This has resulted in strong growth for the company in the developing world.
Strategic Growth Initiatives
Consistent with these strategic growth initiatives, Procter & Gamble has just announced a commitment to invest at least $1 billion in China over the next five years. In addition to China, Procter & Gamble is keenly interested in Brazil, a country known for its beauty conscious population. Procter & Gamble is currently attacking these under-penetrated markets with a military precision that one would expect from CEO Robert McDonald.
In their battle to grow their business in these trying times, Procter & Gamble plans to continue to focus on their five core strengths. The first is consumer understanding backed by extensive research into the needs of consumers. Second, is their commitment to innovation where they translate their consumer desires into new products that satisfy their needs. Third, is their ability to penetrate existing and new markets through scale, which drives efficiency and value. Fourth, their go to market capabilities allow them to reach retailers and consumers at the right time and place. And finally, is their commitment to brand building, backed by one of the strongest advertising and promotional budgets and commitments of any competitor.
Conclusions
We feel that Procter & Gamble is on the right track and capable of reinvigorating their future growth. Their leadership is strong, and their product portfolio one of the best. The company is known for their ability to execute and compete, and we therefore have a high degree of confidence that they will succeed. The management team is committed to penetrating the faster growing markets in the developing world which we believe represents a huge opportunity for the company.
Procter & Gamble is one of the most recognized and revered companies on the planet. Fortune ranks them No. 6 among the "World's Most Admired Companies", No. 2 among "Top Companies for Leaders", and consistent No. 1 ranking on their "Most Admired" list for 24 of 25 total years and for 12 years in a row. Barron's ranks them No. 3 on the "World's Most Respected Companies List", and BusinessWeek ranks them No. 12 among the "World's Most Innovative Companies".
We believe Procter & Gamble today represents a very attractive investment choice for those seeking a high quality company with a growing dividend and the potential for capital appreciation. Procter & Gamble trades at a historically low 16.1 PE ratio, and offers a historically high dividend yield of 3.2% that has the potential to grow each year.
Disclaimer
: The opinions in this document are for informational and educational purposes only and should not be construed as a recommendation to buy or sell the stocks mentioned or to solicit transactions or clients. Past performance of the companies discussed may not continue and the companies may not achieve the earnings growth as predicted. The information in this document is believed to be accurate, but under no circumstances should a person act upon the information contained within. We do not recommend that anyone act upon any investment information without first consulting an investment advisor as to the suitability of such investments for his specific situation.
Disclosure: Long: PG at the time of writing.