BlackBerry (NASDAQ:BBRY) launched this week its much anticipated low-end smartphone in Indonesia. Strong unit sales will certainly not return the company to its former glory. However it could be huge in terms of momentum for the stock.
Eventually, strong sales in Indonesia could indicate future success in BBRY's last strongholds, including India and South Africa, and could even be used to return to markets it once dominated.
Some great articles have been published on SA regarding the pros and cons of BlackBerry's Z3. However, both long and short investors should have a sense of how to measure the success or failure of this new phone, along with the rest of the BB10 devices. In this article I try to provide this number.
Additionally, in a separate article I show that there is a strong correlation between search volume on Google and actual unit sales for smartphones. In this article I present the latest search volume figures for BlackBerry's Z3 compared to its competition as an early indication of its possible success.
What Number Constitutes a Success in Indonesia?
Indonesia is one of the largest mobile phone markets in the world with over 280 million subscribers in 2012, according to CIA's World Factbook. Taking into account that Indonesian population stands at 250 million, I don't expect the market to significantly continue adding new subscribers, so I'll take the 280 million as a given for 2014.
As is the case with many developing countries, "dumb" phones still account for the lion's share of mobile subscribers. According to Roy Morgan Research, 34% of mobile phone users in Indonesia will own a smartphone on 2014 compared to 24% on 2013. That means that in 2014, there could be approximately 95 million smartphones active in the Indonesian market, 28 million first time users and 67 million incumbents. For the sake of comparison, the US accounted for over 150 million smartphones at end of 2013.
Of course not every smartphone user will upgrade to a new phone in 2014. Information about upgrade rates in emerging markets is scarce. However, we can reach a reasonable estimate based on other countries. In the US, 68 million people upgraded their smartphones on 2012, an upgrade rate of 22.4%. However, this number probably overestimates Indonesian upgrade rates given its multiple comparison issues. For Japan's SoftBank, upgrade rates stood at 18.36% on 2013. Unfortunately, public Indonesia carriers like Indosat don't publish this figures. Assuming that Indonesia is a far more cost conscious country, I will use an upgrade rate of 15%.
With this assumptions in mind, 36 million smartphone users will be out on the market for a new phone on 2014, of which 8 million will be upgrades and 28 million first time users.
BlackBerry's market share in Indonesia stood at 14% on 2013. Assuming that BlackBerry is to retain its market share on 2014, it should sell at least 5 million new smartphones. To put this number into perspective, BBRY recognized sales of 13.8 million units on FY2014. Given that the Asia Pacific region accounted for just 16.2% for FY2014 revenue, 5 million devices in Indonesia alone sounds like an overly optimistic number.
Finally, note that BB10 devices accounted for a little over 50% of global BBRY device sales on the most recent quarters. Assuming this number stands the same, BB10 sales should be 2.5 million for BlackBerry to retain its 2013 market share in the country.
The success or failure of BlackBerry's BB10 devices should be judged depending on how close they get to this 2.5 million figure. Accordingly, BlackBerry's Z3 success should be assessed based on how much they contribute to achieve at least 2.5 million BB10 devices sold on 2014 in Indonesia.
What Google Can Tell Us About BlackBerry's Z3 fate
In Staying Ahead of the Market: Estimating iPhone Sales I argue that search volume on Google for the term "iPhone" is strongly correlated with actual iPhone sales and propose a trading strategy that could generate significant profits by exploiting this fact. My argument is that a significant fraction of smartphone consumers use Google to gather information before choosing to buy a new phone
In this article, I use the same argument to provide some indication of BlackBerry's Z3 chances of success in the near future.
BlackBerry sales and search volume
An important limitation of this argument is that it depends on Google's market share in the search engine business. For China, for example, where Google stands at a mere 1.66% of market share this correlation should be less accurate. Fortunately for my argument, Google's search engine is practicly a monopoly in Indonesia.
Using Google Trends, I first test for the correlation between the word "BlackBerry" and actual BlackBerry smartphone sales.
BBRY's quarterly smartphone sales have dropped 88% year over year since its peak on 4Q2010. In line with this drop, the search volume for the term "BlackBerry" has decreased as well. Both its unit sales and search volume appear to be falling at faster rates.
To account for seasonality effects, I calculate the year over year growth in quarterly sales and search volumes. I present this information in the graph below.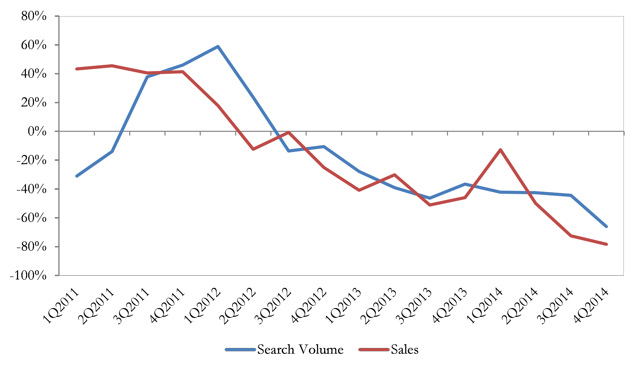 *Source: Google Trends for Search Volume; Bloomberg for BlackBerry's quarterly smartphone sales.
For those more familiar with statistics I provide a simple pairwise correlation test for the period 1Q2010-4Q2013:
| | |
| --- | --- |
| Pairwise Correlation | 0.695 |
| p-value | 0.003 |
*Source: My own calculations using STATA, based on data from Google Trends and Bloomberg.
Recall that a correlation is a measure of linear dependence between two variables. Its result is a number between -1 and +1, where +1 means perfect linear correlation. In this case, search volume of Google and BlackBerry unit sales are highly correlated. The p-value indicates that this correlation is significantly different from zero.
Forecasting BlackBerry's Z3 success in Indonesia
Google Trends allows you to track search volume at country-level and even city-level. A potential upside for BlackBerry in the coming weeks and months is the success of the Z3 model in Indonesia. Strong sales in Indonesia would be encouraging for other important emerging markets and could help Blackberry regain some lost market share in the long run.
The main competitors in the low-cost smartphone market for BlackBerry are the iPhone 5C, Motorola Moto G, Nokia X and Nokia Lumia 520. Below, I compare the recent search volume in Indonesia of these smartphones with BlackBerry's Z3.
Even though BlackBerry's Z3 enjoys a considerably larger search volume than iPhone 5C, Nokia Lumia 520 and Motorola Moto G, it lags Nokia X by a wide margin.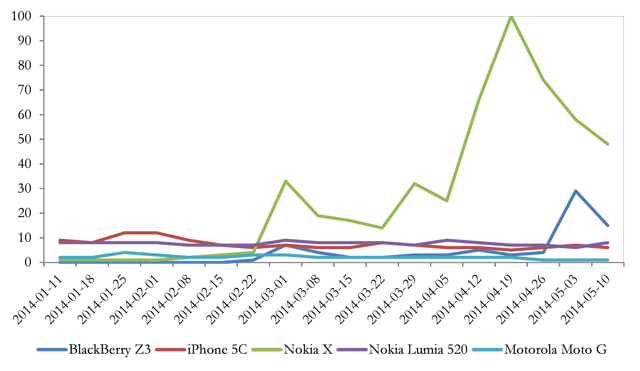 *Source: Google Trends
By this account, Nokia X has been huge in Indonesia, compared to its peers. The following weeks will be important to evaluate BlackBerry's Z3 traction in this important emerging market. Google Trends can lend us a hand to decide this matter.
Disclosure: I am long BBRY. I wrote this article myself, and it expresses my own opinions. I am not receiving compensation for it (other than from Seeking Alpha). I have no business relationship with any company whose stock is mentioned in this article.