BlackBerry (NASDAQ:BBRY) is the enterprise mobility leader and yet the stock is still under a strong cloud of negativity. I believe it is because the market still perceives the company as a handset device maker. The performance of BBRY, like Apple (NASDAQ:AAPL), is strongly dictated by the number of phones it profitably sells.
The quandary of John Chen is the same old dilemma that the old CEO had last year. The recovery of BlackBerry is still largely dependent on it making a comeback in smartphones. The revenue from enterprise services, no matter how good it is, will not greatly boost BBRY.
I hypothesize that only with a turnaround in handset sales can BBRY hit the $15 price target of Citron Research. The stock will not move up significantly even if BlackBerry Messaging starts making money. Propagating QNX for embedded devices will also not give BBRY a major tailwind.
The Fallen Champion
Making and selling BlackBerry phones is the main market mover for BBRY. The stock went up on the strength of its phone sales and it crashed down when its phones didn't sell well. The glory days of 2007 are long over. Back then, when the company was still known as RIM, BlackBerry was the champion of smartphones.
After the 3-for-1 stock split in August 21, 2007, BlackBerry continued to thrive even in the face of Apple's new iPhone. However, the company went downhill after February 2011. That is when Google's (NASDAQ:GOOG) (NASDAQ:GOOGL) Android army invaded the mainstream consumer market.
Samsung (OTC:SSNLF) and other OEMs decided to flood the planet with low-priced smartphones which quickly decimated Nokia (NYSE:NOK) and BlackBerry's market share. Please look at the chart below from Google Finance.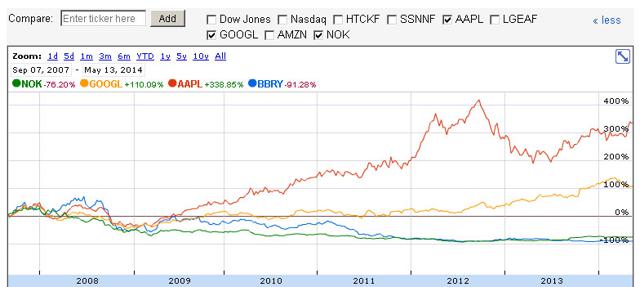 Click to enlarge
BlackBerry and Nokia went negative, while Apple and Google reaped a lot of gains due to their smartphone success. BlackBerry was still in a lot of phones from 2008 to 2011. Unfortunately, shrewd investors saw the writing on the wall and BBRY was no longer the same old darling-of-the-market. It steadily declined in price from early 2011 onwards.
From a post-split high of $147.55 in June 2008, BBRY had a closing price of $7.45 yesterday. The phone sales history chart below is an easy explanation why this happened.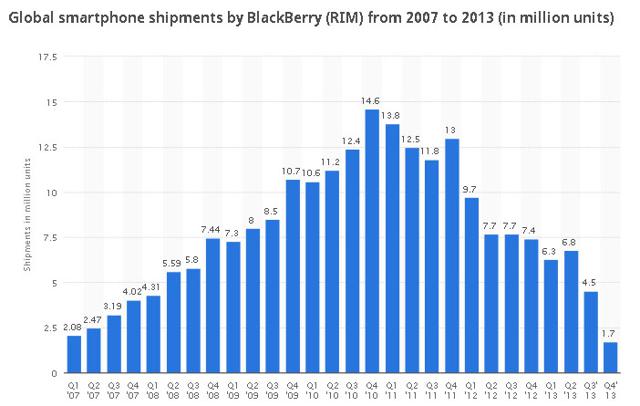 Click to enlarge
Source: Statista.com
A change in name did not change the fate of BlackBerry, it was still the biggest loser from the smartphone wars. A look at the company's income statements for the past five years reveals the great losses from the company's mismanagement of its phone business.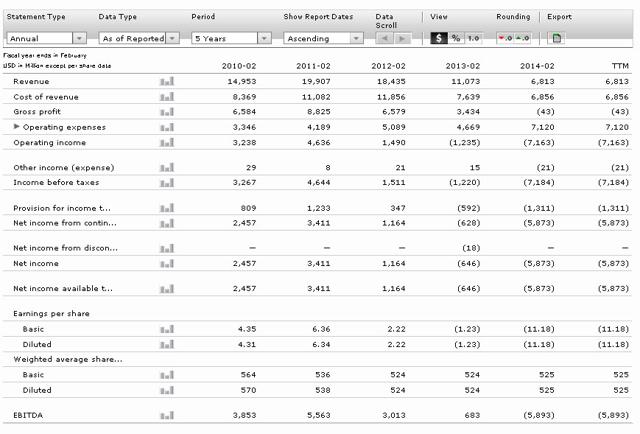 Click to enlarge
Source: Morningstar.com
BlackBerry, the former champion in smartphone innovations, had a terrible three-year performance. Selling a lot of great phones helped the company post record investment returns from 2004 to 2008. However, the missteps in smartphones caused this champion to suffer a fate worse than Mike Tyson got.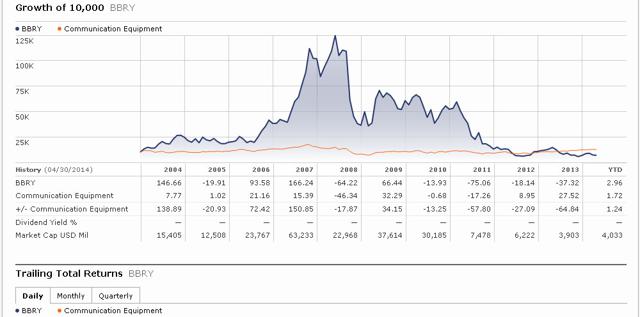 Click to enlarge
Source: Morningstar.com
I suspect that BBRY's early success in smartphones was what prompted the late Steve Jobs to make the iPhone. Unfortunately for BlackBerry, it did not have the right management team to counter Apple's iOS and Android phones.
10 Million Phones Sales Is Not Impossible
Mr. John Chen stated that BlackBerry's phone business can be profitable again if the company sells 10 million smartphones per year. The 10 million phones target is what BlackBerry needs to cure it of its walking dead status in the stock market. The premium handset market was a losing proposition. Chen's new strategy to sell $200 BB10 phones is a ray of hope.
Chen knows very well that BlackBerry's non-phone device revenue streams won't be enough to return BlackBerry to its 52-week high of $15.42. His deal with Foxconn last December is his comeback plan to make the phone division profitable again. The huge write downs from unsold Z10 and other market-rejected BB10 phones should no longer be a problem with Foxconn's help.
Unfortunately, the proliferation of $100 Android phones compelled me to question the future of the BlackBerry Z3. I'm a BlackBerry believer, but I'm a realist. I still don't believe the $200 Z3 can help BlackBerry sell 20 million or more phones every year.
But like Chen said, 10 million unit sales should be enough to make the phone unit profitable. I believe him. The mid-priced Z3, Q20, and other future BB10 phones can help deliver 10 million sales per annum. I accept that BBRY has no chance of ever again becoming a dominant player in global consumer smartphones.
Carrier support is vital to the success of any smartphone that's selling for $200 and below. It will be very hard for BlackBerry to win consumer market share if carriers find it more profitable to bundle $100 Android phones instead of the $200 Z3. However, Chen is molding BlackBerry as a niche enterprise-heavy phone vendor.
The weakness in consumer sales can be offset by selling $200 phones to small and medium enterprises. The Z3 and the Q20 will also be attractive to developing countries with smaller budgets for their government agencies, military, and police forces.
If the Z3 gets enough consumer success in Indonesia, say more than 500,000 units, Chen can bring it to Philippines, India, Brazil, Russia, Africa, and other emerging markets. BlackBerry's comeback in phones has more chances of success in emerging markets. The U.S. currently no longer offers any substantial market share for BBRY.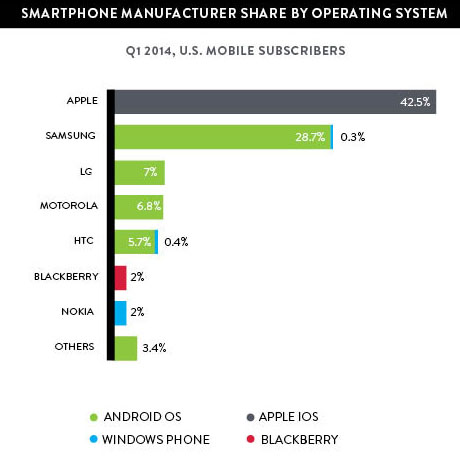 Chen and Terry Gou can natively converse and persuade Chinese officials and businessmen. In spite of the proliferation of $70 Android phones in Shenzhen, Foxconn's influence in China can still sell $200 BB10 phones. BlackBerry has almost nonexistent presence in China - the biggest market for smartphones.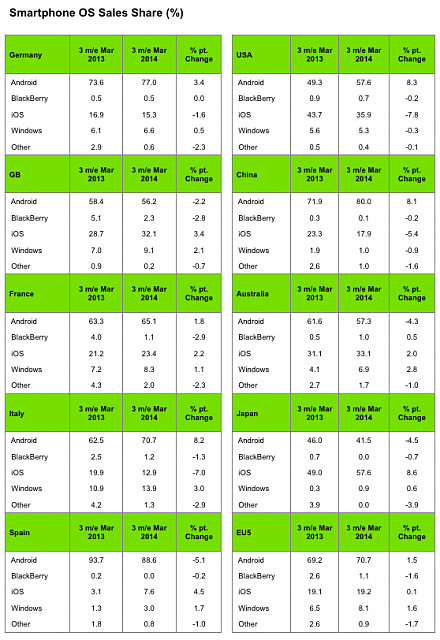 Source: Kantar World Panel
ComScore's data also revealed that BlackBerry has been surpassed by Microsoft (NASDAQ:MSFT) in the U.S. smartphone market. John Chen is right to pick Indonesia for the first $200 BB10 phone this year.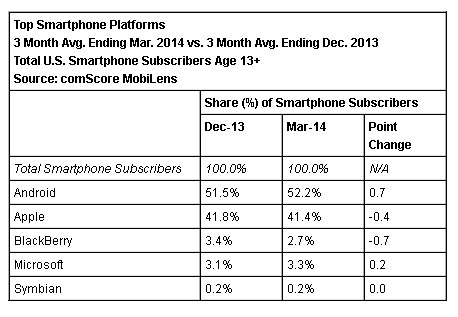 Conclusion
Based on past history of BlackBerry, selling 10 million phones per year is not an impossible task. John Chen only needs to persuade some people in China, India, Indonesia, and Malaysia to gain carrier support for the Z3 and Q20. A few well-placed gifts to the right people can also help BlackBerry gain more enterprise customers outside of the U.S.
Government officials in emerging countries are subject to gifts. Corporate purchasing officers are susceptible to gifts. Gift giving is important when negotiating big-money contracts. It is no longer enough to tout that BlackBerry has the most secure phones, operating system, and messaging service.
Most people no longer solely depend on technical features, security, and performance when deciding what phone to buy. Unlike Apple, BlackBerry no longer enjoys a cult-like devotion for its phones. Gift giving to the right people is therefore a shortcut towards gaining carrier & enterprise support for the Z3 and Q20.
BlackBerry is a Hold for long-term investors. Don't feed the shorts, please ignore the negativity. BBRY used to trade above $140. A rebound on phone sales can help the stock find its way back to $15. It is better to listen to the 21 expert analysts from BarChart.com who rate BBRY a Hold.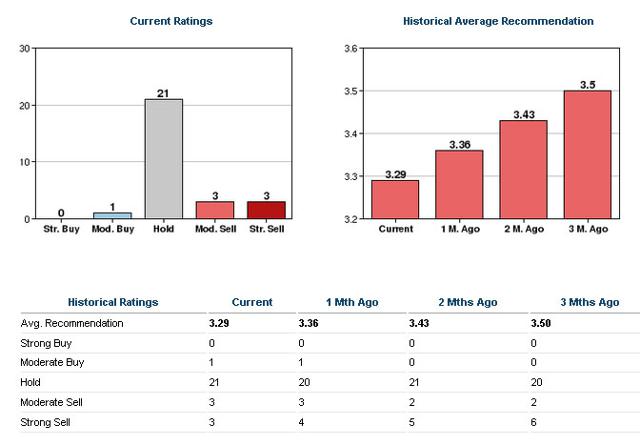 Click to enlarge
Source: BarChart.com
Disclosure: I am long BBRY, NOK, AAPL, GOOG. I wrote this article myself, and it expresses my own opinions. I am not receiving compensation for it (other than from Seeking Alpha). I have no business relationship with any company whose stock is mentioned in this article.
Editor's Note: This article discusses one or more securities that do not trade on a major U.S. exchange. Please be aware of the risks associated with these stocks.