Quantitative easing from the U.S. Federal Reserve has certainly been great for the U.S. stock market over the last five years. But that does not necessarily mean that it has been great for everyone. Just as there is no free lunch, the cost for first rescuing the global economy and subsequently inflating asset prices including stocks in a failed attempt to generate sustained economic growth through the 'wealth effect' has been borne directly by retirees and those living on fixed incomes that have been forced to take on greater risks with their savings to generate income with interest rates pinned effectively at 0%. And not all investors have benefited equally. For while the U.S. stock investor has certainly been blessed in this sluggish growth world over the last several years, the same cannot be said for those allocated across many other asset classes.
The benefit from QE for the U.S. stock investor has been abundantly clear since the bottom of the financial crisis in March 2009. As mentioned in previous articles, the key characteristic of the program that has helped juice stock prices is the daily purchase of U.S. Treasury securities.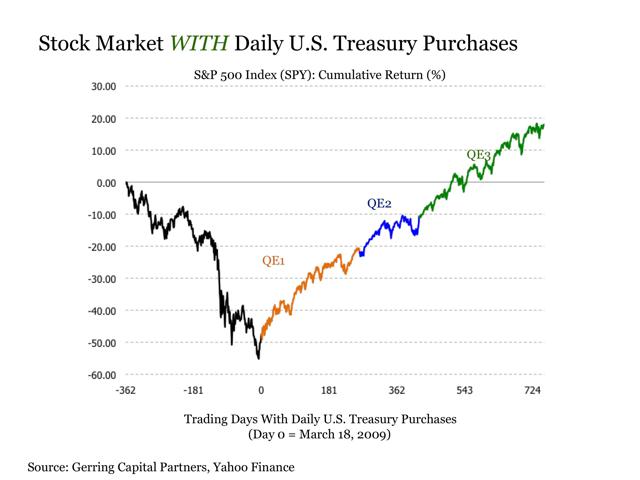 For if the Fed is not engaged specifically in daily U.S. Treasury purchases, the stock market (NYSEARCA:SPY) has otherwise languished. Taking this one step further, when the Fed is not actively engaged in any stimulus program whatsoever such as Operation Twist that was in place from October 2011 to December 2012 right up to the launch of QE3 in January 2013, or if they are not flooding the speaking circuit with promises of fresh new rounds of stimulus being imminent, the direction of the stock market has been nothing other than sharply down.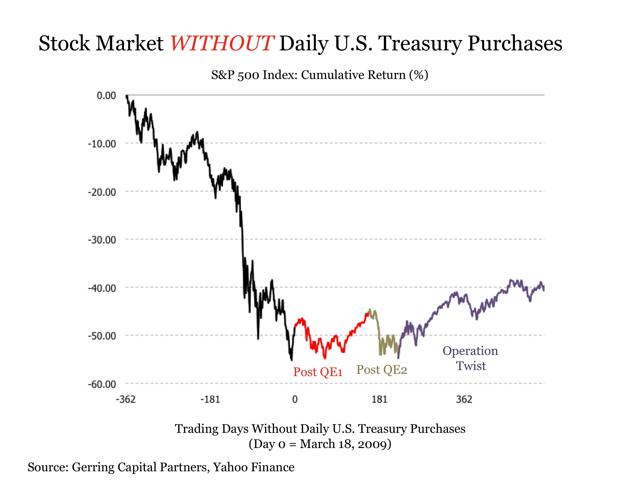 Thus, the importance of Fed stimulus in general and daily U.S. Treasury purchases in particular for the U.S. stock market cannot be understated. And with the Fed currently winding down QE3 with a projected end date in October, the risks facing a stock market that will be increasingly moving on its own are rising with each passing Fed meeting.
Not all investors have continuously benefited in the same way as those directly associated with the U.S. stock market. Some asset classes benefited for a time before the intoxicating effects of stimulus finally wore off. Others even benefited more so for a while before eventually rolling over. A few more categories started to overheat from the spillover effects associated with the Fed's persistently aggressive stimulus tactics. And others struggled to keep pace even with their central banks piling on with their own money printing schemes.
This relative underperformance may suggest opportunity. The key word here being "may". For if one believes that capital markets will continue to float on the residual effects of QE stimulus even after the Fed draws its program to a close, or if one anticipates that the European Central Bank is close to launching their own QE style stimulus program (given that Draghi has been teasing this idea for several years, it may be prudent to believe this idea only when you actually see it) some of these trailing investment categories may be relatively undervalued and poised to play catch up relative to the U.S. stock market in the coming years.
Developed international stock markets (NYSEARCA:EFA) are one such category that qualifies in this regard. While most of the more established stock markets outside of the U.S. have been rising in their own right since global central banks entered into all out stimulus mode since early 2009, many have fallen off of the breakneck pace set by the United States and may be due to close the gap.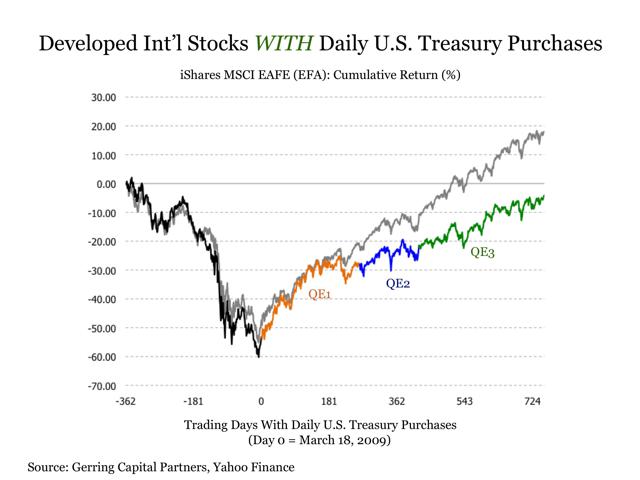 Leading among these is Japan (NYSEARCA:EWJ). Japanese stocks kept pace with U.S. markets up through the middle of QE2 before starting to fall off of track. And perhaps most notably, it was not long after the launch of the extraordinary stimulus program by the Bank of Japan in early April 2013 including its stated intent to double the yen money supply by the end 2014 that the Japanese stock market rally finally stalled, as the Nikkei today is trading -11% below its May 2013 highs and has been trending consistently lower since the start of 2014.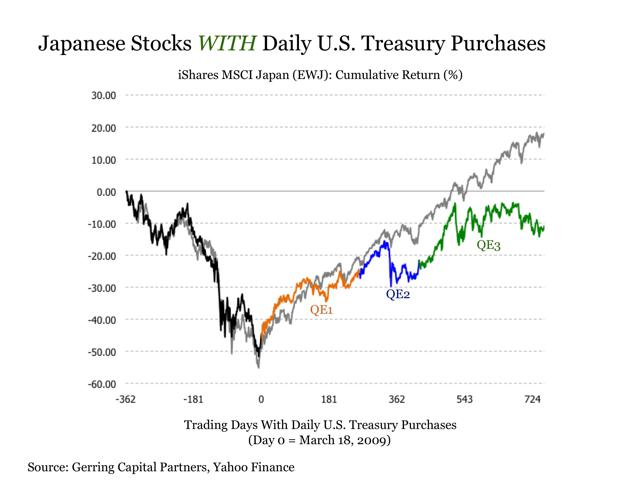 While emerging market stocks (NYSEARCA:EEM) fully matched the pace of the U.S. stock market through the end of QE2, they have fallen badly off the rails from the moment QE3 was launched in January 2013. Leading the charge to the downside was the so called Fragile Five of Brazil (NYSEARCA:EWZ), South Africa (NYSEARCA:EZA), Indonesia (NYSEARCA:IDX), India (NYSEARCA:EPI) and Turkey (NYSEARCA:TUR), all of which have been characterized as having sizeable current account deficits and a heavy dependency on hot foreign capital driven at least in part by the massive flows of Fed liquidity from the various stimulus programs over the last few years. Each country has struggled to varying degrees along the way and many were forced to raise interest rates sharply to protect against burgeoning inflation pressures and to defend their local currencies. But following alleged fears of contagion at the beginning of 2014 that many attributed as the cause for the U.S. stock market decline (it should be noted that the performance of bonds from these same emerging markets suggested otherwise), each of these markets have rallied impressively. But all of this to date raises an important question. Is this recent rally built on a stable foundation of sound fundamental improvement in these economies, or has it simply been the result of the return of yield seeking hot money flows that threaten to evaporate once again the next time the liquidity spigots start to run dry. Such is a risk that warrants careful evaluation in the months ahead.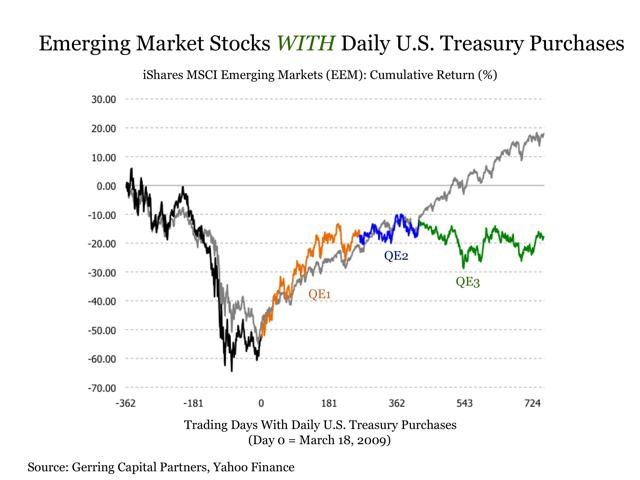 Another leading emerging market that departed from the QE upward trajectory long ago is China (NYSEARCA:FXI). Stocks in the world's second largest economy started to trail off the pace toward the end of QE1 back in early 2010, and they have been mired in a sustained downtrend ever since. So while China is dealing with highly frothy conditions in its real estate and lending markets, the speculation appears to have left its stock markets long ago. China has been working to cool rampant speculation in its economy without sparking a crisis, and it has traveled to this point with varying degrees of success in this regard along the way (a closer inspection of the so called 'taper tantrum' from last May and June reveals that the evaporation of liquidity in the Chinese banking system due to a notably stubborn stance at the time from the People's Bank of China was just as much of the cause if not more so for the sharp market pullback across all asset classes at the time). But the mere fact that Chinese policy makers remain in a tightening mode suggest that Chinese stocks may be hard pressed to regain any sustained upside momentum any time soon.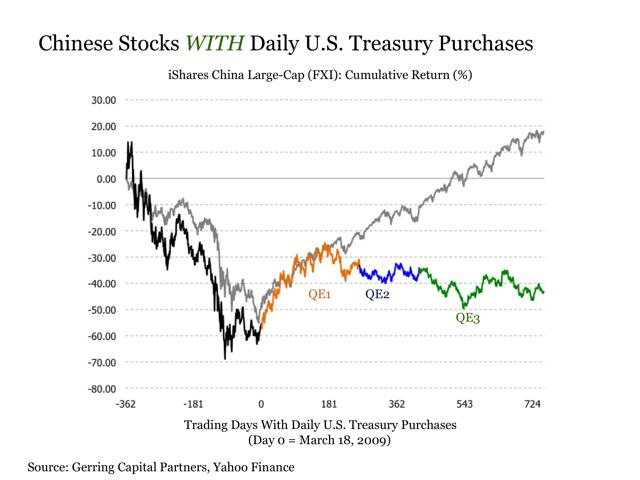 The industrial metals (NYSEARCA:DBB) segment including copper (NYSEARCA:JJC) was once a major beneficiary of the stimulating effects of the Fed's QE. Copper in particular was one of the rare few higher risk categories that was once solidly outperforming the U.S. stock market throughout the crisis and post crisis period. But that quickly ended with the launch of QE3, as copper had already fallen into a sustained downtrend that only continued despite the steady flow of fresh liquidity injections from the Fed on a daily basis. Moderating growth and increasingly tightening monetary conditions in China are likely a key culprit in why copper has performed so poorly over the last few years, and the downside pressure may continue for these same reasons even if sustainable growth finally arrives in the U.S.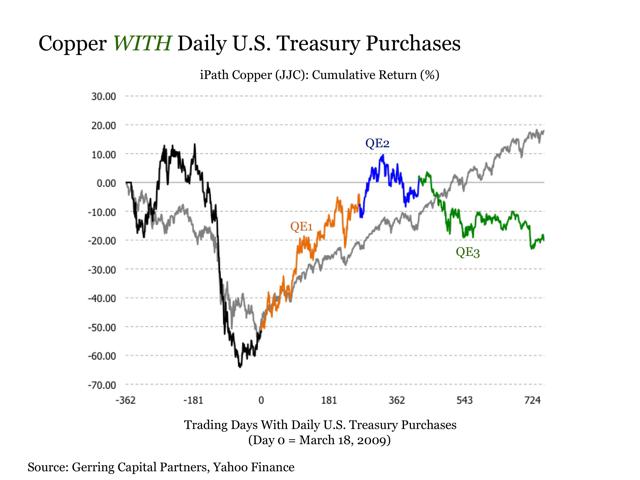 Of course, steady to declining copper prices are not necessarily a bad thing from the prospective of those that use such industrial metals heavily in the production process of its goods. And a leading user of copper as an input is the long suffering but now gradually improving U.S. homebuilding industry (NYSEARCA:ITB). Knowing that a sustained housing recovery is a critical component in achieving the long anticipated economic growth acceleration in the U.S., one might view this ongoing development in copper prices as a potential positive. Moreover, it may help the stock category begin to close the widening gap with the broader market.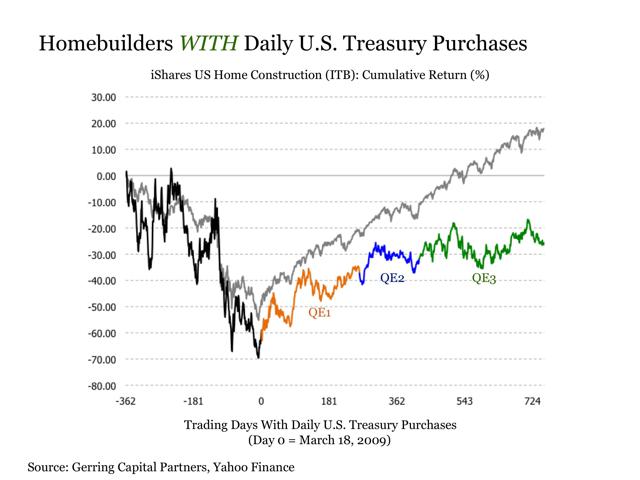 Two primary issues among others threaten this thesis on housing, however. First, a significant percentage of home demand in recent years has been sourced from cash buyers. In other words, these are often investors that in many cases have no intention to live in the property instead of the sustained demand that is often signaled from the traditional home buyer that puts 20% down and enters into a 30-year mortgage with the intent on living in the property for the long-term. Second, the continued decline in copper prices have the potential to spark more profound negative consequences for the Chinese and global economy, as copper has been used as a major source of collateral for lending activity in China. If copper prices continue to decline at a time when other sources of liquidity are drying up, it has the potential to lead to increasingly indiscriminate asset liquidation activity as at risk lenders seek to raise cash. As witnessed during the financial crisis, such are the initial forces that can eventually take global markets down across the board in a hurry.
Real estate is another category that was among the last to drop of the pace with U.S. stocks under the influence of QE. REITs (NYSEARCA:VNQ) were moving in lockstep with U.S. stocks all the way through the early months of QE3 in May 2013. But when the prospect of sharply rising interest rates struck in earnest last spring, REITs took it on the chin and struggled through the remainder of the year. This relative underperformance by REITs left the category well behind the U.S. stock pace to the upside. But since the start of 2014, REITs have rallied strongly in making up a considerable amount of lost ground. And given that many REITs are still trading at more attractive valuations following the weakness through much of the second half of 2013, the prospects remain solid that the category may continue to close this performance gap as we continue forward in 2014.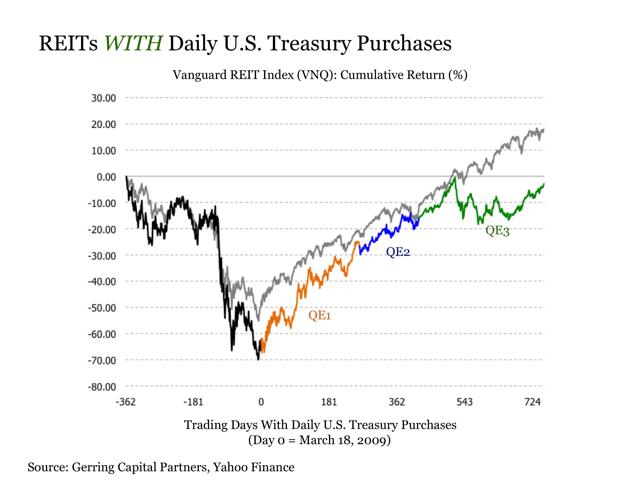 Not all asset classes have been winners under QE related daily Treasury purchases by the Fed over the last several years. Some have underperformed for good reasons, while others may have been disproportionately punished while the U.S. stock market escaped unscathed at least for now. And all are accompanied by their own unique risk characteristics that must be considered carefully before making any commitments, for the potential downside may be just as profound as ever. But for those investors seeking a complement or alternative to U.S. stocks, an exploration through these categories that QE left behind may be a worthwhile exercise.
Disclosure: This article is for information purposes only. There are risks involved with investing including loss of principal. Gerring Capital Partners makes no explicit or implicit guarantee with respect to performance or the outcome of any investment or projections made. There is no guarantee that the goals of the strategies discussed by Gerring Capital Partners will be met.
Disclosure: I have no positions in any stocks mentioned, and no plans to initiate any positions within the next 72 hours. I wrote this article myself, and it expresses my own opinions. I am not receiving compensation for it (other than from Seeking Alpha). I have no business relationship with any company whose stock is mentioned in this article.
Additional disclosure: I am long stocks via the SPLV and XLU as well as selected individual names including those in the REIT sector. I also hold a meaningful allocation to cash at the present time.