EOG Resources Inc. (NYSE:EOG) is a US oil and gas E&P company. It is formerly a mostly natural gas producer that began a conversion to oil production when natural gas prices started to fall. It has become successful at that; and it turned in another great quarter in Q1 2014. The chart below shows the history of EOG's successful conversion.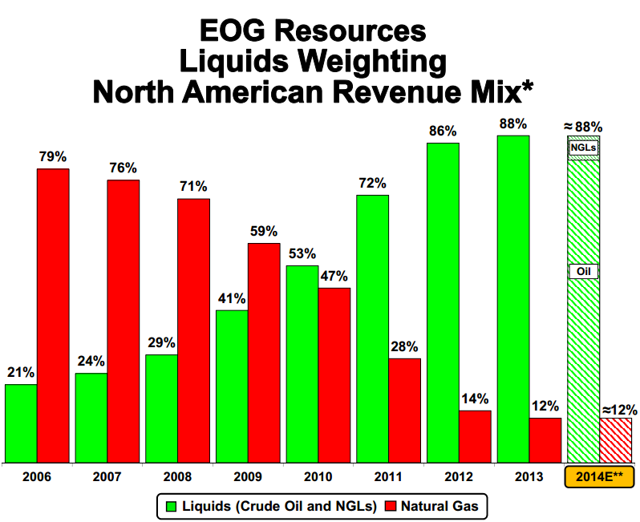 Click to enlarge
As readers can see, EOG has ramped up oil production quickly. Now, some are wondering how long EOG can keep growing long term at anywhere near the rate it has been. In Q1 2014, it answered that question for the medium term. It added four former evaluation fields to its "drilling development" inventory in Q1 2014. The total estimated potential reserves for these four high rate of return fields are 400 MMBoe net. The early results from these fields are very promising. Investors who were worried about EOG's future performance should be thrilled.
The new fields are in the DJ Basin and the Powder River Basin:
The Codell in Laramie County, Wyoming has 72,000 net acres in the DJ Basin. In 2014 thus far, EOG has completed four net wells in the Codell; and it plans to drill 26 net wells in FY2014. Estimated potential reserves are approximately 125 MMBoe net (78% crude oil). Three of the well results are below:
Jubilee 513-0820H had an IP rate of 1,325 Bopd and 700 Mcf/d of rich natural gas.
Windy 504-1806H had an IP rate of 1,400 Bopd and 665 Mcf/d of rich natural gas.
Pole Creek 525-2413H had an IP rate of 1,165 Bopd.
The Niobrara in Laramie County, Wyoming and Weld County, Colorado has 50,000 net acres. Three horizontal wells in 2013 had average IPs of 700 bpd. EOG's acreage in this area of the DJ Basin is consistent. The estimated reserve potential is 85 MMBoe net. Wells are approximately 71% crude oil. EOG plans to drill 13 net wells in FY2014.
The Parkman formation holdings in the Powder river Basin consist of 30,000 net acres. The estimated potential of these is 75 MMBoe net (approximately 69% is crude oil). In 2014, EOG has completed six net wells in the Parkman formation. A couple of the well results are:
Bolt 429-05H had an IP rate of 1,310 Bopd, 45 Bpd of NGLs, and 405 Mcf/d of natural gas.
Arbalest 60-3502H had an IP of 955 Bopd, 80 Bpd of NGLs, and 760 Mcf/d.
The Turner formation in the Powder River Basin (in Campbell and Converse Counties) consists of 63,000 net acres. EOG plans to drill six net wells there in 2014. Those wells produce about 34% crude oil. EOG's holdings in the field are estimated to have potential reserves of 115 MMBoe.
The above new fields don't compare well to EOG's recent results in the Eagle Ford, where EOG has a 564,000 net acre position. For instance, in Karnes County, EOG had recent IP rates of: 1) 3,140 Bopd, 425 Bpd NGLs, and 2.5 MMcf/d of natural gas; 2) 3,015 Bopd, 325 Bpd NGLs, and 1.9 MMcf/d of natural gas; and 3) 3,400 Bopd, 415 Bpd of NGLs, and 2.4 MMcf/d of natural gas. In Gonzales County EOG had even better recent IP results of: 1) 4,940 Bopd, 440 Bpd of NGLs, and 2.6 MMcf/d of natural gas; and 2) 4,195 Bopd, 425 Bpd of NGLs, and 2.5 MMcf/d of natural gas. Obviously, these results are much better than those in the new fields; but those in the new fields are great results nevertheless.
EOG had other fields too that had good drilling results such as the Bakken and the Delaware Basin, but these were not as good as the Eagle Ford results. Few horizontal results are. Still, the good results in those fields all add into the overall total and the overall growth. The addition of the evaluation fields to EOG's development fields should soon move the 400 MMBoe of these fields from estimated potential reserves into proved reserves.
As of December 31, 2013, EOG's total estimated net proved reserves were 2,119 MMBoe (Annual Report). An extra 400 MMBoe would be an addition of almost 19% to proved reserves. This also effectively allows for faster growth potential too.
I note that EOG claimed to increase estimated potential reserves in Eagle Ford alone from 2.2 BnBoe to 3.2 BnBoe in Q1 2014. This data should allow readers to get a better ballpark estimate of how much the new 400 MMBoe added in "potential reserves" will immediately impact the "proved reserves", which were only about 2.1 BnBoe as of December 31, 2013. Still the 400 MMBoe should help EOG to continue the steep trajectory of the historical production increases seen in the chart below.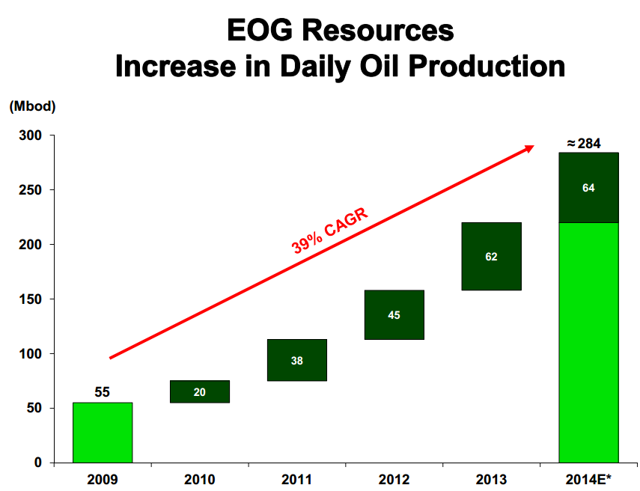 Click to enlarge
The above is a truly impressive chart for a large oil company.
With these new development fields, EOG has a more than 15-year drilling inventory; and that does not even include EOG's many fields that have not reached development stage yet. EOG classified only 1,452,786 net acres in its US inventory as developed as of December 31, 2014. It had 2,706,054 net undeveloped acres in the US as of that date. In total, EOG had 2,658,991 net developed acres worldwide and 3,376,480 net undeveloped acres worldwide for a worldwide total of 6,035,471 net acres. EOG still has over half of its inventory of net acres that it has not yet moved into "development status". These net acres should provide EOG with a huge amount of growth in the future. This growth is not even being accounted for by the analysts yet because the undeveloped net acres are not yet being actively developed.
Analysts always seem to wait until they can get firm expectations from a company before they make estimates about development. However, this last move by EOG indicates that it is ready to start expanding into more development of undeveloped net acres. Analysts' estimates for growth may get revised upward soon based on new estimates from the new "development status" fields. As further fields get added to "development status", analysts' estimates will likely get further increased. This should all be a boon for EOG's shareholders, and current shareholders should not get the idea that EOG is limited by the fields that currently are designated "development fields".
In its most recent quarter (Q1 2014), EOG produced another quarter of great results. It had 42% total company oil and condensates production growth and 45% US oil and condensates production growth year over year. It beat adjusted EPS estimates for Q1 2014 by $0.20 per share at $1.40 per share. This last was much higher than the year ago $0.90 per share (about 56% higher). This is a great result for a company the size of EOG with an enterprise value of $60.14B. EOG also raised it FY2014 crude oil production goal to 29% growth from 27% growth.
There was a large $99.9 million after-tax loss (or $0.18 per share) in Q1 due to derivatives contracts, but many people think oil prices are up beyond fundamentals due to geopolitical events. It seems likely that they will go down later in 2014. That would mean that much of this derivatives loss would likely be undone. In other words, much of that loss may be a mirage due to GAAP accounting requirements. Overall, total company production increased by 18% led by a 37% increase in liquids (crude oil, condensates, and NGLs) production.
All told EOG put in a great Q1 2014; and it increased its prospects for the future. Investors have to be happy. Current analysts' estimates still do not fully reflect recent developments, and the stock should be able to run further to the upside after the Q1 2014 earnings report. EOG is a buy.
The two-year chart of EOG provides some technical direction for this trade.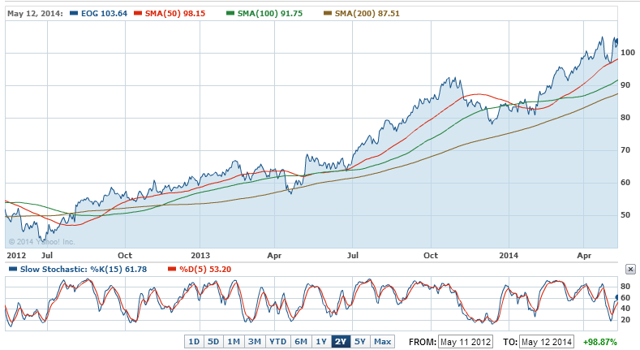 Click to enlarge
The slow stochastic sub chart shows that EOG is neither overbought nor oversold. The main chart shows that EOG is in a strong uptrend. The most recent quarterly result should help this uptrend continue. A beat and raise usually does. Analysts give EOG a mean recommendation of 1.9 (a buy). CAPS gives EOG five stars (a strong buy). With this kind of agreement in the recommendations, investors probably have little to worry about.
There are a couple of gotchas though. First, the current price of oil is higher than the fundamentals would currently dictate due to geopolitical events such as the trouble in the Ukraine, in Libya, etc. A normal expectation would be that oil prices will eventually fall a bit later this year. This would cause the price of EOG's stock to fall. Another gotcha is that many are expecting a significant pullback in the overall market. EOG's stock would likely pullback along with most other stocks. Therefore, it may be wise to average into EOG over the course of the next year or so. Investors may miss some profit this way, but they may also avoid a 20%-30% pullback in the stock price. For long term investors, EOG is still looking good, as it has been for some time.
NOTE: Some of the fundamental fiscal data above is from Yahoo Finance.
NOTE: For those interested in good oil stock investment ideas, the following article, "The Beat And Raise By Chesapeake Indicates Good Management And Improving Natural Gas Fundamentals", may be worth a read.
Good Luck Trading.
Disclosure: I have no positions in any stocks mentioned, but may initiate a long position in EOG over the next 72 hours. I wrote this article myself, and it expresses my own opinions. I am not receiving compensation for it (other than from Seeking Alpha). I have no business relationship with any company whose stock is mentioned in this article.