I last wrote about Twitter (NYSE:TWTR) three months ago to conclude that the "crescendo top" in the stock was confirmed and to review the importance of sentiment in determining the fate of the stock. I now see a high probability that a crescendo bottom has occurred for TWTR, placing another bookend on the trading opportunity in the stock. In this piece, I update the sentiment picture on TWTR and provide its potential implications.
First, kudos to Seeking Alpha contributor Alex Cho in writing recently "The Negative Sentiment On Twitter Is Temporary." While I disagree that high-volume selling will continue in the short-term, I do agree that sentiment forms an important part of understanding the trading opportunity on TWTR. TWTR is an extremely expensive stock (now trading at 24x sales, down from 31x sales when I last wrote), so it takes a lot of optimism to keep the stock afloat. Cho's positive spin on TWTR's results should provide the fundamental fuel to keep the stock aloft until the next catalyst. The reason's for some optimism include: a powerful combination of strong revenue growth, especially internationally, and a decline in variable costs; and potential ad revenue growth helped by healthy timeline metrics. I add to that list continued product innovation.
Let's now see how sentiment has changed for Twitter…
Analyst sentiment
Using Schaeffer's Investment Research, I noted the extreme bearishness among analysts: "…only 3 of 23 analysts hold a positive view, all at strong buy. Ten analysts are stuck on hold, one dings TWTR at sell, and a surprising swell of nine analysts are frowning with strong sell…A turn in analyst sentiment could create a major pivot in TWTR's stock one day." That turn may be finally underway although it is still early. Now, 5 of 24 analysts sit at strong buy, strong sell is down to 6, and neutral/hold is up to 13. There are no ratings at buy or sell. Note that these ratings come from a universe that Schaeffer's follows and are not complete. They are just a starting point for looking at sentiment. For example, recent ratings announcements for TWTR include buy ratings.
Right after TWTR's last post-earnings sell-off, Deutsche Bank and Goldman Sachs bravely reiterated their buy ratings. Deutsche also lowered its price target from $65 to $52. Since these were rating reiterations, they provide little new information for sentiment.
More interesting are the upgrades that occurred after the disastrous end of the last lock-up period. On May 8th, Morgan Stanley upgraded TWTR from underweight to equal-weight citing the reduction in risk to a $36 fair value for the stock. The next day,BofA/Merrill went from underperform to neutral also citing better risk/reward at current prices. The firm also pointed to "…factors such as improving quarter over quarter user growth, strong monetization, the launch of new app install adds that could help boost revenue, site changes that are more engaging to users and recent new product designs and features…" On May 12, Sun Trust Robinson Humphrey upgraded TWTR from neutral to buy. The firm claimed that TWTR can generate healthy monetization even with a deceleration in user growth (similar to Cho's argument). Again, these positive changes are early, but I do not think it is an accident that the stock has floated higher during these ratings changes. Until some analysts start downgrading the stock, I consider the analyst-driven pivot underway for TWTR.
Open interest put/call ratio
TWTR's open interest put/call ratio plunged until the stock hit its crescendo top. From there, it crept higher as the stock steadily declined and spiked right as the stock finally broke the $50 level (more on that below). Although the stock's decline accelerated from there, the put/call ratio never traded higher. The ratio plunged after the lock-up expiration and has now reversed the entire spike at the $50 point. On a relative basis, options traders are now a lot less bearish with the release of the lock-up's selling overhang. This is a bullish change in sentiment.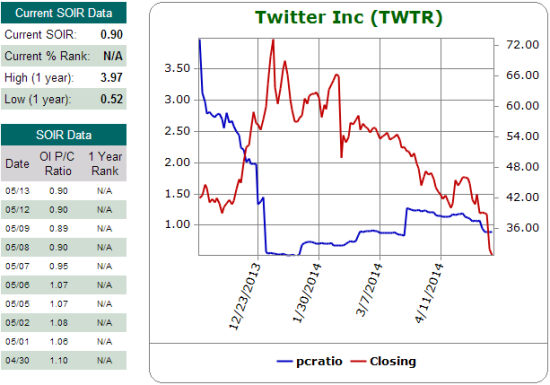 Twitter's open interest put/call ratio is on the decline again
Source: Schaeffer's Investment Research
The $50 bet and momentum
In my last post I stated the following: "What I learned [from earnings] and now understand firms up my belief that $50 should hold as support at least as long as the overall stock market remains in a bullish mood…In a bull market, that potential and promise can be sufficient to keep even a stock like TWTR trading at a nosebleed valuation. The large downside risk is the minute the market decides these efforts are failing, the stock will likely sell-off sharply, deeply, and persistently…I think a break of $50 support would mark such a moment."
The $50 point was not just important as a round number, but it also marked the intraday high on TWTR's first day of trading. The breakout from there on December 10, unleashed the now legendary fury of buying that took the stock up another 50% in two weeks. TWTR slid quickly after it broke down below $50 (March 24th): down 13% in three days of trading and then down a total of 25% before a temporary bottom ahead of April earnings. TWTR also happened to break $50 just as the sell-off in momentum and highly valued stocks accelerated. I daresay the precise timing was uncanny.
What I could not foresee three months ago was that the stock market overall would remain bullish while the market for stocks like TWTR would collapse. So, the dissipation of a bullish mood turned out to be quite selective. On Friday, I made an argument for a "cessation in hostilities" against momentum stocks. Then on Monday, I had to quickly reexamine the case given stock market volatility has dropped toward the bottom of its recent range. While TWTR will likely get hit once volatility bounces back, I am expecting the recent all-time lows to hold. This next support for TWTR between the intra-day low of $29.51 and the closing low of $30.66. Traders should remember that the "market" likes to break such obvious support levels to see how much selling interest can be unleashed. While I am arguing such a retest will not happen anytime soon, I keep this scenario in the back of my mind.
Lock-up expiration
TWTR's lock-up expiration on May 6th unleashed a 2-day flurry of selling. The 134.6M shares traded on the first of these days easily set a new trading record for the stock. The second day added 68.8M shares of trading before the stock neatly bounced from a fresh intraday low of $29.51. Given the weight of negative sentiment on TWTR, I suspect there is some kind of consensus out there that TWTR will trade to its IPO price of $26. THis expectation alone could catalyze a fresh wave of selling on a retest of all-time lows. However, just as an extreme surge in buying helped mark a top for TWTR back in December as the market ran out of its most eager buyers, I believe an extreme in selling has helped make a case for a bottom in TWTR as the market may have run out of the majority of its most eager sellers.
Three months ago, I noted "…the bulk of the share-unlocking will happen starting around early May. The way the market absorbs these shares should tell us a lot about the TWTR's bullish/bearish undertones." The market did NOT absorb the shares well at all, but the quick end to the selling saved the stock from descending further into bearish territory.
The chart below helps to put recent trading in context.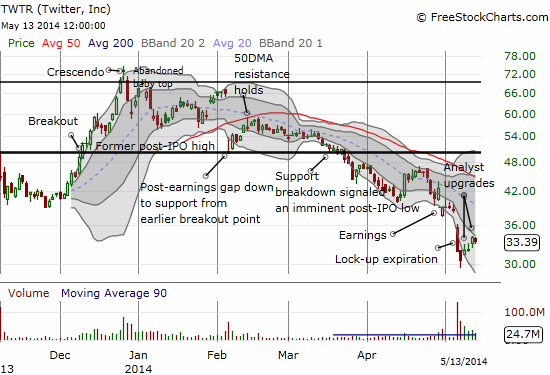 Twitter attempts to bottom
Source: FreeStockCharts.com
Short interest
Short interest may be the last piece of the puzzle. Bears have yet to release the pressure. At least as of May 1st, shares short sat at a whopping 50M shares. A notable retreat in short interest would provide, for me, confirmation that the bearish sentiment has passed its peak. When the next report on short interest comes out, I will be looking to see whether bears (smartly) cashed out into the selling during the lock-up expiration.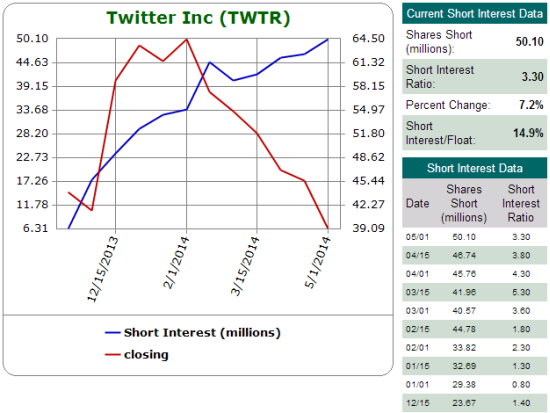 Shorts have steadily increased the pressure on Twitter. Sentiment now hinges on their next move.
Source: Schaeffer's Investment Research
Given the current data, I am trading for a bottom in TWTR…until at least a fresh catalyst changes the positive changes in sentiment. I have executed the trading plan I laid out after the 18% plunge on the lockup expiration. A change in sentiment on StockTwits firmed up my conviction to carry out the plan…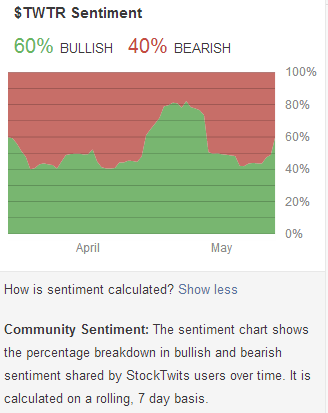 Twitter sentiment on the upswing
Source: StockTwits
Be careful out there!
Disclosure: I am long TWTR. I wrote this article myself, and it expresses my own opinions. I am not receiving compensation for it (other than from Seeking Alpha). I have no business relationship with any company whose stock is mentioned in this article.
Additional disclosure: I am long TWTR through a combination of shares and options.