The week we received three sets of economic releases on manufacturing – and on the surface one was great (the Fed's Industrial Production for July 2010), one was good (The New York Fed's Empire State Manufacturer's Survey for August 2010) and one was bad (Philly Fed Business Survey for August 2010).
Surveys do not hold the same strength as quantitative data, but surveys are almost real time feedback. I equate surveys with bar room talk, even the well executed Fed surveys.
I watch the economy like I do a movie – each new piece of data adds context to what you have understood to date. Although I have opinions on where we are headed, sometimes data does not fit. It may be a warning of a change, an anomaly, misinterpretation, or simply that my opinion was wrong.
The Industrial Production (IP) data did not fit as it was showing strong expansion in July - up MoM by 1% (seasonally adjusted) with motor vehicle production leading the way advancing 8.8%. The carved up data was universally strong. This does not fit my model of being in the Japanese L, or other economic bears believing the economy is headed into a double dip.
I usually quick check the unadjusted data, but go with Fed's adjusted data as it is consistent with the unadjusted data. But 1% MoM is 12% per year. There should be an obvious jump when you graph the unadjusted data (click to enlarge).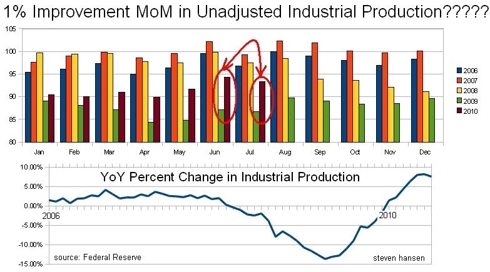 Industrial production (20% of GDP) is the green shoot of our economy – and it still is. But anyway I cut the data, IP remains strong but is not showing 1% growth. It is definitely not suggesting declining industrial production – and it does have a positive bias (most likely around 0.5% growth).
Starting next month and continuing through the rest of 2010, we will have weak 2008 and 2009 data to distort the seasonal adjustments. Seasonal adjustments, no matter the methodology, on occasion provides the wrong answer. By design, seasonal adjustments are a mindless quantitative process. It is up to analysts to go through the data and decide if the seasonal adjustment factors are correct.
The regional Fed surveys headline with seasonally adjusted survey results, and homogenize additional elements which distort sensitivity to economic expansion or contraction.
In August, the Empire State Manufacturer's Survey (click to enlarge) still showed a positive trend on new orders, and a negative trend on backlog (unadjusted data). As both trend lines are relatively stable, we would expect August manufacturing data (such as IP reviewed above) to be similar to July. There is nothing in this survey to indicate more economic slowing than we have already witnessed.

The bad survey – Philly Fed Business Outlook – headlined that it went negative for the first time since July 2009. The unadjusted data shows new orders in a normal range (and positive) for this time of the year. It almost exactly matched the Empire States survey results. And backlog continues to decline. The unadjusted data is telling a completely different story than the adjusted data.
There is a growing problem with the seasonal adjustment factors right now.
The bottom line is that manufacturing is still growing as we speak. There is no new evidence of a change in the trend lines up or down since the trend-line changed to slower growth in May / June. The continuing decline of backlog is disturbing, and suspect it will result in a gradual shedding of employment until backlog stabilizes.
Too bad the rest of the economy is not at least this strong. And the continuing weakening of the other 80% of the economy has gotta eventually weaken the manufacturing side. The question is when. This is the uncertainty.
ECRI's Weekly Leading Index (WLI) is essentially flat WoW coming in at -10.0. Lakshman Achuthan, managing director stated:
With the WLI staying essentially flat for the last six weeks, following a nine-week plunge, it is premature to predict a new recession, though risks remain.
Still no recession call from ECRI. Again, I see nothing yet indicating another leg down even though the economy is weak. Then I ask myself how would we know we even entered a recession. Using the economic vernacular of the 1930's – we are in a depression. It is a joke that we talk about recovery in middle of quantitative easing and the loosest monetary policy in USA history. The economy is on life support of stimulus and sleight of hand accounting standards. The economy has not recovered - end of the story to date.
Initial unemployment claims released this week (click to enlarge) is beginning to trend upward – and the four week moving average is now at 2010 highs. This economic headwind is bitterly cold, and growing unemployment is not a sign of an economy in recovery.

If the trend holds for a few more months, new residential construction may be bottoming (click on chart to enlarge). For the first time since the wheels started falling off the cart, in July 2010 there are more permits issued than completions. This is the lowest July numbers since the crisis began. It is really hard to identify any good news in the data, and based on other economic events it is possible for residential construction to fall much further.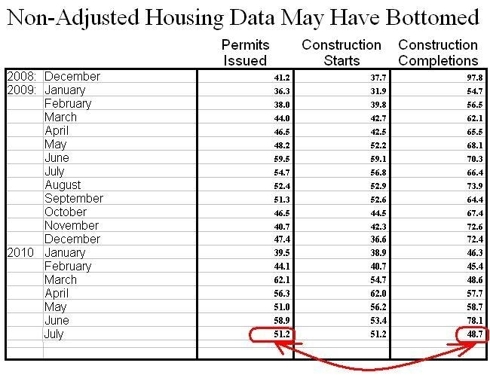 The July 2010 Producer's Price Index (PPI) showed finished goods with a 0.2% MoM and 4.2% YoY price growth (SA). The graph below shows unadjusted data for both the Consumer Price Index (NYSEARCA:CPI) and the PPI – and your takeaway is the PPI growth has had little effect on the CPI (click to enlarge) .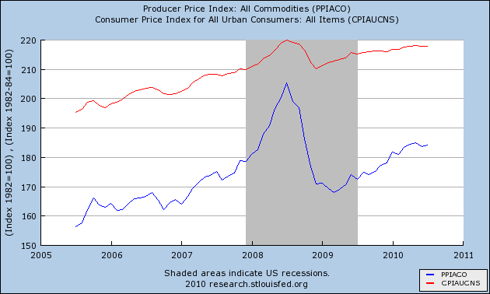 For those who missed Goldman Sachs' initial lowering of GDP estimates in the previous week, this week we get a breakdown of the headwinds which went into that estimate (hat tip to Clusterstock), click to enlarge.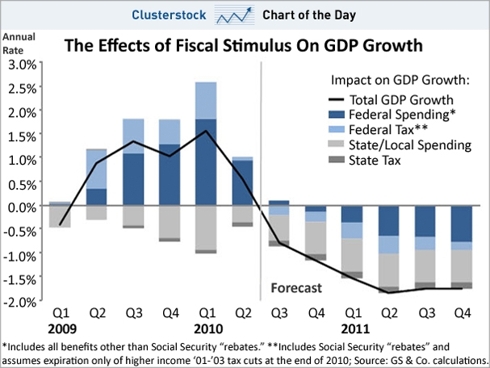 The Conference Board's Leading Economic Index (LEI) for August 2010 upticked slightly and came with the now usual warning of a cooling growth rate for the rest of this year (click to enlarge).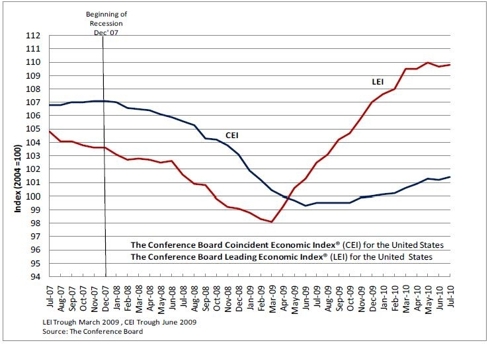 Bankrupcies Filed this Week: nCoat and subsidiaries nTech, MCC and High Performance Coatings
Failed Banks this week: (click to enlarge)


Disclosure: GDX, EGO, IAG, SLW, AEM, HL and various options not exceeding 5% of portfolio value.