American International Group (NYSE:AIG) was one of the most despised companies not too long ago and expected to file for bankruptcy. However, the condemned live longer: Not only did American International Group manage to pay back the bailout funds, but the insurance company is leaner and more competitive than before. CEO Benmosche did a fabulous job by returning the company back to its shareholders -- I think a model that could and should be applied with respect to Fannie Mae (OTCQB:FNMA) and Freddie Mac (OTCQB:FMCC) -- and conducted a series of strategic moves to downsize and reposition the insurance company for growth.
Benmosche sold both non-core and core assets in order to ensure the survival of the insurance firm. I found it regretful, that American International Group divested of its stake in AIA -- the Hong Kong-based insurance company with massive potential in the Life sector. Other assets such as ILFC, American International Group's plane leasing unit, were designated as non-core assets and a sale made a hell of a lot of sense.
ILFC caused some headaches for American International Group for two reasons: First, ILFC's business included a substantial amount of liabilities which AIG had to shoulder and secondly, an outright sale proved to be more difficult than expected.
I am sure investors recall the troubles American International Group went through in 2013 when it intended to sell a 81% stake in its plane leasing business to a consortium of investors, P3 Investments and Taiwan's Fubon Group, while AIG was supposed to keep a minority stake of 19%. Ultimately, the sale fell through because the investor group wasn't able to come up with the required financing.
Investors, as usual, quickly panicked about the cancelled deal and assumed American International Group would be stuck with the unwanted plane business forever. I have argued at the time, that investors were way too emotional about an ILFC transaction and that other options were at hand, including an IPO. I wrote:
Don't worry about ILFCWhen it comes to ILFC, I do not understand the impatience of investors. AIG classified its aircraft leasing unit ILFC as a non-core asset years ago. It intended to sell the unit to a Chinese consortium which couldn't come up with financing in time and the sale fell through. Since then the market keeps referring to ILFC wondering when and how the unit will be sold off.

I don't really see any pressure to sell the unit fast. In my opinion, a trade-sale to a finance consortium leaving AIG with a minority stake is inferior to an IPO. Given the momentum in stocks, an IPO could probably go through really smoothly and at a good price. Whether trade-sale or IPO, ILFC will eventually be sold and a good chunk of liabilities will fall off AIG's shoulders with it.
Not much later, American International Group announced that it was selling its non-core ILFC business to AerCap Holdings N.V. (NYSE:AER). The deal terms are reproduced below:
NEW YORK--(BUSINESS WIRE)--American International Group, Inc. announced today that it has entered into an agreement under which AIG will sell its 100 percent interest in International Lease Finance Corporation (ILFC), a non-core asset, to AerCap Holdings N.V. . Total consideration for the transaction, consisting of $3.0 billion of cash and 97,560,976 newly issued AerCap common shares, has a value of approximately U.S. $5.4 billion based on AerCap's closing price per share of $24.93 on December 13, 2013. The transaction, which is expected to close in the second quarter of 2014, marks the last major disposition of AIG's non-core assets. Prior to entering into the agreement with AerCap, AIG terminated the share purchase agreement with Jumbo Acquisition Limited for the sale of up to 90 percent of the common stock of ILFC.
While an ILFC IPO would have been a great exit, the AerCap deal certainly was a savvy solution -- one, that now proves to deliver substantial value to AIG shareholders. The deal terms above suggest that the share portion of the deal had a value of approximately $2.4 billion. The allocation of a significant number of AerCap shares now provides American International Group, and its shareholders, with potentially massive upside potential that could be worth billions -- not too bad considering that AIG was rumored to be unable to sell the business at much more than book value last year.
The chart below depicts the share price development of AerCap and American International Group over the last year. After the AerCap deal was announced, AerCap stock skyrocketed: A clear sign that the market highly values the transaction and sees AerCap developing as a serious competitor to General Electric's Capital Aviation Services.
The increase in AerCap's share price now leads to a $4.6 billion valuation of AIG's stake in the company, reflecting an unrealized gain of $2.2 billion on a transaction that not too long ago was seen as almost impossible to pull off.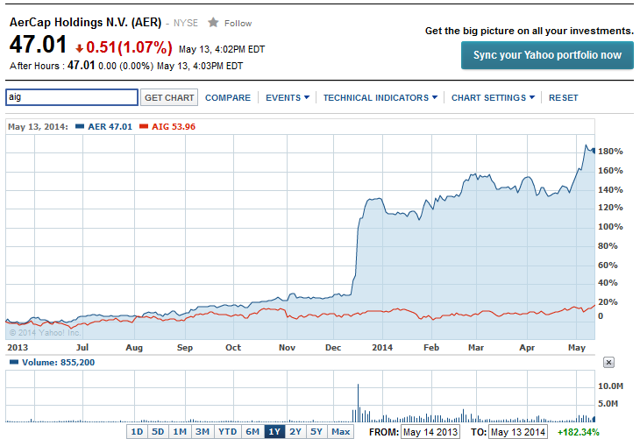 Click to enlarge
(Source: Yahoo Finance)
Bottom line
American International Group retains substantial upside potential with respect to AerCap shares. Of course, American International Group hasn't realized any profits yet and maybe won't for some time. But the ILFC transaction found strong market approval and leads to a strong plane leasing business in a sector with high capital intensity and high entry barriers -- a good basis for increasing stock prices. AIG could possibly reap billions of dollars in capital gains from its stake in AerCap which could be funneled through to investors either in the form of share repurchases or dividends. Strong, long-term BUY.
Disclosure: I am long AIG, FNMA. I wrote this article myself, and it expresses my own opinions. I am not receiving compensation for it (other than from Seeking Alpha). I have no business relationship with any company whose stock is mentioned in this article.