While Wall Street analysts were able to use the "bad weather" as a "cover" story for weaker than expected housing market data, now that we're nearly halfway through May, seasonally one of the best months of the year for homes sales, several indicators are suggesting, at least to me, that this year's home sales will likely fall well short of the expectations of home flippers and housing stock investors.
First, existing home sales, which showed a pretty steep rate of increase from mid-2010 to mid-2013, appear to be "falling off a cliff" now (source of graph: St. Louis Fed):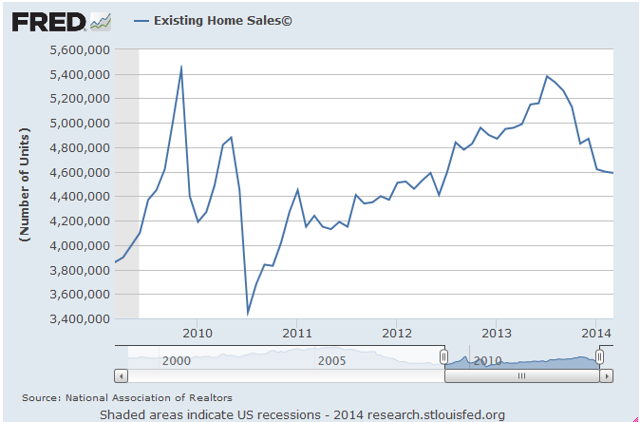 This data-set is through the end of March, the latest for which existing home sales are available. However, the mortgage purchase application data for April and May through last week show consistent week to week declines in purchase applications (except for last week's data report). This implies that, unless all-cash buyers pick up the slack, home sales for April will continue to show a decline.
Another ominous trend is the increase in cash sales as a percentage of total home sales (source of graph: RealtyTrac.com):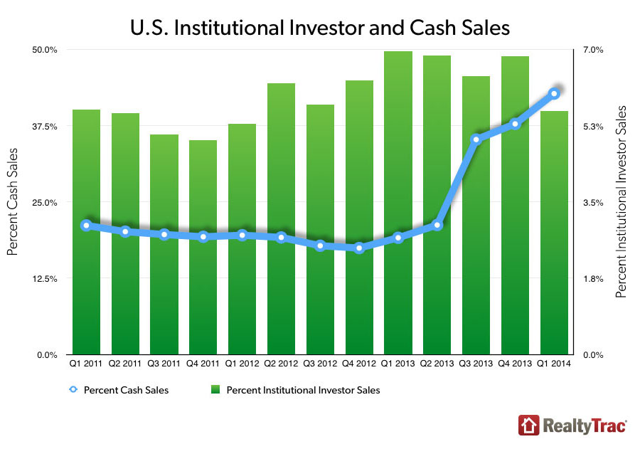 The blue line shows cash sales, of which 71% are individual investors, or "flippers," per the National Association of Realtors. If I'm right about home sales continuing to decline, to whom will the flippers sell if flippers are becoming the primary buyer of homes? This is starting to look a lot like a repeat of 2005-2007 when home-flipping became frenzied right as the market was peaking.
As I've detailed in previous articles, the large institutional buyers/investors have significantly reduced their buying activity. Some, in fact, have begun to sell part of their rental portfolios. To be sure, a flipper who is stuck with a home could convert it into a rental. But the trick there is to find tenants. This will become increasingly difficult because it looks like there will be a significant increase in multi-family rental unit inventory which soon hits the market (source of graph: St. Louis Fed):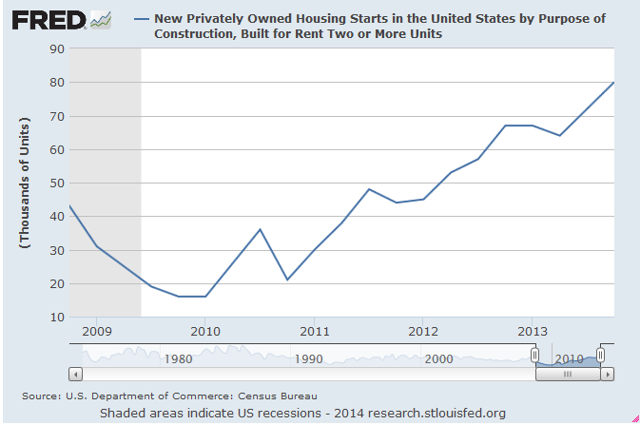 The graph above shows multi-family housing starts being built to rent. As has been widely reported, housing rents have been rising as rapidly as home prices. But as the graph shows, the natural response from the housing industry has been to significantly increase the inventory of rental units. With institutional investors having amassed large home rental portfolios and with a rapid increase in apartment inventory, in my view there will soon be significant downward pressure on rental rates. This in turn will put heavy pressure on home prices. I believe that this dynamic will leave a lot of individual investors holding the bag, so to speak, with their buy-to-flip properties.
Finally, I believe that the relative poor performance of the housing stocks since the beginning of March is reflecting the deteriorating fundamentals of the housing market. In fact, the Dow Jones Home Construction Index (DJUSHB) has formed a bearish "head and shoulders" formation: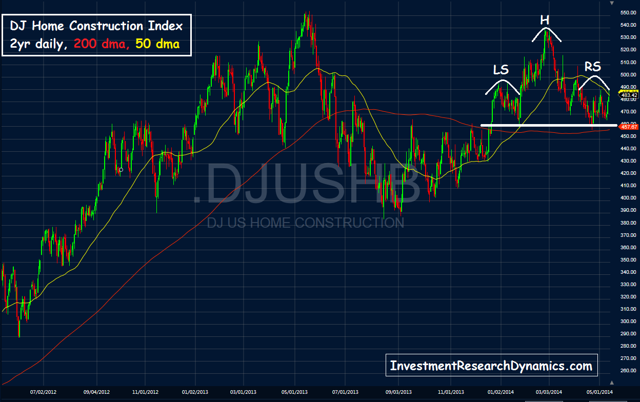 I like to use the DJUSHB to measure housing market activity because, while it's weighting is skewed toward the new homebuilders, it also contains several other segments related to home sales, including home improvement businesses, housing equipment/component manufacturers and distributors and furniture retailers. It thus is an all-encompassing measure of every aspect of the housing industry (including modular homes).
Since the beginning of March, the DJUSHB is down 10.5%. During the same period of time, the S&P 500 is up 2.8% and has hit new record high levels. It is quite ominous, in my opinion, that the DJUSBH has diverged negatively from the rest of the stock market like this. When the DJUSHB peaked in early July 2005, it preceded the collapse in home sales volume back then - new and existing - by about five months. I suspect the trading action in the DJUSHB since the beginning of March could well be portending a significant decline in homes sales volume later this year.
Given my fundamental outlook for the housing market as presented above, I continue to recommend that investors sell long positions in the homebuilder stocks. Aggressive market players should be looking to short the builders on any short term bounces. In fact, the homebuilders have bounced back up to their 50 day moving average and I believe right now is an ideal time to add to or establish short positions. I continue to recommend that investors sell long positions in these equities. I am short DR Horton (NYSE:DHI), KB Homes (NYSE:KBH) and Ryland (NYSE:RYL). I also think Lennar (NYSE:LEN), Pulte (NYSE:PHM), BZH, and Toll Brothers (NYSE:TOL) can be shorted with success.
Disclosure: I am short DHI, KBH, RYL. I wrote this article myself, and it expresses my own opinions. I am not receiving compensation for it (other than from Seeking Alpha). I have no business relationship with any company whose stock is mentioned in this article.