BlackBerry (NASDAQ:BBRY) continues to be a controversial investment, polarizing investors and separating them into two camps: One camp consists of investors who endorse the Bear thesis, which assumes that BlackBerry has lost its edge and faces dire business prospects. The other camp wholeheartedly believes that BlackBerry will be able, under experienced stewardship, to turn the ship around and carve out a niche for itself in Enterprise and, maybe even the smartphone business. So what's it gonna be?
Over the last five years, BlackBerry's smartphone business faltered, inventory risks ballooned, headcount was reduced and, as a consequence, BlackBerry's share price collapsed. It is now just too easy to dismiss the company right off the bat, even though the company has undertaken serious efforts under the leadership of Chen to steer the business in a new direction.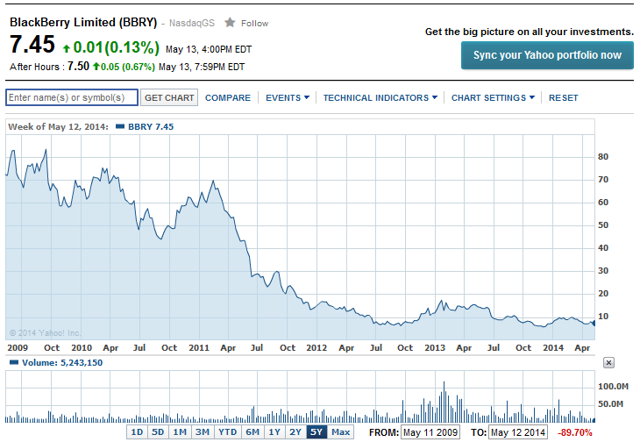 (Source: Yahoo Finance)
Looking at BlackBerry's share chart, I can see why many investors give up hope -- the company seems to be years past its prime. However, it is always darkest before dawn, and BlackBerry has a couple of things going for itself that warrant attention. While I have previously argued that BlackBerry is a good turnaround bet because of its per share cash and patent value, which provides sort of a floor value for the stock, BlackBerry's recent emerging market initiative could provide crucial tailwinds for the stock and, most importantly, trigger a change in investor perceptions.
BlackBerry's Z3
Tomorrow, BlackBerry is launching its new emerging market low-cost smartphone model, the Z3 Jakarta Edition, which will be equipped with the BlackBerry 10 operating system (version 10.2.1), a 1.2GHz dual-core processor with 1.5GB of RAM, 8GB storage and a five-inch touchscreen: All to be bought for less than $200 -- a mid-range model for the price-sensitive Asian consumer.
More importantly, BlackBerry's Z3 is the first project for which BlackBerry and Foxconn have collaborated. Foxconn is a Taiwan-headquartered electronics contract manufacturing company with serious expertise in Asian consumer electronics markets, and I judge the potential of a Z3 success to be relatively high considering that both companies combine and leverage their emerging market expertise.
No doubt, high hopes hang on BlackBerry's Z3, especially after considering Blackberry's troubled record in producing and marketing appealing smartphones (the Z10 probably is not going to meet analyst sales expectations), and investors, as well as analysts are likely to put both the Z3 and its market acceptance in Indonesia under the microscope.
Having said that, I think BlackBerry does have a decent shot with the Z3 in Indonesia. BlackBerry products also appear to have higher consumer appeal in emerging markets as compared to Western countries. All of this could lead to a crucial sales success that would stabilize and strengthen BlackBerry's smartphone business as a whole.
The Z3 is BlackBerry's best shot at the moment in proving investors wrong who insist on BlackBerry's demise. Even when the Z3 fails to meet high sales expectations in Indonesia, which would of course be a disappointment, the company ultimately plans to roll out the Z3 internationally -- and retains a lot of upside.
The worst-case scenario, however, would be that BlackBerry's Z3 fails miserably in Indonesia and in follow-up emerging markets, which would lead to a significant re-pricing of BlackBerry's stock. In the short term, BlackBerry's Z3 launch will be closely monitored by analysts, investors and consumers, and its sales success will likely have a short-term impact on BlackBerry's stock price -- either to the up- or the downside.
From a longer-term perspective, BlackBerry has options outside the smartphone segment, with its Enterprise and QNX business. Also, BlackBerry can generate substantial cash flow from patent monetization, either through outright patent sales or licensing revenue.
Conclusion
I think BlackBerry should be given the time to pull off its Z3 emerging market launch. However, negative investor sentiment still surrounds BlackBerry, and it is likely that a Z3 success is going to be marginalized, while a Z3 failure in Indonesia is going to be blown out of proportion. BlackBerry's stock is also likely to react sensitively to news about Z3's market acceptance and reported sales numbers. Overall, I believe BlackBerry has a good shot at delivering a smartphone success, one that will define the international rollout in the future. BlackBerry continues to have an outstanding risk/reward ratio, since the company is already priced for disaster. Contrarian, long-term BUY.
Disclosure: I am long BBRY. I wrote this article myself, and it expresses my own opinions. I am not receiving compensation for it (other than from Seeking Alpha). I have no business relationship with any company whose stock is mentioned in this article.