Stanley Furniture Co. Inc. (NASDAQ:STLY): Price 05/12/14 $2.67, market capitalization 39.63M ,enterprise value of 26.16;
Founded in 1924, Stanley Furniture designs and manufactures premium residential wood furniture. Manufacturing is now sourced overseas. Then Stanley furniture is distributed throughout upscale markets.
The story is simple. In April 2014, Stanley Furniture ceased domestic manufacturing operations for Young America brand. As a result, the Robbinsville, NC plant closed. This decision creates a focus and an achievable higher ROIC. I view the closing of domestic manufacturing operations as an inflection point. These strategic restructuring moves should materialize in dramatically improved future financial results.
CEO:
"After a thorough review of both our own operations and the current marketplace for nursery and youth furniture, management and the Board concluded that the Young America business could not achieve an acceptable level of revenue within an adequate time frame to assure sustainable profitability and has decided that it is time for our company to focus its efforts on our profitable and growing Stanley brand".
Orders for Stanley brand were up double digits in the first quarter, even with the weather-related challenges that impacted retailers across the country.
"We have a healthy Stanley business that is making money. It is supported by a wonderful heritage, strong product in the field and future pipeline, and we are looking forward to the prospects of focusing our team solely on the growth and profitability of this brand in the short-term," said CEO Prillaman.
Who else is convinced the stock will improve? Value investor John Rogers (of Ariel Investments) made a large commitment to STLY. Rogers invested in the quarterly period ending 09/30/13. Further, 2,526,635 shares added for the quarterly period 12/30/13. This amounts to total shares 2,591,708 or 17.01% of STLY shares outstanding. Moreover, small cap value institutions Royce (1,105,703 shares), Heartland (750,000) and Ancora Advisors invested in STLY now at a loss, with no reported selling.
John Rogers purchases:

Insider Activity 2012 to 2014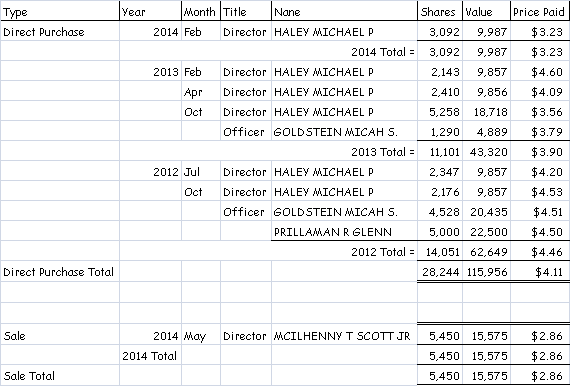 As of 05/13/14:
Market Cap: 40.38M ,Enterprise Value : 26.16M
Price/Sales: 0.43 ,Price/Book: 0.55
Enterprise Value/Revenue : 0.28
Gross Profit ((ttm)): 9.77M
Total Cash: 14.96M ,Total Cash Per Share : 1.01
Total Debt: 0.00 , Current Ratio (mrq): 5.18
Book Value Per Share: 4.81
52-Week Change: -32.00%
Shares Outstanding: 14.84M , Float: 14.02M
% Held by Insiders: 3.92% , % Held by Institutions: 70.50%
Short % of Float (as of Apr 30, 2014): 0.60%
5 Year Average Dividend Yield: 3.00%
Analysis to industry peers (Home Furnishings):
30 companies were reviewed ranging in size from 19 million to 9.8 billion. The following value points were noticed about STLY:
lowest or near lowest shares short as percentage of float at .55%,
worst performing stock price for 24 weeks (-26.13%), 52 weeks (-30.05%), 3 years (-20.53%)
positive 3.3 Z score indicating financial strength. M score of -1.75 indicating lack or earnings manipulation
the most optimistic net insider buys to market size,
P/B near 10 year low
Disclosure: Long STLY
Editor's Note: This article covers one or more stocks trading at less than $1 per share and/or with less than a $100 million market cap. Please be aware of the risks associated with these stocks.