Here is a list of the top 10 most and least volatile S&P 500 stocks over the last week. To create this list, we looked at dispersion of returns, as measured by the average daily high/low trading ranges.
Sector Overview: Volatility Over The Last Week
By averaging out the volatilities of the sector components, we can estimate the overall sector volatility. Based on this calculation, the Services and Basic Material sector had the highest volatility over the last week. As is usually the case, utilities were the least volatile sector.
Basic Materials: 2.53% (based on 57 stocks)
Conglomerates: 2.21% (based on 6 stocks)
Consumer Goods: 2.09% (based on 60 stocks)
Financial: 2.31% (based on 80 stocks)
Healthcare: 2.03% (based on 43 stocks)
Industrial Goods: 2.38% (based on 40 stocks)
Services: 2.54% (based on 101 stocks)
Technology: 2.50% (based on 78 stocks)
Utilities: 1.90% (based on 35 stocks)
Top 10 Most Volatile S&P 500 Stocks Over The Last Week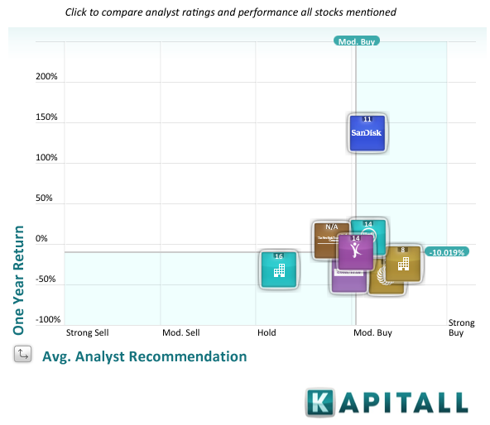 Apollo Group Inc. (NASDAQ:APOL): 6.77%
DeVry, Inc. (NYSE:DV): 6.31%
The Washington Post Company (WPO): 5.88%
United States Steel Corp. (NYSE:X): 5.17%
Goodyear Tire & Rubber Co. (NYSE:GT): 4.85%
AK Steel Holding Corporation (NYSE:AKS): 4.79%
The New York Times Company (NYSE:NYT): 4.4%
King Pharmaceuticals Inc. (KG): 4.39%
SanDisk Corp. (SNDK): 4.38%
Sprint Nextel Corp. (NYSE:S): 4.37%
Top 10 Least Volatile S&P 500 Stocks Over The Last Week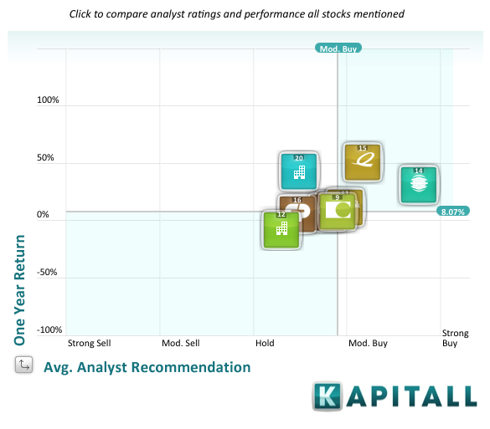 Qwest Communications International Inc. (NYSE:Q): 0.81%
Pactiv Corp. (PTV): 0.89%
Airgas Inc. (ARG): 0.97%
Clorox Corporation (NYSE:CLX): 1%
CenturyLink, Inc. (NYSE:CTL): 1.01%
Kimberly-Clark Corporation (NYSE:KMB): 1.07%
Colgate-Palmolive Co. (NYSE:CL): 1.11%
Dun & Bradstreet Corp. (NYSE:DNB): 1.19%
The Chubb Corporation (NYSE:CB): 1.21%
Southern Company (NYSE:SO): 1.22%
Disclosure: No positions