There are no certainties when it comes to financial market forecasting, and the best that chart analysis can do is provide us with a rough outline of what is and is not likely to occur moving forward. However, every once in a while, important fundamental events align with scheduled technical developments, leading to the identification of specific days on which a turn has a good chance of occurring.
Two important economic data releases are scheduled for next week and both are expected to be bad news. On Tuesday, existing homes sales for July will be reported and nearly everyone believes that the data will show a sharp decline. At the end of the week, the Bureau of Economic Analysis will issue its first revision to second quarter GDP and it will likely show a marked decrease from the initial estimate of 2.4%. Given the significance of both reports, conventional wisdom would expect this negative news flow to precipitate a meaningful sell-off in stocks, but our analysis suggests there is a good chance that a short-term bottom will form.
We have been monitoring the development of a long-term topping formation in the stock market since early this year. When the rally off of the July low took the form of a bearish rising wedge, it suggested that a sharp correction would likely occur followed by a quick trip back to congestion support in the 1,060 area, and that is precisely what has happened over the past two weeks.
click to enlarge images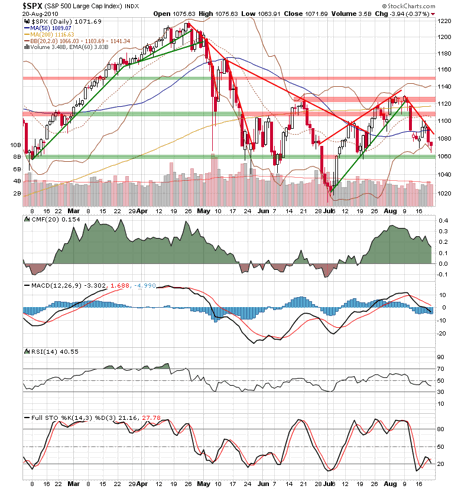 Click to enlarge
The short-term downtrend from early August is gaining strength, supporting a continuation of the decline. However, we are also approaching the end of the cycle that followed the Short-Term Cycle Low (STCL) on July 2.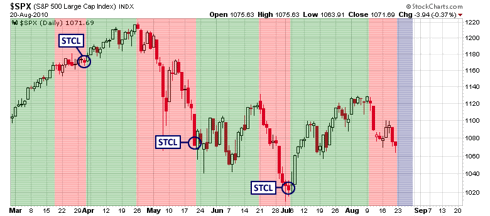 Click to enlarge
The window during which the next STCL is most likely to occur is next week, so from a timing perspective the next low would align nicely with either of the two data releases. However, given that both sessions will presumably be associated with poor economic data, you may be wondering why they would also be potential short-term bottoms? Since the probable impacts of both data releases are already widely known, they are both excellent candidates for "sell the rumor, buy the news" rallies. If the markets price in all of the expected negativity beforehand, and the actual data is no worse than expected, stocks will be primed for an oversold bounce. Thus, given their proximity to the next STCL window, there is an good chance that the anticipated low will occur in conjunction with one of these two reports.
To be perfectly clear, we are certainly not expecting an extended rally off of this potential low, quite the contrary. The topping formation is getting very close to breaking below important support levels, and a weekly close well below 1,060 on the S&P 500 index would increase the likelihood of a move down to new long-term lows, which would effectively confirm the start of a new cyclical downtrend from late April.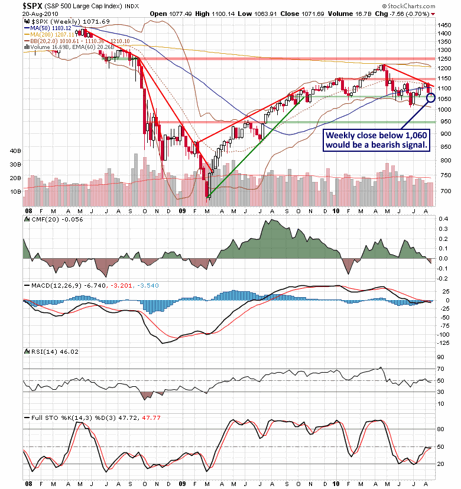 Click to enlarge
If the next STCL does occur next week as anticipated, it would likely be followed by a relatively short rally of one or two weeks, after which the primary downtrend would once again attempt to reassert itself by challenging the recent long-term lows in mid to late September. On the other hand, if stocks are unable to produce even an oversold bounce next week and they instead continue lower unabated, that would be an exceptionally bearish signal, although that possibility remains relatively unlikely for the moment. Let's see what happens.
Disclosure: No positions