On Monday, I took a look at Bank of America's (NYSE:BAC) largest segment, Consumer and Business Banking, in order to determine how much that segment adds to the consolidated corporation. Today, I'll be taking a look at Bank of America's most detrimental segment, Consumer Real Estate Services, or CRES, in order to determine how much value it adds (or subtracts) from the consolidated company.
Consumer Real Estate Services is the piece of BAC that makes home loans and houses the dreaded legacy assets and servicing piece of the business. Much of Countrywide's issues show up in this segment's results, as we'll see below, as CRES has the distinction of being the only segment in BAC's portfolio that is producing losses. As with the previous piece, I'll be using data sourced directly from the company's most recent 10-K.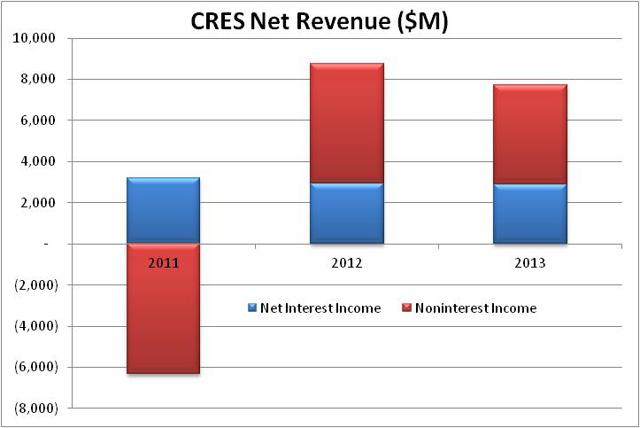 Here, we see the net revenue picture for CRES, and it's not pretty. In 2011, this segment actually produced negative net revenue, with non-interest income coming in at more than $6 billion in the wrong direction. This dwarfed the roughly $3 billion in net interest income, producing a negative figure in the aggregate. That is as ugly as it gets, and the results speak for themselves. Mercifully, the negative revenue ended there, and 2012 saw a net revenue figure of around $9 billion. Last year, that figure dropped to just under $8 billion, as the legacy business is continuing to shrink (thankfully).
The revenue outlook for CRES is bleak indeed as BAC tries desperately to stop the bleeding from the legacy unit amid a slowdown in mortgage lending as a whole. In short, improving CRES' revenue is likely years away, and I believe we'll continue to see the net revenue figure decline for the foreseeable future.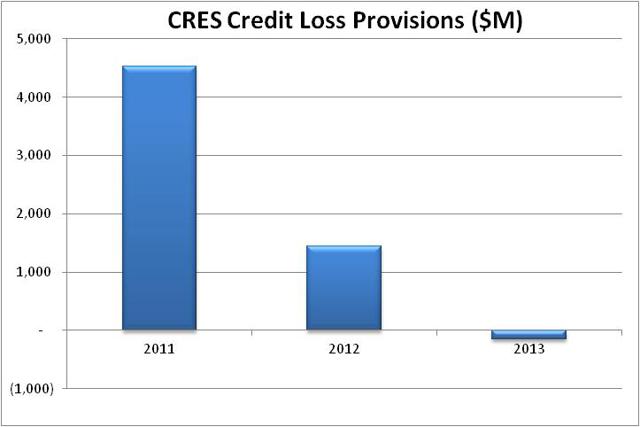 One very, very bright spot for CRES is the segment's credit loss provisions. After posting $4.5 billion in loss provisions in 2011, in addition to that negative net revenue number, provisions have come way down, and in fact, 2013's credit loss provision number was actually negative, indicating BAC was over-reserved. This is a terrific development for the future profitability of CRES, as it is setting up to produce much lower losses than it has in the past, and this should fuel BAC's consolidated profitability going forward. Under normal circumstances, the credit loss provision line item is the one where BAC can gain the most upside leverage, and it is showing here. I'm very encouraged by the outlook for credit loss provisions under CRES, as it is the one glaring bright spot in the segment's results.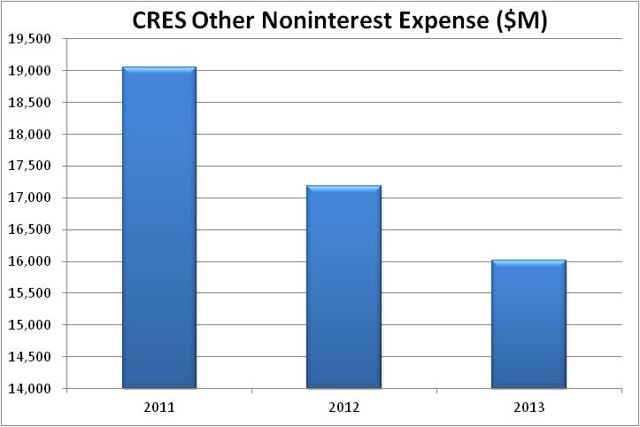 Next, we see that CRES' other non-interest expense has been steadily declining, although it is still way too high to afford profitability to the segment. We see that this line item has decreased about $3 billion since 2011, but we are still at very elevated levels given the amount of revenue CRES produces. This category is a "catch all" for expenses that don't fit elsewhere, so it is tough to know exactly what is included here, but we can assume it has something to do with personnel expense and, I would guess, litigation costs. At any rate, as long as we see this number declining, we are headed in the right direction, and BAC is doing just that. We will need to see this number at $12 billion or less for BAC to have a shot at CRES profitability, so we still have a long way to go, but the results above are somewhat encouraging.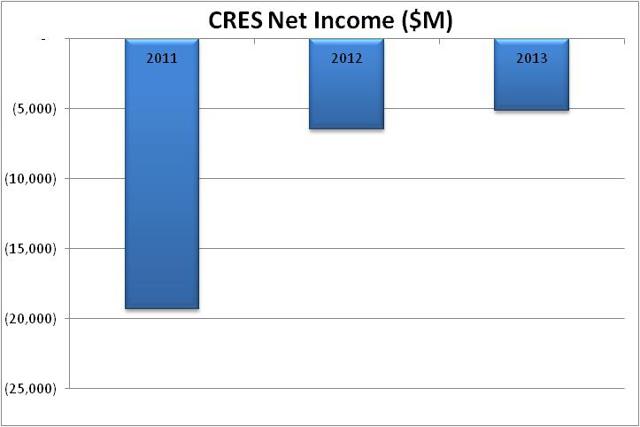 Finally, we'll take a look at CRES' net income, or lack thereof, for the past three years. Nobody should be surprised the unit housing Countrywide doesn't make any money, as that is one of the worst mergers in the history of business, but we can still hope for breakeven at some point. We see 2011, the year with the negative net revenue, produced a whopping $19+ billion loss for BAC. Since that time, we've seen a rapid improvement in profitability as revenue perked up and expenses have declined. As we can see, a $5 billion loss is not helpful for the consolidated company's results, and BAC still has much work to do on this front. However, the work is being done, and I am hopeful that we'll see break-even from this unit in the years to come.
Overall, CRES is one unmitigated disaster. Countrywide was a terrible, ill-conceived purchase, but the fact is that it was done, and at this point, all BAC can do is deal with it. I believe the company is doing the best it can to produce some revenue, while minimizing its related expenses, but there is only so much that can be done. With litigation appearing to be on the mend somewhat and Project New BAC taking its toll on unnecessary expenditures, I am hopeful we'll see break-even in the not-too-distant future. CRES removed about 50 cents from EPS in 2013, and when you consider the company only posted a total of 90 cents of EPS, the magnitude of CRES' losses can be clearly understood.
BAC doesn't need CRES to make money, it simply needs it to stop bleeding so much. We will see that at some point, but for the foreseeable future, we just need the losses to continue to diminish. I'm looking for a $3.5 billion loss from CRES this year on a weak mortgage revenue outlook, but continued success in reducing credit losses and non-interest costs.
Disclosure: I am long BAC. I wrote this article myself, and it expresses my own opinions. I am not receiving compensation for it (other than from Seeking Alpha). I have no business relationship with any company whose stock is mentioned in this article.