After reporting fiscal 2014 revenues that increased 33%, Salesforce.com (NYSE:CRM) is set to report fiscal first-quarter earnings May 20th. Analysts are expecting revenues to be up 35% y/y, while I'm forecasting an increase of 32%. Generally, the expectations for the full-year revenue growth are in the 30%-35% range.
From looking at the company's business plans, it appears that CRM has a solid growth plan in place. Obviously, revenue growth north of 30% could prove to be overly optimistic, but I expect the company to continue to grow faster than the market, and consequently gain market share. Also, CRM will be able to generate incremental revenues from its geographic expansion, new product categories, and industry verticals solutions.
Shares of CRM should be accumulated below the estimated intrinsic value of $49 per share.
Recent Developments
CRM announced the release of Salesforce1 Heroku Connect, a new synchronization technology that integrates the capabilities of Salesforce1 and Heroku.
CRM is attempting to tailor its solutions to fit industry verticals. This strategy should result in deeper penetration within the enterprise space.
According to Gartner's worldwide CRM market share report, CRM is the leader in CRM software. Additionally, the CRM market grew 13.7% in 2013.
Salesforce.com unveiled the Salesforce1 Service Cloud SOS, which is an SOS button for mobile apps. The goal of SOS is to improve the customer service experience for mobile apps.
Analyst's Note
Salesforce.com is a provider of enterprise cloud computing services. CRM is dedicated to helping customers of all sizes and industries worldwide transform themselves into "customer companies" by empowering them to connect with their customers, partners, employees and products in entirely new ways. CRM provides customers with the solutions they need to build a next generation social front office with social and mobile cloud technologies. Most of CRM's revenue is generated from subscription and support, with professional services and others comprising the remainder of revenue.
From the strategic perspective, I'm categorizing CRM as software and internet software and services. CEO Marc Benioff, through his "No Software" concept, had the strategic vision required for a software company, and now the company is employing the shaping strategy required for an internet software and services company. For example, the new mantra refers to running your business from your phone; this could end up being "visionary" as well as "shaping."
In my opinion, Keith Block, President and Vice Chairman, is starting to have an impact on CRM's tactics. I could be giving Block too much credit, but I think he has had substantial input in the new Industries Strategy. The Industries Strategy "solves problems for big businesses." As CRM wins deals with its industry-tailored solutions, the profit margins of the firm are likely to improve.
| | | |
| --- | --- | --- |
| For the quarter ending (in millions of dollars): | 2013-04 | 2014-04E |
| Revenues | 893 | 1179 |
| Gross profit | 684 | 884 |
| Pro forma operating income | 348 | 460 |
| Pro forma net income | 241 | 318 |
Relative to the street, my revenues estimate is a little below consensus ($1.21B). I'm modeling 32% revenue growth during fiscal 2015, which is above consensus for the full year. With that stated, I model CRM like a mature company to make the comparisons easier for the reader and myself. So, CRM would generate more than $1B of revenues during the quarter and would be on pace to generate more than $1B of net income for the full year. Additionally, the consensus for FQ2 revenues is $1.27B, which is in-line with my estimate.
From reading the company's press releases and listening to management, CRM seems to have a solid growth plan in place. It is what I would call, "Standard operating procedure." We, the reader and myself, will have to see what the first quarter's results look like and what management has to say about the outlook for the business.
Portfolio & Valuation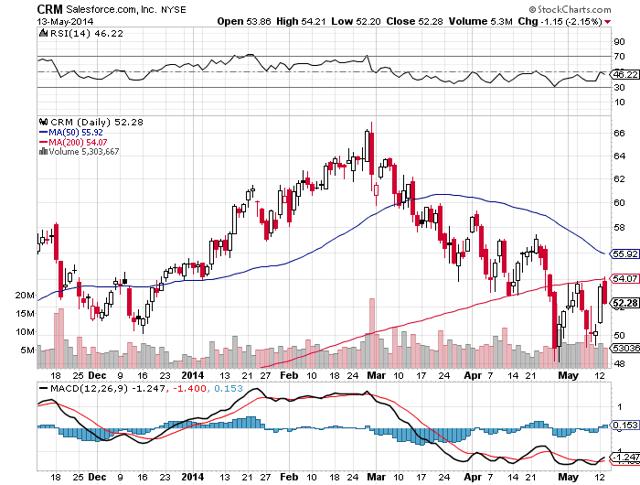 CRM is in a bear market of at least intermediate degree. There are no conclusive signs of a bear market of primary degree. But given the bull market of primary degree dating back to 2012, there is a good chance of a bear market of primary degree. This is a dip-to-buy with a conservative profit target.
| | | | |
| --- | --- | --- | --- |
| Monthly expected return | Quarterly expected return | Quarterly standard deviation of returns | Sharpe ratio |
| 3.53% | 10.59% | 17.34% | 0.57 |
| | | |
| --- | --- | --- |
| | Intrinsic value estimates | Forward price multiples based on base case scenario |
| Optimistic | $58.95 | P/E: 19.84 |
| Base case | $48.79 | P/S: 5.56 |
| Pessimistic | $38.62 | P/B: 7.50 |
| | | P/CFO: 29.24 |
I significantly revised upward my intrinsic value estimate to better reflect the underlying fundamentals of the firm. With even the upward revision, CRM is still overvalued by just less than 10%. That speaks to the strong fundamentals of the business, as Benioff and company lead CRM into rare territory ($10B annual revenues). There are going to be a lot of investors who figuratively kick themselves for not getting in at a market cap of $32 billion when CRM is trading at a market cap of $100 billion.
General Risks
The share price is likely to remain volatile, and investors could lose a portion or all of their investment.
Investors should judge the suitability of an investment in CRM in light of their own unique circumstances.
A decline in the global economic growth rate and/or a decline in the pace of economic growth in the United States could adversely impact the results of operations and the share price.
The technology industry is characterized by rapid technological change, which could materially adversely impact the results of operations.
Competition in product development and pricing could adversely impact performance.
Incorrect forecasts of customer demand could adversely impact the results of operations.
Higher interest rates may reduce demand for CRM's offerings and negatively impact the results of operations and the share price.
This section does not discuss all risks related to an investment in CRM.
Disclosure: I have no positions in any stocks mentioned, and no plans to initiate any positions within the next 72 hours. I wrote this article myself, and it expresses my own opinions. I am not receiving compensation for it (other than from Seeking Alpha). I have no business relationship with any company whose stock is mentioned in this article.