The general consensus on the street seems to be that Delta Air Lines (NYSE:DAL) will continue to outperform, and I see no reason strong enough to argue against that notion. Instead, I will focus on current and future (arguably) lesser-known catalysts involved in projecting Delta to new highs.
Expansion into Latin America and Europe
With the global economy is quickly evolving and growth is taking place on every continent, it only makes sense for Delta to increase its presence outside of America's borders. While its international expansion isn't anything new, its expansion into Latin America and Europe shows great promise.
Latin America
In order to gain exposure to countries south of America, predominantly Mexico and Brazil, Delta has formed exclusive alliances with GOL Linhas Areas Inteligentes (NYSE:GOL), Grupo Aeroméxico (OTCPK:GRPAF), and Aerolineas Argentinas. According to a press release:
Delta provides service to 27 countries and 46 destinations in the region offering over 1,300 weekly flights between Latin America/Caribbean and the U.S.
In addition to its current destinations, Delta will see increased flights to and from Brazil thanks to it becoming the Official International Airline of the music venues, Grupo Tom Brasil, HSBC Brazil and Vivo Rio playhouses. The partnership will provide DAL with the opportunity to transport performing artists to and from Brazil. Also, the partnership's benefits will trickle down to Delta SkyMiles members by allowing them to receive concert ticket discounts.
Furthermore, Delta is proving to be a prestigious airline in South America by winning numerous awards. The "Best Airline to North America" award was given to Delta in 2013 by Grupo Companhia.
In 2014, Delta was the only U.S. airline to be recognized with top distinctions in the "Most Improvement Overall" and "Best Partnerships and Alliances" categories by Latin Trades Best of Travel Annual Awards.
Europe
Increasing its presence in Europe, Delta will soon begin offering flights to Zurich and Rome. Daily service to Zurich will begin in June, 2014, and daily service to Rome will be from April to October and then five times per week in November, December and March. Flights to Zurich and Rome will be out of JFK International and serve as important routes for the business markets in Europe.
Returning an additional $2.75 billion to shareholders and adding value by strengthening the balance sheet
With increasing cash flows and a desire to increase value to shareholders, Delta has announced that by no later than 2016, $2 billion will be spent in repurchasing shares. In addition, DAL's dividend has increased by 50%, bringing the quarterly dividend from .06 to .09. Both initiatives will amount to a return of $2.75 billion to shareholders.
Strengthening DAL's balance sheet by reducing debt is a goal that management is accomplishing much faster than originally announced. Two years ahead of schedule, Delta is expected to reduce its debt to $7 billion by 2015, and then to $5 billion by 2016. Paying off debt ahead of schedule will also improve the balance sheet by reducing the amount of interest that DAL has to pay. Shareholder-friendly actions, paying off debt, and increases in revenue should promote DAL's future balance sheets to impressive highs.
Upgrading planes to deliver increased revenue and customer satisfaction
Hoping to increase revenue and customer satisfaction, Delta has positioned itself to be the only U.S. carrier to offer full-flat bed seats on its entire international widebody fleet, and beginning July 1, all New York to L.A. flights will also be equipped with these premium seats. Also impressive is Delta's commitment to its economic passengers by being the only U.S. carrier to offer personal on-demand entertainment on every seat across international flights.
Other businesses from airline operations
In 2013, approximately $800 million of Delta's revenue came from other businesses, such as Delta Tech Ops, Delta Vacations and Delta Private Jets.
Employing over 9,000 technical operations employees, Delta Tech Ops provides full-service engineering and maintenance support for Delta and over 150 other airline operators from all around the world. Also worth noting is that in 2013, DAL opened its first Tech Ops facility in Sao Paulo, Brazil. This strategic move marks the first Latin American Tech Ops maintenance shop and will only help Delta increase its presence in Latin America.
Wielding over 29 years of experience serving travelers, Delta Private Jets provides aircraft charters and aircraft management for the private sector. With an expanding fleet of Bombardier, Cessna, Dassault, Gulfstream and Hawker Beechcraft jets, DPJ can appeal to any traveler with the financial means to afford its luxury. In addition to expanding its fleet, DPJ has just opened a new, state of the art, 40,000 square foot maintenance facility at its headquarters at the Cincinnati/Northern Kentucky International Airport. The DPJ maintenance facility will serve private owners as a one-stop shop for all of their aircraft needs.
Delta Vacations allows customers the opportunity to book affordable flights, hotel stays, rental car services, tours and more in an easy and convenient way. With vacations originating out of America and Canada, travelers can book their vacations in America, Canada, Mexico, Costa Rica, the Caribbean, Europe, and Asia.
A potential source of revenue
Purchased in 2012, Delta's Trainer refinery helps supply jet fuel to the northeast, particularly DAL's New York hubs at JFK and LaGuardia. Failing to be profitable in 2014 Q1, Delta says that production was reduced due to the closing of a crude unit for scheduled maintenance. Once Trainer is profitable, it will help mitigate the rising costs of jet fuel.
Looking forward to 2015
At 38.65 per share, DAL's P/E is roughly 11.2, which makes it significantly lower than the industry average of 21.5. Looking ahead, analysts estimate that by 2015, Delta will have an EPS of 3.45.
Multiplying the predicted EPS by a P/E of 16 (mean average between Delta's current P/E and the industry's average P/E) gives DAL a per-share price at 55.2.
I have used a graph from Fastgraphs.net to help illustrate a per-share price of 55.2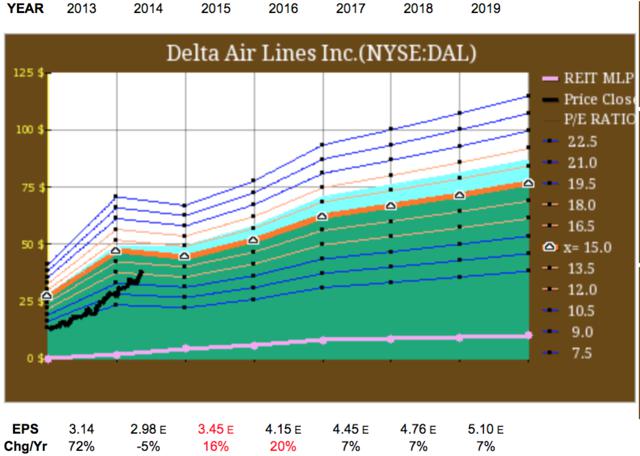 Click to enlarge
An increase from $38.65 per share to $55.2 represents an appreciation of roughly 43%. Remember, this isn't including share buybacks and dividends. DAL growing to $55.2 a share is reasonable, especially when you consider the numbers involved in the math.
Conclusion
Through revenue-increasing ventures, generous shareholder returns, and value adding via debt reduction, Delta is setting itself up for continued returns to investors. Whether you've been invested in DAL for a year or a day, I can't see any major reasons why Delta wont continue to reward investors.
Disclosure: I am long DAL. I wrote this article myself, and it expresses my own opinions. I am not receiving compensation for it (other than from Seeking Alpha). I have no business relationship with any company whose stock is mentioned in this article.