Britain-based Barclays (NYSE:BCS) has announced plans to shave off most of their investment bank and cut at least one in four jobs.
This move signifies the curtailing of Barclays ambitions to become a Wall Street powerhouse. It is also likely that some branches will also be cut. Currently Barclays owns 1,600 branches, but that number is expected to fall by 400 in the next few months. No announcement has been made regarding those numbers at this time.
Controversial CEO Choices
Anthony Jenkins has recently become CEO of Barclays PLC. The former CEO Robert Diamond was removed in 2012. Diamond was accused of causing damage to the company by going over budget within the investment bank and being caught in a market-fixing scheme. Anthony Jenkins is fully committed to cutting 19,000 jobs over the next three years, 7,000 of these jobs will be at the investment bank, and he plans to park assets in a new "bad bank".
Jenkins, moving forward with his plans to overhaul Barclays' current financial culture, got into trouble with investors this year when he gave huge bonuses to Barclays investment bankers regardless of an obvious dip in profits.
So far Jenkins' idea to propel the bank's returns above the cost of its capital - a capital that is currently estimated at 11 percent - has been plagued by a dark trading environment and restlessness among staff about the current vision for Barclays, which has initiated the departure of numerous senior employees.
A drop in profits because of overwhelming after-crisis regulation, along with the string of senior staff resignations, and arguments with shareholders over inflated bonuses, have made Jenkins take a knife to the investment bank-which was created under previous CEO Bob Diamond and used to be the firm's profit engine.
Short-Term Outlook
In the short term, investors are being faced with the negative results of Jenkins' ambitions.
Barclays has been hit by decreased demand for company debt, and government debt or bonds. The investment bank has also been faced with a drop of 28% of income in the last quarter. This drop was in part due to a 41% dip in the trading of bonds. The first quarter of pre-tax profits for Barclays were ultimately down 5%.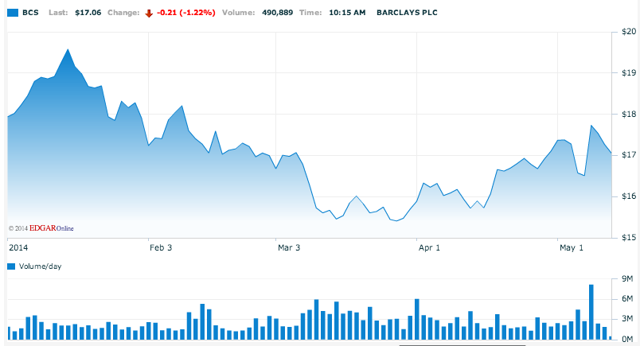 (Nasdaq.com)
Jenkins has remarked that the halt in the trading market is partly permanent, since regulators have tightened the screws on large banks in the past year, making some trading too expensive.
Barclays faced a recent downgrade from RBC Capital Markets.
Mid-Term Outlook
In the medium term, the outlook for Barclays investors also seems dim. Many analysts say that it is unrealistic to believe there can be such a huge overhaul, with thousands of positions being eliminated, without a few financial bumps.
Barclays has also had a rocky financial history, moving through a list of several CEOs over the last five years.
It has been difficult for Barclays to regain its foothold since the beginning of the financial recession. Its losses are joined with a dependence on investment banking asset in a shifting world.
But perhaps the biggest red flag for investors is that despite the share jump, Barclays is currently listed as the third worst banking stock in Europe down over 10 percent.
We recommend investors take profits in BCS and look to banks, such as Morgan Stanley (NYSE:MS) or PNC Bank (NYSE:PNC), which have posted Q1 profits in a difficult environment.
We invite readers wishing to join the discussion on Barclays and other big banks to click the +Follow button above the title of this article.
Disclosure: I have no positions in any stocks mentioned, and no plans to initiate any positions within the next 72 hours. I wrote this article myself, and it expresses my own opinions. I am not receiving compensation for it (other than from Seeking Alpha). I have no business relationship with any company whose stock is mentioned in this article.